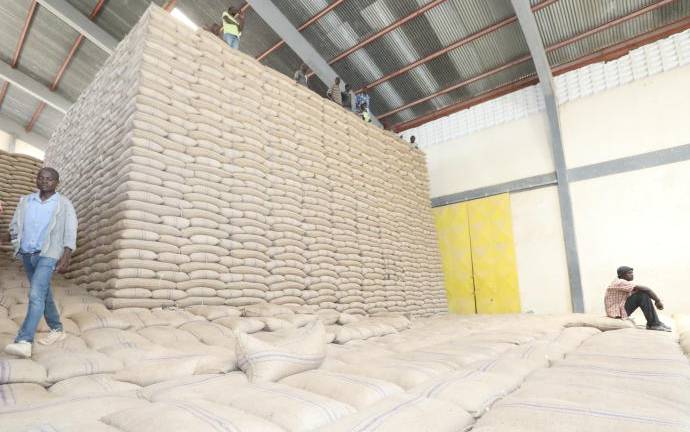 A war of words has erupted between the Strategic Food Reserve (SFR) and National Cereals and Produce Board (NCPB) over plans to merge their operations.
On Thursday last week, Agriculture Cabinet Secretary Peter Munya told farmers in Eldoret that he would present proposals for the merger of the two-State corporations to the Cabinet for approval.
Speaking on the sidelines of the Agriculture Society of Kenya (ASK) show in Eldoret, CS Munya said merging the two agencies was part of his immediate reform agenda.
"There is no need of having NCPB and SFR as different entities. We want to merge the two bodies and I shall be presenting a Cabinet memorandum to this effect," said Munya.
"This is one of the major reforms that I am planning to roll out in the ministry in the coming months to ensure efficiency," he said.
Read More
Merger motive
The announcement drew a sharp reaction from SFR board chairman Noah Wekesa, who questioned the motive behind the proposal.
"We need answers on why we are hurriedly being merged with an institution which is battling court cases. It is inappropriate to call for a merger yet no complaints have been raised against SFR," said Dr Wekesa.
Wekesa said the board was meeting over the issue.
According to him, the Cabinet should first order an independent audit of the two institutions' books of accounts before considering any merger.
"We have more than Sh10 billion in our accounts to buy food from farmers, not just in the grain sector, but milk and fish. We fear this might have motivated plans for the merger," he said.
According to Wekesa, SFR is not a creation of the Ministry of Agriculture.
"SFR was created by the Ministry of Finance through a Cabinet resolution to oversee food security in the country. It is through us that farmers now enjoy high maize prices of more than Sh3,000 per bag unlike before," he said.
However, the NCPB dismissed Wekesa's statement as 'unfortunate and unsubstantiated', accusing him of insinuating that the board lacked integrity.
"The truth of the matter is that currently NCPB is not in court for any case. He has made allegations against NCPB every opportunity he gets. NCPB is competent enough to discharge its mandate and does not need to be over-sighted by SFR," said NCPB in a statement by its deputy manager corporate communication, Titus Maiyo.
According to Mr Maiyo, the NCPB has a new management in place, which has introduced a raft of measures to instill high levels of integrity.
Maiyo asked Wekesa to desist from unwarranted attacks on NCPB and respect government policies.
"It is not within his purview to fight government policy. The government has the prerogative to merge, restructure or even dissolve State agencies," Maiyo said.