How Sports, Arts and Social Development fund used its money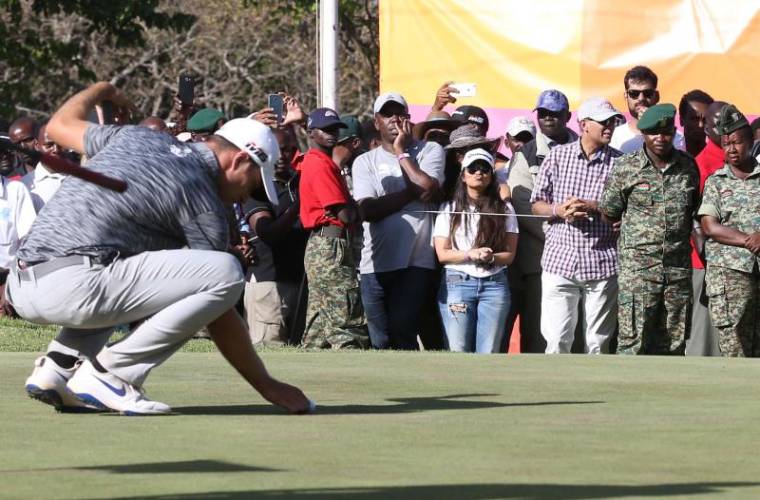 The Kenya government spent Sh550 million last year to fund two golf tournaments and a golf talent academy but only allocated about Sh.403 million to finance the football, volleyball and rugby which have millions of followers and players in the country.
According to Sports, Arts and Social Development Fund (SASDF), since February last year, the government financed the two tournaments which were allocated Sh250 million each and further gave Lenana Golf Talent Academy Sh 50 million.
During the same period, SASDF disbursed Sh94 million to Kenya Rugby Union whose players carried the country's flag high in Sevens series which were held in Dubai (United Arab Emirates, Cape Town (South Africa), New Zealand, Sydney (Australia), Los Angeles (USA) and Vancouver Canada between December to date. At the same time KRU has sent players to participate in a number of International matches for the 15's aside series and has overseen the league and different local competitions since February last year when SASDF was formed.
The disparity in funding was also demonstrated after SASDF revealed that in the course of the last year, it had allocated Sh293 million which was supposed to cater for Africa Cup of Nations for Harambee Stars, paying the national coach and the technical bench (Sh21 million) and Sh 11 million for AFCON preparations for 2021.
Interestingly the Africa Deaf Athletics Championships held in August last year in Nairobi were funded to the tune of Sh47 million. Little known martial arts association Kenya Tong-Il Moo-Do Federation was granted Sh12 million while the international Martial arts championship got Sh.19 million.
From the same kitty, Kenya's female soccer team, Harambee Starlets was given Sh8 million for Olympic qualifiers while the Volley Ball team was just given Sh 3 million.
There was consternation among Members of parliament belonging to Committee on Sports Culture and Tourism were told by SASDF's Chief Executive Officer, Mark Wambugu that the organisation had also spent Sh 10 million for inscriptions at the historical Thimlich Ohinga archaeological site in Migori.
In total, Wambugu who was flanked by his chairman Jackson Tuwei explained that it cost the taxpayers Sh 87.6 million to repair the Tom Mboya and Dedan Kimathi's statues and to restore the Vasco Da Gama Pillar. At the same time the government spent Sh8 million to rehabilitate the Jaramogi Oginga Odinga Memorial and Mausoleum in Siaya.
Since the creation of SASDF, which is a government body in February last year with the purpose of raising revenue from betting companies, it has so far received 8 billion out of the which is supposed to fund sports, arts and social development.
The money is distributed under three categories namely Social Development 60 per cent, Promotion and Development of Sports 35 per cent and Promotion and Development of Arts 5 per cent. "Every request has to come through the PS," Wambugu said. The requests have to be approved by Permanent Secretaries from the ministries under which the departments fall.
The fund, the committee learnt has also been disbursing money into the Universal Healthcare Plan as support to the government in achieving the Big Four Agenda.
Dr Martin Sirengo who represented the Health PS in the committee said that the funds have supported the creation of Cancer Centers in Mombasa, Garissa, Nakuru and Kisii where they had spent Sh.1 billion to purchase four treatment machines.
They had also spent Sh627 million in Equipping a Day care surgical center at the Kenyatta National Hospital and replacing worn out machines, while the operationalization of Mobile clinics was allocated Sh 800 million.
The committee chairperson and Machakos MP, Victor Kioko, raised an issue with the little funding allocated to Arts. Tuwei said there was need to be a clear definition on who is an Artist and said they should apply for the funds, but was unable to justify other allocations in the aforementioned categories.
The renovation of the Nyayo and Moi International Sports Centre, Kasarani saw Sports Kenya receive, Sh 945 million, in November 2019 and February 2020 respectively. Tuwei said "We subdivided the fund into two categories, 50 per cent to Sports Development and 50 per cent to infrastructure."
Asked why it has taken so long to complete the rehabilitation of different stadia around the country, Tuwei said that the board took into consideration the contracts signed before they took over. "We even had to write to the Attorney General to advise us," he said but was put to task to explain why the Kipchoge stadium has taken long to complete which he explained had been prioritized.
Kenya Film and Classification Board was given Sh 44 million, Kenya National Library Service got Sh 250 million, and the Presidential Archives and Library Programme got Sh19 million while Jumuiya ya Afrikca Mashariki Culture Festival which got Sh 61 million.
?When we reached out to Football Kenya Federation President Nick Mwendwa, he confirmed receiving Sh21 million which was used to pay coaches but explained that Sebastien Migne, Harambee Stars coach then, was supposed to be paid directly by the government.
But KRU which is listed to have received Sh 94 million, according to its Chairperson, Geoffrey Oduor, has only received Sh 80 million explaining that SASDF released money periodically.
The Anti-Doping Agency confirmed that they received Sh 26 million and Baseball Federation of Kenya confirmed getting Sh 12 million.