Court dismiss DPP attempt to terminate Sh150 million land scandal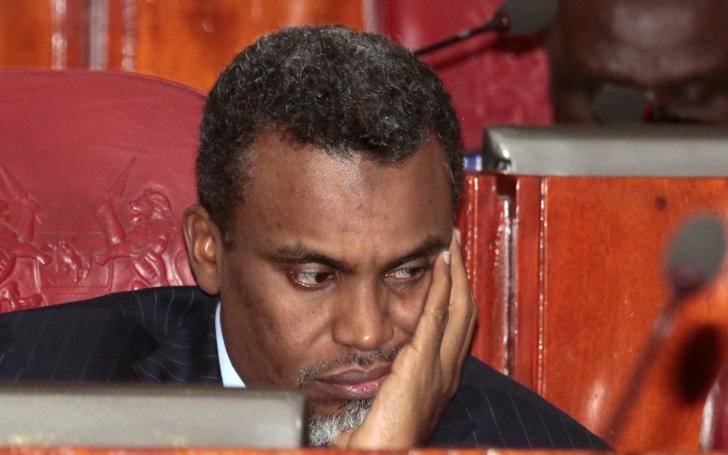 A Nairobi court has rejected an attempt by the Director of Public Prosecutions Noordin Haji (pictured) to terminate a case against two traders accused of land fraud.
Milimani court senior resident magistrate Roseline Aganyo ruled that the criminal case against Ahmed Jibril and Farrah Mohamed was of great public interest since it involved land fraud and must, therefore, be heard to the end.
Accused persons
Ms Aganyo said land disputes are emotive and the court cannot allow the DPP to end the case when the complainant has not agreed to the application to free the accused persons.
The dispute over the four-acre land, which is valued at Sh150 million and located at Nairobi's Inland Container Depot, started in 2016 when the property owner, city businessman Francis Njeru, sued China Road and Bridge Corporation for trespassing and taking over his property.
Mr Njeru accused Mr Jibril and Ms Mohamed of fraudulently taking possession of his land, and illegally leasing it out to the Chinese contractor.
The Chinese company was subsequently stopped from trespassing, transferring, leasing or continuing with construction on the disputed land, which they had turned into an office area for their operations.
Jibril and Mohamed are directors at ARJ Capital Ltd, which sought to be enjoined in the dispute claiming it owns the land in an application before Justice Benard Eboso.
However, Justice Eboso ruled that the company had forged the land's titles and ordered the Directorate of Criminal Investigations (DCI) to probe how the fraudulent acquisition happened.
"An examination of documents by the company in support of their claim reveals disturbing elements that border on outright criminal conduct. They can't come to court with documents that do not add up as proof of ownership," said Eboso.
He found that the company's letter of the grant was allegedly issued in 1996, while the title was issued in 1994, which he said is not possible and a sign of fraud since a title cannot be registered two years before it is signed by the Commissioner of Lands.
Eboso directed DCI boss George Kinoti to investigate the documents presented in court to establish any criminal acts leading to the land being leased to the Chinese firm.
The investigations revealed Jibril and Mohamed were suspects in the fraudulent scheme to dispossess Njeru of his land.
Jibril was subsequently charged with six counts of conspiracy to defraud, making a false title document, obtaining the land's registration by false pretences and refusing to surrender the land to its owner.
"On unknown dates, with intent to defraud Francis Nyaga Njeru of his land valued at Sh150 million, you made a fake title in the name of ARJ Capital Ltd purporting it to be a genuine and valid land title issued by Peter Mburu, a land registrar, a fact you knew to be false," read one of the charges.