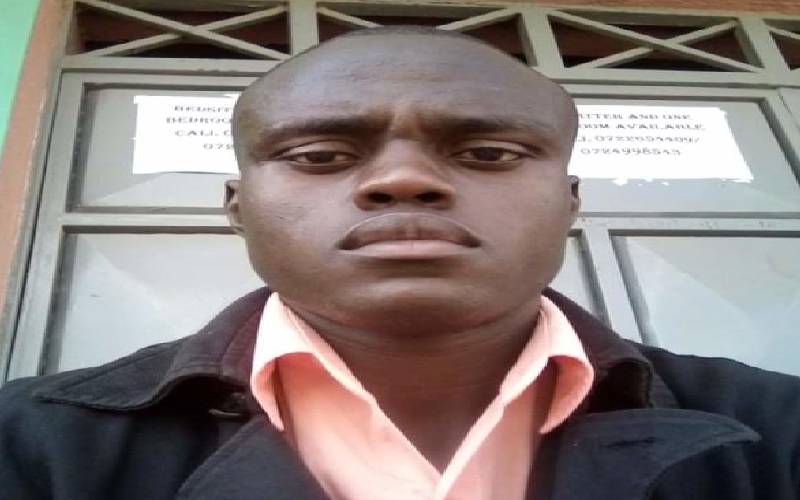 A family is demanding answers following the death of a man in police custody.
Police say Anthony Nyariki committed suicide inside a cell at a police post in Nairobi's Zimmerman.
But his relatives dispute this, claiming that on the night Nyariki was detained, he had called to complain his life was in danger.
On February 24, Nyariki, a father of one, returned home at 11pm accompanied by his brother and a friend. His wife, Jackline Mushi, said they were drunk.
"The other two sat down, but Anthony started pushing and beating me without any reason. I screamed for help," said Mushi.
Rescued her
Luckily, neighbours came and rescued her. An officer from the Zimmerman police post, which is only about 20 metres away from Nyariki's house, came and took him and his wife away.
"I did not call the police," Mushi said, adding that at the station, Nyariki was still furious and wanted to beat her.
"An officer pulled out his gun and threatened to shoot Anthony, but I blocked him. He chased me away, saying I should go and sleep," said Mushi.
Nyariki, who worked as a caretaker where he lived, was locked up. The next morning, Mushi accompanied by an in-law went to check on him, but they were told to wait. They waited for three hours then they were asked to go home.
When they went back, Mushi said she received the worst news.
"I was told Anthony had strangled himself using a belt in the cell," she said.
According to Mushi, it was not in Nyariki's nature to get violent. She said it had never happened.
"He loved his family so much," she said.
His brother, Albert Nyaboe, also visited the station to try to unravel the mystery, but he was not given any information.
He said he asked to be given Nyariki's belt, wallet, national Identity Card, which were not available. His phone was given to Nyaboe much later.
"I had to force my way to where Anthony was locked up and when I entered I saw a knife on the floor, when I asked I was told by the police that it had been used to cut the belt he had used to strangle himself," said Nyaboe.
He added: "A police cell is a place where a suspect is kept to wait for arraignment, not for relatives to wake up the next day and find him dead."
Mushi said on the night her husband was arrested, he called his boss, their landlady, and cried for help.
"He told her wananiua (they are killing me) then the phone was disconnected. When she tried calling him he was not available," said Mushi.
The family, through a lawyer, wrote a letter addressed to the officer in charge of crime at the Zimmerman police post, demanding an explanation on the circumstances surrounding Nyariki's death.
In the letter dated February 26, 2020, lawyer Mose Nyambega said the family suspects foul play.
"The family is keen to engage the services of a pathologist in the postmortem so as to ensure objectivity in the investigations and in the interest of justice," read the letter.
Another letter
In another letter dated February 27, 2020, Mr Nyambega asked the Independent Policing Oversight Authority (Ipoa) to investigate the matter.
In the letter, Nyambega said the body was moved to City Mortuary without the family being informed, and that the circumstances point to foul play.
"You are thus invited to act in alacrity to safeguard the evidence and ensure the rule of law prevails," the letter read.
Nyaboe said in a telephone interview that it is difficult for one to hang himself in the said cell because it is low.
Nairobi police boss Philip Ndolo said the police are investigating the matter.
Nyaboe and Mushi recorded statements yesterday at the Kasarani Police Station.
The family hopes that justice will prevail as they await a postmortem to be conducted today.