Lawyer Nelson Havi wins LSK elections to become new president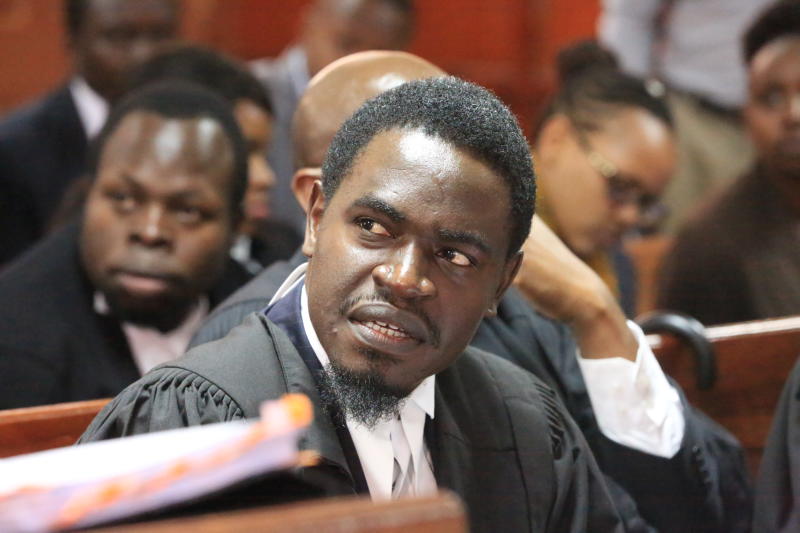 Lawyer Nelson Havi is the new president of the Law Society of Kenya.
Provisionary results show that Havi clinched the position following countrywide elections.
He will replace outgoing president Allen Gichuhi and serve a two-year term from 2020 to 2022.
The race attracted four candidates, two men and two women among them Nelson Havi (pictured), Maria Mbeneka, Charles Kanjama and Harriette Chiggai.
In a tweet, his competitor Charles Kanjama conceded defeat, congratulating him for a well-run race.
*Kanjama LSK Concession*

I congratulate my classmate Nelson Havi on running a bold and effective campaign that has captured the confidence of lawyers across the country. I congratulate him on a race well run and, as a democrat, am happy to accept the will of the voters. — Charles Kanjama (@ckanjama) February 27, 2020
Candidate Maria Mbeneka has also conceded defeat.
During the campaign period, Havi rode on the narrative to wake up the sleeping giant and return LSK to its glory days of fiery advocacy under the likes of Paul Muite and Willy Mutunga.
Below, a list of LSK Presidents since the 1950's.
| | |
| --- | --- |
| LSK PRESIDENT | YEAR |
| Humphrey Slade | 1949-1950 |
| N.S. Mangat Q.C. | 1950-1951 |
| L. Kaplan | 1951-1952 |
| J. Sorabjee, Q.C. | 1952-1953 |
| C.F. Schermburucker | 1953-1954 |
| J.M. Nazareth, Q.C. | 1954-1955 |
| Ivor Lean, Q.C. | 1955-1956 |
| Justice Madan, Q.C. | 1956-1957 |
| J.A. Mackie-Robertson, Q.C. | 1957-1958 |
| Justice Chanan Singh | 1958-1959 |
| J.O. O'Brien Kelly | 1959-1960 |
| Justice Madan | 1960-1961 |
| A.E. Hunter | 1961-1962 |
| Satish Gautama | 1962-1963 |
| Justice Harris | 1963-1964 |
| B.T. Modi | 1964-1965 |
| S.M.C. Thomson | 1965-1966 |
| G.S. Sandhu | 1966-1967 |
| K.B. Keith | 1967-1968 |
| E.P. Nowrojee | 1968-1969 |
| P. Le Pelley | 1969-1970 |
| S.N. Waruhiu | 1970-1972 |
| M.Z.A. Malik | 1972-1973 |
| J.A. Couldrey | 1973-1974 |
| Ramnik Shah | 1974-1975 |
| S. Sangale | 1975-1976 |
| P.J. Ransley | 1976-1977 |
| K.C. Gautama | 1977-1979 |
| S. Amos Wako | 1979-1981 |
| Lee Muthoga | 1981-1982 |
| Mutula Kilonzo | 1982-1984 |
| G.B.M. Kariuki | 1984-1986 |
| Joe Okwach | 1986-1988 |
| Fred Ojiambo | 1988-1990 |
| Paul Muite | 1991-1993 |
| F.W. Kagwe (Ag) | 1992-1993 |
| Willy Mutunga | 1993-1995 |
| Paul Wamae | 1995-1997 |
| Nzamba Kitonga | 1997-1999 |
| Gibson Kamau Kuria | 1999-2001 |
| Raychelle Omamo | 2001- 2003 |
| Ahmednasir M Abdullahi | 2003-2005 |
| Tom Adhiambo Ojienda | 2005-2007 |
| Okong'o Omogeni | 2007-2010 |
| Kenneth W. Akide | 2010-2012 |
| Eric Kyalo Mutua | 2012-2016 |
| Isaac E.N Okero | 2016-2018 |
| Allen Gichuhi | 2018-2020 |
| Nelson Havi | 2020- 2022 |