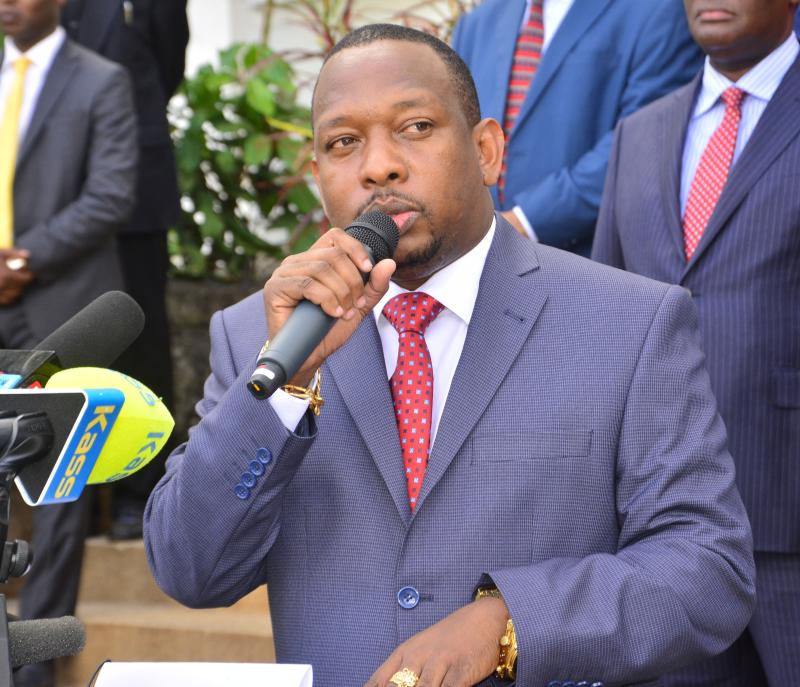 The stage has been set for a showdown at the Nairobi County Assembly after a notice of Motion to impeach Nairobi Governor Mike Sonko (pictured) was tabled on Thursday. But even as Sonko is expected to appear before the assembly in the next seven days to argue his case, there are questions as to whether Minority Chief whip Peter Imwatok, the mover of the ouster Motion, will garner the requisite numbers to impeach the embattled governor. Mr Imwatok said he has so far garnered support of Jubilee and ODM MCAs and was confident the impeachment debate will be successful.
SEE ALSO: What it takes to impeach Speaker Beatrice Elachi
"I can assure you that the petition to oust Sonko has been signed by members from both parties. Once the verification of the signatures is complete, Nairobians will see that even Jubilee MCAs have had enough and Sonko must go," he said. Jubilee party has 66 members and ODM has 55.
Appended their signatures
For the impeachment Motion to be debated, two thirds of the 122 MCAs represented by 82 members, must support the petition for it to be introduced on the floor of the House. Embakasi MCA Michael Ogada yesterday intimated to
Sunday Standard
that more than 89 MCAs had already appended their signatures on the petition, with more members expected to sign. Some MCAs, however, insist that unless Jubilee and ODM parties pronounce themselves on the matter, it will be hard to impeach the governor.
SEE ALSO: MCAs want Badi to take over stalled projects
Roysambu MCA Peter Warutere (Jubilee) an ally of Sonko, yesterday rubbished claims that ODM had garnered the requisite signatures to push the impeachment motion, saying they only presented 51 signatures out of the required 82. "Sonko is a man of means and I know that unless both parties give a direction on the action to be taken, Sonko is going nowhere. He could use his resources to remain in power. Even if all the ODM MCAs were to append their signatures, they still need members from Jubilee to pull off the ouster," said Mr Warutere. "There are Jubilee MCAs who had signed the petition in December last year but have since closed ranks with the governor and will soon withdraw their signatures dealing a blow to the ODM side," he added. Assembly Majority Leader Charles Thuo disclosed that majority of Jubilee MCAs were awaiting the party position on the matter. "I am in constant communication with the party and I am hoping that by Monday, we will have the party position. However, Sonko is a Jubilee governor and as Jubilee and the majority members in the House, we are intact," said Mr Thuo. Imwatok, however, said whereas the ODM leadership had not taken a stand on the matter, he had the blessings of party members who were determined to restore order at City Hall.
SEE ALSO: Give Sonko respect, State told
"As a supporter of my party leader in the fight against graft, I should not wait for directions from anywhere to hold the governor accountable. As an elected representstive of the people of Makongeni, I am mandated by the Constitution to safeguard interests of the people," he said.
Political affiliation
Some Jubilee MCAs have come out to support the ouster saying service delivery had deteriorated and residents deserved another leader regardless of the political affiliation. They are part of MCAs who refused to honor a "lunch" invite by Sonko at his Upper Hill office on Tuesday, meant to persuade them to drop the ouster bid. They include Woodly MCA Mwangi Njahia, Kayole Central Ward's Jeremiah Karani, Kayole South's Robert Mbatia and Paul Kados of Mihang'o. "The die is cast and we are ready to support the Motion and act in favour of what's right for the people of Nairobi who we represent," said Woodly MCA. Mr Njahia further intimated that out of the 66 Jubilee MCAs, 45 had already appended their signatures in favour of the petition. "Majority of Jubilee MCAs are silent for fear of victimisation by the governor. However, I can assure you that majority will support this motion," he said. Details have also emerged of a meeting held by ODM MCAs at Olepolos Hotel in Kajiado County on Monday, where the grounds to impeach Sonko were mooted. "Present during the meeting were 49 out of 55 ODM MCAs who gave me the nod to proceed with the Motion. Also present was Nairobi ODM chairman George Aladwa," said Imwatok. On Thursday, MCAs listed 16 grounds for removal of the governor from office, including abuse of office and irregular procurement of services.