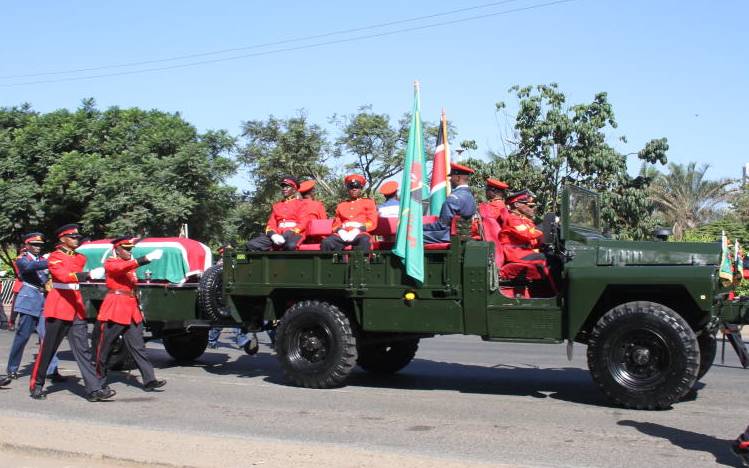 Kenya's second president, Daniel Arap Moi was buried on Wednesday in a military ceremony that drew parallels with the burial of the country's first president, Jomo Kenyatta, in August 1978.
Moi died on February 4, 2020. Although official age is recorded as 95, his family and doctors said he was at least 103.
Kenyatta, on the other hand, died on August 22, 1978. Again, his date of birth varies from source to source, with some indicating 1891 (meaning he died at 87) other 1895 (meaning he died at 83).
Both were accorded State burial with full military honours having been Commanders in chief.
But while Kenyatta got a 21-gun salute by the Army, Moi was given a 19-gun salute by the Navy. The 21 gun salute was because Kenyatta died in office while Moi died in retirement.
When it came to where they were buried, Mzee Moi was buried at his Kabarak home next to his wife, Lena according to his wishes, while Kenyatta was interred on the precincts of Parliament.
Incidentally, Moi who was the vice president led Kenyans to mourn Mzee Kenyatta a few weeks after being sworn President in 1978. Forty-two years later, Kenyatta's son, Uhuru, led Kenyans to mourn former President Moi.
Uhuru took over the presidency in 2013 from Moi's successor, Mwai Kibaki.
According to the Kenyatta family, the Government insisted on burying the first president on the precincts of Parliament, arguing that since he was the founding father, he was bigger than his home, Gatundu.
After his death, Kenyatta's body lay in State at State House for 10 days of public viewing. The national mourning period lasted a month. In Moi's case, the body lay in State for three days at Parliament Buildings and the mourning period was nine days.
Moi lay in State with his baton, famously called 'fimbo ya nyayo,' in his hand. His body was projected on a bier with his Presidential Standard. Kenyatta's lay in State with his trademark fly whisk by his side.
Moi's body was drawn on a gun carriage on its way to burial. Kenyatta's was drawn on a horse carriage.
Before burial, Kenyatta body spent the night at his home in Gatundu. Moi's body was transported his Kabarak home on the morning of the burial.
Incidentally, after Kenyatta's death, all national newspapers released special editions headlined: 'Mzee is dead.' The national radio and television stations changed their programming to cover his death.
The same was witnessed after Moi's death.
Kenyatta was buried on a Thursday, August 31, 1978. Moi was buried on Wednesday, February 12, 2020.
After his death, a team of engineers were immediately dispatched to build a mausoleum for Kenyatta's body at the precincts of parliament. This was not immediately necessary after Moi's death.