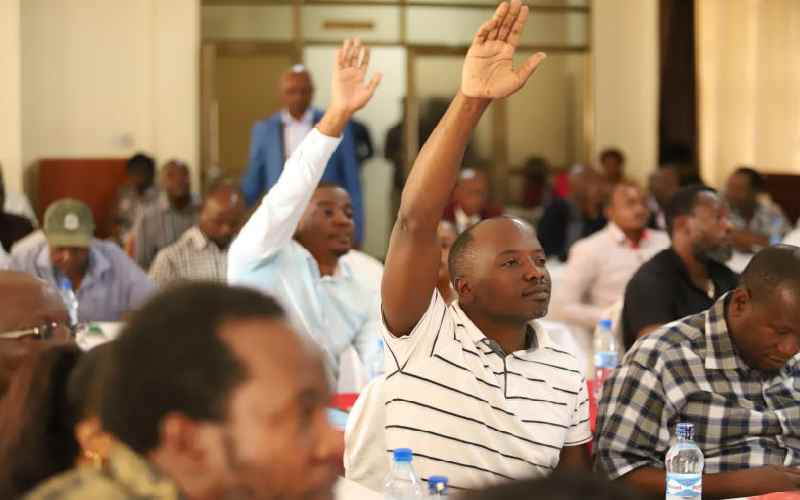 The Steering Committee on the implementation of the Building Bridges Initiative (BBI) will hold a two-day stakeholders' consultative forum beginning on Thursday February 13.
According to a statement by BBI task force, the forum slated for Laico Regency Hotel will validate the task force's report.
"The purpose of the forum is to validate the report of the BBI task force," read the statement.
The consultative forum will bring together Ministry of Public Service, the National Cohesion and Integration Commission (NCIC), the Multi sectoral Forum and Women in Business.
Also expected to attend the forum include Youth 4 BBI, the County Assemblies Forum, and the Political Parties Liaison Committee.
The Steering Committee had suspended its activities last week to join the rest of the country in mourning following the death of former President Daniel arap Moi.
The mourning period which was declared by President Uhuru Kenyatta after Mzee Moi passed on February 4 at Nairobi Hospital ended on February 12.
"Following the end of mourning period declared by President Uhuru, the committee shall hold a consultative forum at Laico Regency Hotel beginning Thursday," read the stamen.
The 14-member committee was appointed by President Uhuru on January 10 through a Gazette notice to oversee implementation of the BBI report.
The committee is required to conduct a validation of the BBI report via meeting with citizens, civil society, the faith-based organisations, cultural leaders, the private sector and experts.
After consultations, the committee is expected to come up with proposals to pave the way for implementation of the BBI report.
The Steering Committee shall submit its "comprehensive advice to the Government by June 30, 2020 or such a date as the President may, by notice in the Gazette, prescribe."
The committee is composed of the BBI taskforce members who included Senator Yusuf Haji, Bishop Lawi Imathiu, Maison Leshomo, James Matundura, among others.
The joint secretaries will be Amb. Martin Kimani and Lawyer Paul Mwangi, who shall be responsible for all official communication on behalf of the Steering Committee.
Download the BBI Judgement by all seven Judges - Civil Appeal No. E291 of 2021