Group praises fallen icon for investing in the media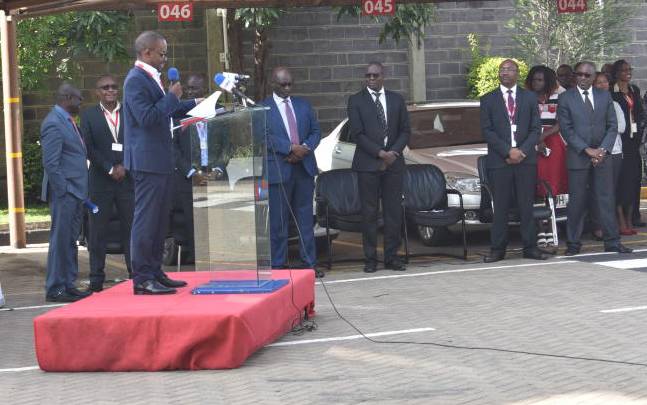 Standard Group staff were among family, friends, relatives, and Kenyans of goodwill who visited President Daniel arap Moi's Kabarnet Gardens home to pay their tribute.
Led by Group CEO Orlando Lyomu and Editor-in-Chief Ochieng' Rapuro, staff members praised the fallen icon as a visionary leader who invested in the media sector - Standard Group.
Mr Lyomu, who had led a prayer session at the Standard Group offices on Mombasa Road yesterday morning, said the loss was not only to the immediate family but also to Standard Group, which is part of Moi's family.
"We feel the loss that is being felt by the family. Standard Group is also a family and we have come to condole and mourn with you," Lyomu told Baringo Senator Gideon Moi.
He added: "On behalf of the entire Standard Group fraternity, we express our deepest condolences to you, your family and the nation. We will offer full support to the family. You can count on our support."
While eulogising the late president, Mr Rapuro said "Mzee" had a great vision in the society, which saw him invest in a media house.
"We, as leaders of the business, have a duty to reflect his vision for society. We want to assure you we'll offer full support to the family," said Rapuro.
In acknowledging the gesture by the Standard Group staff, Baringo Senator Gideon Moi said he was overwhelmed by the messages of condolences from Kenyans and the Group.
"I want to say thank you for finding time to condole with us. Mzee touched so many families and communities. We, as a family, decided to split ourselves in various family homes to receive those who have come to condole with us," said Gideon.
He recounted the last moments he spent with his father, saying he believed Moi went well to be with his Maker.
"I stayed with him up to the time he passed away. He opened his eyes, looked at me and I looked back and he passed on. I did my best," he said.
Moi recounted the good times he had with his father, saying 'Mzee' had accepted death.
Accept death
"He once told me sometimes when I was becoming emotional that to accept life, 'You must accept death,'" he said.
At the Standard Group headquarters, Mr Lyomu delivered a speech on behalf of the company, recalling Moi's legacy and affirming that Standard Group supported the Moi family.
He said the staff had decided to meet to stand with Kenyans in mourning the loss and respecting the great legacy he built.
Lyomu hailed Moi as a leader who fought for peace and stability, noting that he would be remembered as an African statesman who deepened East African relations and led efforts to bring peace and reconciliation on the continent.
The CEO acknowledged Moi's works to empower youth and women through several programmes, his efforts in the expansion of healthcare and infrastructure projects.
Lyomu also hailed the developments Moi brought to Kenya during his more than two-decade reign as president: "Some of his key achievements for the country include introduction and execution of the 8-4-4 education system, which emphasised practical and vocational training. This formed the basis for the current universities' expansion that was geared towards addressing educational needs of the then rapidly growing population."
Free milk
Lyomu added: "Moi will also be remembered for the free school milk programme that endeared him to the children, their parents and teachers. This is said to have raised primary school enrolment by 23.3 per cent in 1979."
The CEO also praised Moi for peacefully handing over power after 24 years of rule, at a time African Heads of State had gained a notoriety for clinging onto power.
Lyomu and Rapuro were accompanied to Kabarnet Gardens by Head of News Kipkoech Tanui, KTN's Head of News Ellen Wanjiru, Digital Managing Editor Caroline Kimutai, Head of Corporate Affairs Charles Kimathi, Human Resource Director Nicholas Siwatom and Associate Editor-Partnerships and Projects Andrew Kipkemboi.
Moi, who died on the morning of Tuesday, February 4, was Kenya's longest-serving president, having served from 1978 to 2002. He died at the Nairobi Hospital aged 96.