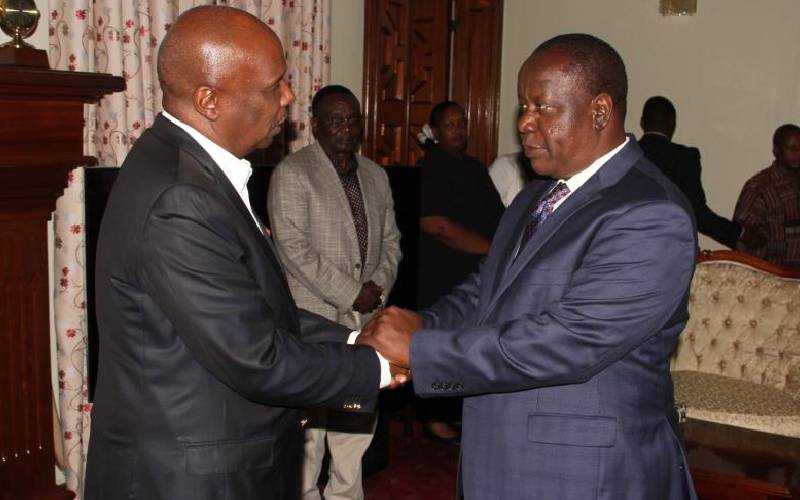 As Kenyan post-independence leaders settled in exclusive residences, late President Daniel Moi went for the unlikeliest of addresses to spend his nights and raise a family.
Set a stone's throw away from one of Africa's largest slums, Kabarnet Gardens, transformed from a nondescript location into a renowned residence of Kenya's longest serving head of state.
Like his predecessor Mzee Kenyattta, Moi chose to operate from State House during the day but retreat to his own home for the night.
It is in these Gardens, interspersed with lush lawns, tall trees and flower gardens where Moi rested after long days of toil in power.
"Not a single day for all the time I knew him and worked with him did he ever sleep in State House. He always retreated to Kabarnet Gardens whenever he was in Nairobi, and Kabarak when in Nakuru," former State House Comptroller Franklin Bett told The Standard yesterday.
Read More
Elsewhere, and where there was no State Lodge nearby, Moi would sleep in the residence of area provincial administrators.
According to Bett, Moi's Christian upbringing had a deep impact on his choices, including the choice of Kabarnet Gardens next to the sprawling Kibera slum where the wretched of the city lived.
"He wanted to be close to the people. He came from a very sound Christian upbringing, which predisposed him to care and concern for the poor. He never forgot where he came from, hence the name Kabarnet Gardens," Bett said.
As Moi made Kibera neighbourhood his home, his contemporaries in politics settled for the exclusive Muthaiga, Lavington and Karen.
President Mwai Kibaki, who joined politics a little later after him, settled in Muthaiga. Kibaki later became Moi's first vice president. Former Attorney General Charles Njonjo also settled in Muthaiga.
Jeremiah Kiereini, Moi's powerful head of civil service, built an imposing castle-like house in Karen and named it Gitamuri Gardens. Kenyatta himself had no known city residence other than the house adjacent to State House said to have been gifted to him.
Kenyatta commuted from his Gatundu residence in Kiambu to his official residence in State House.
"None of them lived around Kabarnet Gardens, except the late Nicholas Biwott who lived nearby," Bett recalled.
Others who were perceptive enough bought properties around Kabarnet Gardens. Among these included the late Mutula Kilonzo who became Mzee Moi's personal lawyer.
When he left power in 2002, Moi headed straight to Kabarak in Nakuru, away from the hustle of the city.