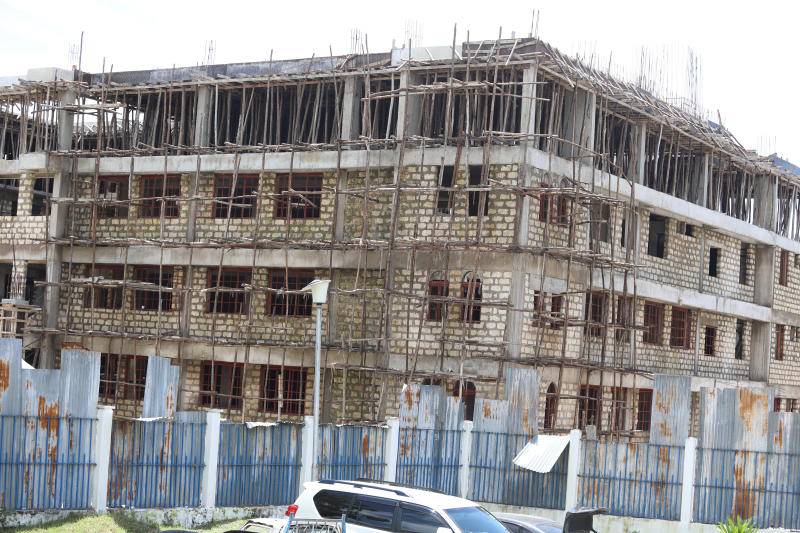 The Judiciary has nothing to smile about as only one per cent of its government-funded projects are complete while others have missed set timelines.
Incomplete courts are among reasons Chief Justice David Maraga is seeking more funds from the government.
A status of the Judiciary report launched on Thursday confirmed there were incomplete projects now at risk of being white elephants. Justice Maraga said if the Judiciary receives Sh75 billion from the Treasury, the projects will be completed in time.
Despite revision of the timelines by more than two years, most of the projects running into more than Sh3.5 billion and which ought to be funded by the government are just six percent complete.
The works involve refurbishing, rehabilitating and constructing court buildings, shelving registries, installing water tanks, and constructing toilets, waiting bays and installing solar systems.
For instance, only nine per cent of construction work has been done at Habaswein Law Courts, located at the southwestern edge of Wajir which started on September 28, 2017 and was to be completed in 2018 at a of cost Sh143 million.
From the report, 99 per cent of the projects undertaken by the Judiciary and funded by the exchequer are yet to be completed.
Some are near completion, at 94 per cent, but the status reads there is negligible development. The Judiciary blamed the slow progress on inadequate funding.
In the year 2018/2019, Parliament allocated Judiciary Sh50 million for development.
At the same time, the National Treasury's delay to release funds has hampered payment of interim payment certificates.
"Projects funded by GoK have experienced poor performance due to lack of budget allocation in the period under review.
The tender for Kapsabet Court construction was not awarded due to insufficient funds," the report says.
Homa Bay Law Courts, which is supposed to cost Sh367 million upon completion, is 28 per cent complete. Started in March 2017, it ought to have been completed by 2018 but the timeline was shifted to last year. Kabarnet Law Courts, at a cost of Sh366 million, is 17 per cent complete while Marsabit Court house is at 32 per cent.
Logging ban imposed by the government and another on sand harvesting by some counties is also to blame for delay of the projects. The cost of construction materials shot up while some are not available.
In Amagoro, Busia, the court house was to be completed in 2018 at a cost of Sh137 million.