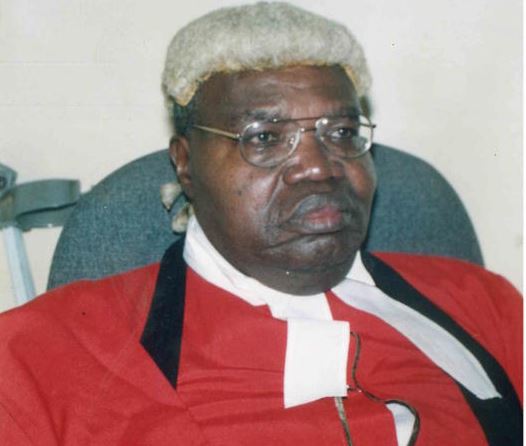 Justice (retired) Daniel Aganyanya (pictured) had hoped to live and see an end to corruption in the country's Judiciary, but he died this week without seeing his dream come true.
Aganyanya, who exposed in his book how some powerful government officials used the courts to fight their political wars by asking judges to deliver rulings based on their interests, died on Friday evening of a heart attack.
The retired judge, who served in the Judiciary for 38 years, developed breathing complications while at his Cheptulu home in Vihiga County and died at Aga Khan Hospital in Kisumu.
His daughter Caroline said he was taken to the hospital after suffering a first heart attack.
"He had suffered two heart attacks before passing on when doctors were trying to resuscitate him," she said.
The family had initially intended to take him to Aga Khan Hospital in Nairobi to be treated by his personal doctors but his condition worsened, forcing them to go to the facility's Kisumu branch.
"He developed breathing problems on our way to hospital and when we got there, he suffered another heart attack and died," she added.
He was 81.
Yesterday, President Uhuru Kenyatta led the nation in eulogising the retired judge, describing him as an independent legal mind and a patriotic Kenyan who cherished the rule of law.
The President said the judge was a strong anti-corruption crusader who spoke openly and wrote against the vice.
"He fearlessly defended the rule of law and believed in separation of powers, especially the independence of the Judiciary," said Uhuru.
He added: "Justice Aganyanya will be remembered as an upright lawyer who stood for what is best for his country. And as a judge, he was noble and a role model who left an indelible mark in the Kenyan legal sector."
Chief Justice David Maraga said Aganyanya will be remembered for his great work ethic and commitment to the law.
"I have learnt with great shock about the sad demise of your husband and our former colleague, retired Judge Aganyanya. I wish to express to you our deepest condolences during this time of grief as you come to terms with the enormous loss," said Maraga in his message to Aganyanya's widow, Justice Roselyne Nambuye.
In 2013, the retired judge wrote a damning book exposing what he termed as rot in the Judiciary.
The book titled The Judicial Purge of 2003 That Never Was, paints a picture of how judges were bribed with things such as trips abroad and cash.
He claimed that he had tried to raise concern over the vice with more than three chief justices but in vain, alluding to some powerful forces who frustrated judicial reforms.
In the book, he claimed that the committee led by Justice Aaron Ringera – which implicated 23 judges and more than 200 magistrates – was not about removing corrupt judges or magistrates.
His death comes at a time when the Judiciary has increasingly been put on the spot for allegedly being the weak link in the fight against corruption.
Aganyanya was among the judges affected by the Ringera purge but decided to face the tribunal that cleared his name four years later.
He was suspended from the Judiciary for misconduct allegations at a time when he was part of a three-judge Bench that was probing the Goldenberg scandal.
In an interview with Saturday Standard in 2018, unlike his colleagues who went into private practice after retiring, he decided to give the courtroom a miss to accord the younger generation an opportunity to practise law.
"I decided to go quiet and enjoy my retirement. I do not want to do anything but to concentrate on my family," he said.
Given his experience in law, the retired judge turned down a number of job offers to enjoy his retirement.