Retired Justice Aganyanya dies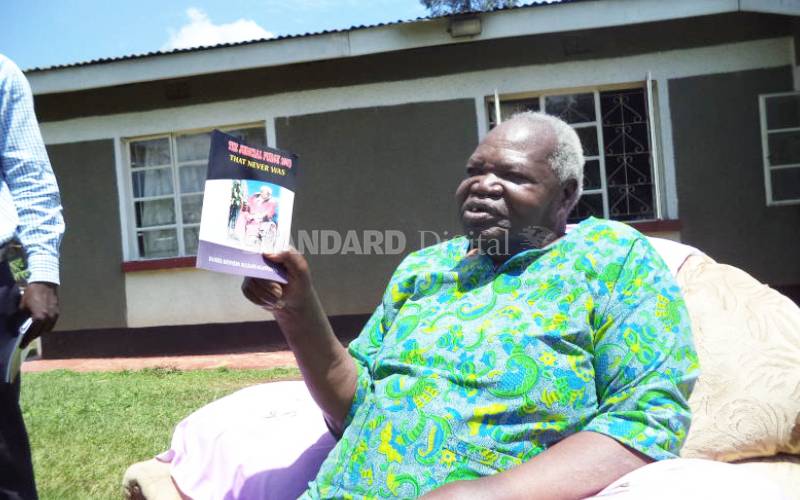 Retired Justice Daniel Aganyanya (pictured) has died.
The 82-year-old succumbed to a heart attack on Friday evening at Aga Khan Hospital in Kisumu where he had been rushed for medical check up.
His daughter, Caroline Aganyanya, said she was driving him to Nairobi to be checked up by his doctor at Aga Khan Hospital, when they noted some anomaly in his breathing pattern and decided to rush him to the Kisumu hospital.
"He was breathing heavily then at one point he would keep quiet completely. So we decided to take him to Aga Khan Hospital in Kisumu to have him checked," she confirmed to The Standard on Sunday.
She added, "While he was still at the Emergency unit he was hit by a heart attack after which he was resuscitated. When he was being taken to ICU he was hit by a second heart attack, and that is how we lost him."
Caroline noted that he had not been taken ill, but were only treating some blood clots occasioned by old-age.
"Mzee has been healthy, and he has not been suffering from any kind of ailment as of late, apart from some blood clots that were under control," she said.
Aganyanya hailed from Cheptulu in Hamisi Constituency, Vihiga County, and area Member of Parliament Charles Gimose noted the region had lost a rare gem.
"Aganyanya is among the few intellectuals and great men that Tiriki land has ever produced and we have been very proud of him even in his retirement. He was graceful, a man of very few words, but enormous actions. We thank him for his contribution to the history of this land," Dr Gimose said.
Amani National Congress party leader Musalia Mudavadi noted he was an iconic judge but unassuming and passionate about justice being done.
"HE would never let physical disability get in his way or milk it for sympathy and exploit it for personal advancement on the bench. He marked time and professionally rose through the ranks," Mr Mudavadi said.
In 2014, Aganyanya released a book titled The Judicial Purge of 2003 That Never Was in which he alleged that he was targeted for removal from the bench in the infamous 2003 Ringera Judicial Radical Surgery, due to his physical disability.
In a hard-hitting evaluation of his former working station through the book, Aganyanya revealed the rot in Judiciary, claiming that "justice was compromised through corruption in the corridors of justice".
He poured cold water on judicial system, saying his colleagues plotted his ouster after he openly talked about corruption within Judiciary at a function in Eldoret.