AG to appear in court over Miguna Miguna saga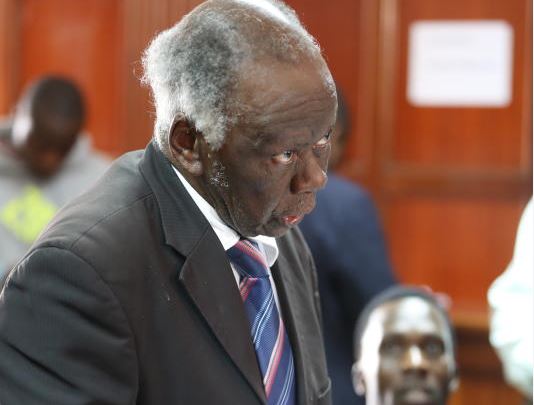 Justice John Mativo has ordered the AG to issue an advisory opinion to the court explaining why the government is disobeying court orders.
The Attorney-General Kihara Kariuki was expected to appear in court today to explain why the state is yet to facilitate Miguna Miguna's entry into the country.
The AG sent a team of lawyers to appear in court on his behalf, prompting protest from Miguna Miguna's lawyers, who said that the state was treating the matter casually.
The AG Kariuki and Solicitor General Kennedy Ogeto were then summoned to appear before the judge to explain why the government has not obliged to the orders, in accordance to article 156 of the constitution.
Arguing their case in court on Monday, Miguna's lawyer John Khaminwa posed, "We have a real problem in this country. Why is it so hard for the government to obey court orders?"
His lawyers say they want nothing more than the orders being obeyed.
At least five judges have so far issued orders asking government to facilitate Miguna's entry into the country but which have not been complied with. The five include Justices Luka Kimaru, Mumbi Ngugi, Chacha Mwita, George Odunga and Korir.
Last week, Justice John Mativo noted that the State has exhibited a worrying trend of systematic disobedience of court orders.
Where it all began
Controversial lawyer Miguna Miguna was expected to return to Kenya on January 7 at 9.00pm, his second attempt.
However, he was barred from boarding his plane at Frankfurt Airport, Germany to Nairobi, Kenya.
The lawyer claimed that the Kenyan government had issued a red alert barring him from boarding a flight to Jomo Kenyatta International Airport (JKIA).
Responding to the claim, Government Spokesman Cyrus Oguna then said that the State would facilitate his return. He was okayed to return.
It, however, did not materialise as Miguna's woes kept snowballing.
He then traveled to France, where he boarded another flight before being ejected by airline officials.
"Air France removed me from Flight AF0814 from Charles De Gaulle Airport to JKIA, which was about to take off... they have sent red alerts to all airlines," he tweeted.
A day after the debacle on Tuesday, spokesman Oguna released another statement, this time saying that Miguna's woes stemmed from the 2018 drama in which he refused to board a plane heading to the United Arab Emirates.
"His unruly behaviour was seen to have the potential of threatening category A1 status of Jomo Kenyatta International Airport (JKIA) which took the country a lot of effort and work to achieve," the statement read in part.
When queried, State lawyer Christopher Marwa changed tune from the earlier claim that the government did not know why Dr Miguna is not home yet, saying that the lawyer did not have the relevant travel documents to allow him entry into the country.
As stands, Miguna is still in Berlin, Germany.