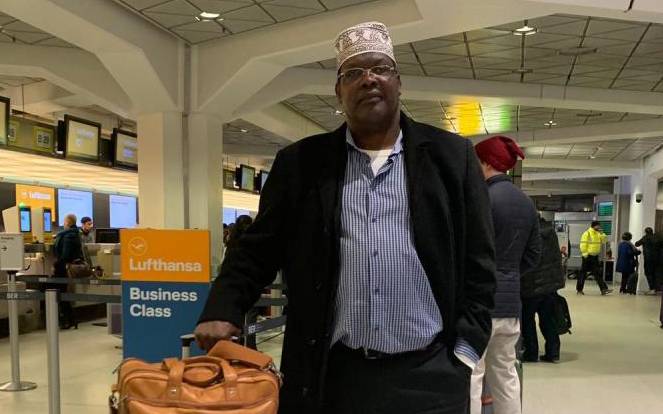 The Government of Kenya is not to blame for the flight woes of lawyer Miguna Miguna
(pictured)
, Government Spokesman retired Colonel Cyrus Oguna has said. In a statement issued on Wednesday, Mr Oguna has blamed Dr Miguna's aborted flights on the 2018 drama in which he refused to board a plane heading to the United Arab Emirates. "His unruly behaviour was seen to have the potential of threatening category A1 status of Jomo Kenyatta International Airport (JKIA) which took the country a lot of effort and work to achieve," the statement partially reads.
SEE ALSO: New tea rules to take effect in September
"This category certifies that we have put in place all the necessary safety and security measures in all our airports. This is an accomplishment that we are committed to jealously protect. The Government says that it is willing to jealously protect the higher ratings achieved in complying with the recommended safety standards of the ICAO at the international airports. According to Oguna, Miguna's behaviour threatens such higher ratings. "As a government, we wish to clarify that following the incident at the JKIA in March 2018, Dr Miguna was categorised as an unruly passenger in line with Annex 17 of the International Civil Authority Organisation (ICAO) standards and recommended practices that allow the prohibition of unruly passengers." ICAO is a UN agency formulated in 1944 to help the member states manage flight safety.
SEE ALSO: South African anti-corruption watchdog probes Covid-19 tenders
ICAO through its 193 Member States are mandated by the convention to implement civil aviation Standards and Recommended Practices (SARPs) for safe flights. According to the information found on the ICAO website, the countries are to ensure that policies are implemented in conformity with global safety standards. Annex 17 that has been mentioned to have been breached by Dr Miguna requires the states to safeguard International Civil Aviation against 'acts of unlawful interference.' However, the State has maintained that it is cognizant of the recent court order by Justice Weldon Korir directing concerned state agencies to facilitate the return of Mr Miguna into the country. According to Mr Oguna, the government is willing to facilitate Miguna's flight. But what hinders this is the ICAO's requirement that a passenger must have all valid travel documents which Dr Miguna does not have. "Dr Miguna is free to present himself to any Kenyan Mission to obtain his passport. It is, however, puzzling that he [Dr Miguna] has not made any effort to obtain his passport from any of the missions," the statement partly stated.
SEE ALSO: Governors wish-list to Uhuru on Covid-19
In the morning, Dr Miguna accused President Uhuru Kenyatta of failing to comply with the court orders and blocking his return to Kenya. He said: "[President] Uhuru Kenyatta has not facilitated my return and unconditional entry into Kenya as ordered by the High Court. He has refused to issue me with or return my valid Kenyan passport as ordered by the Court. His agents have not paid the damages and fines as ordered." Yesterday, he claimed that he was barred from boarding a plane at Frankfurt Airport, Germany, to Nairobi. While speaking to Hot 96 FM, he said that officials at the airport told him that a red alert had been issued barring him from boarding a flight to Jomo Kenyatta International Airport (JKIA). His attempt to fly a second time later in the day aborted and this time he said Air France ejected him from the plane citing a red alert which was yet to be canceled. "Yes, Air France removed me from Flight AF0814 from Charles De Gaulle Airport to JKIA, which was about to take off," he said. He later lamented that his rights had been subjugated and argued that airlines and countries have no mandate to cancel the flights of individuals. He stated: "IATA rules do not allow airlines to cancel flights of passengers based on "red alerts" by countries. States have no power over passengers or foreign air carriers." "States only control admission into or exits out of their countries. Citizens have a right to enter or exit at will."