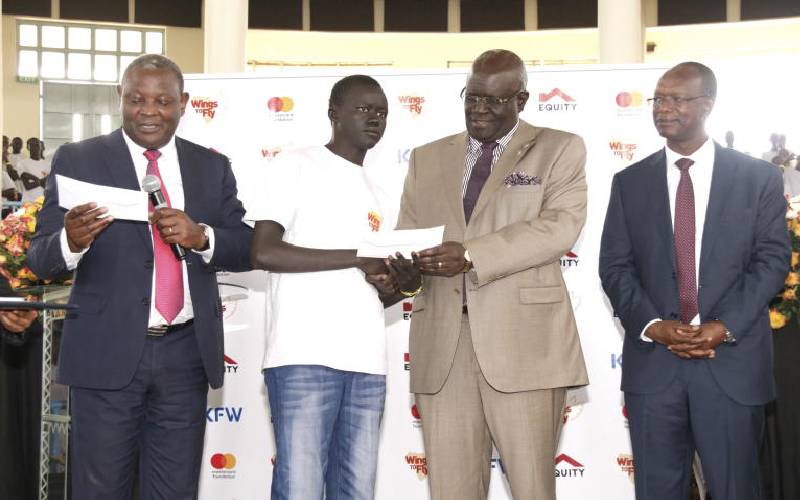 Equity Group has unveiled 1,136 beneficiaries of its Wings to Fly scholarship this year.
The scholarship is sponsored by Equity Group in partnership with MasterCard Foundation and the German government. Scholarships cover tuition, books, uniform, transport and pocket money.
The bright but financially disadvantaged children who secured the scholarship were selected from more than 26,000 applicants from across the country.
The beneficiaries, unveiled in a colourful ceremony at Kenyatta University last Friday, are the eleventh cohort since the scholarship was launched in 2010 and brings the total number of students who have benefited from the programme to 17,304.
President Uhuru Kenyatta, in a speech read on his behalf by Education Cabinet Secretary George Magoha said the programme has been transformative to many bright but needy students in Kenya.
"We laud Mastercard Foundation, Equity Group and their Wings to Fly partners for their generous contribution for the past 11 years to this worthy course. We have good reasons to be optimistic that we are building a great country and future leaders when bright students who are vulnerable are given such opportunities to pursue their dreams and goals," said the Uhuru.
Next week, the President will commission Elimu scholarship by the government targeting 18,000 students.
At the event, Prof Magoha urged school heads to adhere to the fee guidelines as indicated by the ministry saying principals who violate the directive will face consequences. "I have heard some people saying the Cabinet Secretary has allowed principals to increase fees. Where has that come from?" he questioned.
The CS said "every child should be given unfettered access to school", warning that if any student is sent home for not clearing lunch fee, the ministry will take swift action against the school head.
He also said textbooks for Competency Based Curriculum (CBC) would be availed in schools when learners resume on January 13.
Equity Group Foundation Executive Chairman James Mwangi advised the scholarship beneficiaries to optimise the opportunity for the benefit of their families, community and country at large. "Make the best use of this opportunity and study hard to make your family and the community proud. In four years' time, we want to celebrate because of how well you will have performed. Your predecessors have continued to do well and we trust you will emulate them," said Dr Mwangi.