Woman rescued from dog's life in Nairobi streets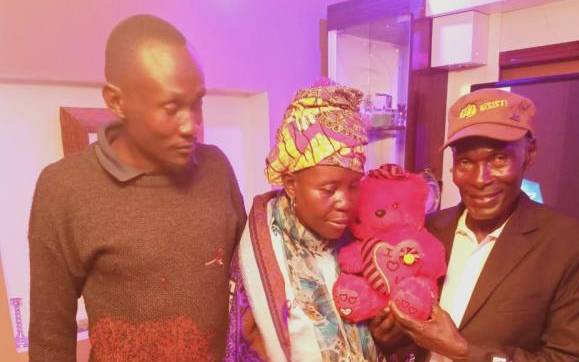 Mary Sewe is at her home in Gem, Siaya County, five months after she was rescued from the streets in Ndoroto, a few kilometres from Kitengela, Kajiado County.
Her story is a bittersweet one after she left home seven years ago without anybody knowing where she was. After leaving Siaya, she went to Mombasa, found her way to Kitengela, then to a psychiatric hospital and finally a reunion with her family. Her husband married another wife in her absence.
Mary's only son Collins, who is now married with two children is, however, elated that his long lost mother is back and that he can care for her after her long absence. The holder of a diploma in health records from the Kenya Medical Training College says it is his responsibility now to care for his mother.
"I am jobless but I still have to care for her. if I can secure a job, then I believe I will take better care of her because she is my loving mother who came back from the dead," says Collins, whose main economic activity is farming.
Mary's rescue and eventual reintegration with her family was initiated by Brenda Sophie, a farmer who decided to fish her from the filth of the streets for a decent life. Sophie has helped her build a house in the village, a place she can call home.
For close to a month, Mary stayed at Chiromo Lane Medical Centre where she was treated as the bill soared to almost Sh500,000, a good fraction of which the hospital waived on humanitarian grounds after Sophie pleaded her case.
The middle-aged woman had endured a dog's life at Kisaju in Kajiado for a year and a half until Sophie came. Mary could barely remember her past since years of abuse and the dehumanising living conditions took a toll on her.
"We sent our house help to Siaya to try and trace Mary's family after she gave us a hint even in her state and it was a lucky trip because when the family was found through the chief of her maternal home in Kisumu, the husband and son came to Nairobi to meet her," narrates Sophie.
Sophie recounts how it all happened leading to Mary's hospitalisation. This is the second person with mental health problems she is helping. The mother of two daughters and a son first saw Mary when she visited her farm in Kisaju and felt compassion for her.
"She was digging the ground and was in a bad state, so when she saw me approaching she came and greeted me. We struck a conversation after which we went to a nearby shop and got her something to eat," recalls Sophie.
At the shop, she learnt that Mary actually lived in an abandoned toilet. She had a huge scar on her head, which could have been inflicted by an offender.
Sophie sought help from the area chief who wrote a letter allowing her to take the sick woman. She says despite Mary being in a sorry state, she was still human and deserved to experience human dignity.
"Lice were all over her body, her skin was cracked and she appeared like she had not had a bath in a long time but after getting close to her, I realised she had a soft side to her which maybe the neighbourhood had not realised," Sophie states.
She hired a matatu and requested the chief for two police officers to accompany them just in case matters went out of hand.
"Just the same way I took in a woman and her two children some years back is the same way I knew Mary would get better. I do not do it to get anything from anybody, but because I know what it means to live in the streets especially for a woman," states Sophie.
Continued treatment
Fredrick Owiti, the psychiatrist who managed Mary from the time she was taken to the hospital, describes her condition as schizophrenia. Dr Owiti says Mary has really improved and needs to be on continued treatment.
Sophie was born in Kibera to a single mother and found herself in Mama Ngina's Children's Home where she was adopted. This, she says, has had an impact in her life that if, she confesses, she had the power and means, then no person should live on the streets.
Baba Yao fights back
Governor pokes holes into how ward reps vote to remove him from office was conducted.