How Boris Johnson's win will affect Kenya's economy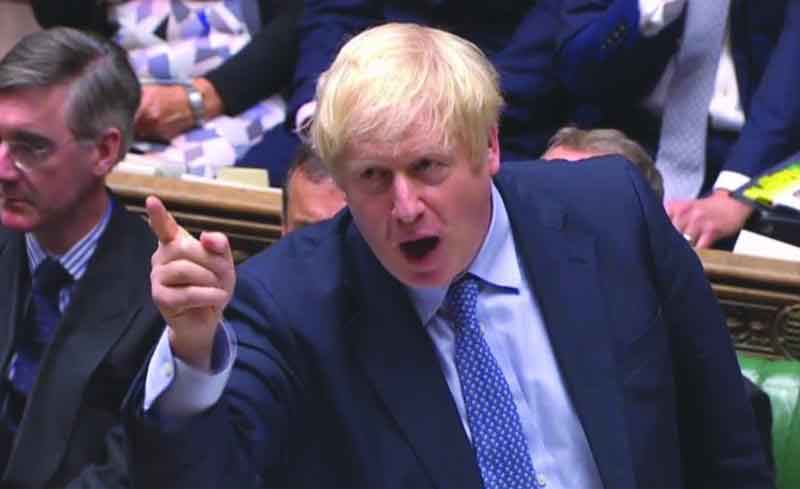 Appearing one year ago at the State House in Nairobi in a joint press conference with former United Kingdom Prime Minister Theresa May, President Uhuru Kenyatta couldn't remember Boris John's full names. So he referred to him as 'this Boris-the-bicycle-guy'.
He said: "Last year, if you recall, the foreign secretary – then Boris, erm, Boris, Boris Johnson – the bicycle guy ... Boris Johnson was here with ambulances. These ambulances were bought courtesy of funds that had been seized, returned and utilised to buy ambulances which were distributed across the country.
Little did Uhuru know that he'd be congratulating the same Boris as the new UK Prime Minister! Boris Johnson's Conservatives party had a resounding victory in the 2019 United Kingdom's General Election that also saw political, social and economic casualties in UK and around the world. In United Kingdom, Liberal Democrats leader Jo Swinson and the DUP Westminster leader Nigel Dodds both lost their seats.
In a classical political duel, Boris successfully led his Conservative Party to secure a majority of the 650 seats in the House of Commons. Johnson's first national election victory is the unexpected expectation of a dramatic blow to his main competitor, opposition leader Jeremy Corbyn, whose Labour Party suffered heavy losses.
Full hex map
Bar race results chart
Party Sankey diagram
In his message to UK Prime Minister, President Uhuru underscored the strong bilateral and historical ties between Kenya and the United Kingdom. "...I assure the PM of my commitment to continue working closely with his Administration for the mutual benefit of the people of the two countries," Uhuru said in a tweet.
In August 2018, while President Uhuru Kenyatta was pleased that former May "found time" to visit, he also went ahead to deliver a diplomatic rebuke, complaining that no British Prime Minister had visited Kenya for 30 years despite strong bilateral relations.
"I believe this only strengthens that and the ability of our two countries and legal systems to be able to work together to ensure that any assets that may have been acquired in the United Kingdom – that are associated with corruption or any other such crime – are successfully returned and put to use for the benefit of the people of the republic."
"Yes, it has been 30 years, but I don't want to dwell on the past – we want to look to the future," he added.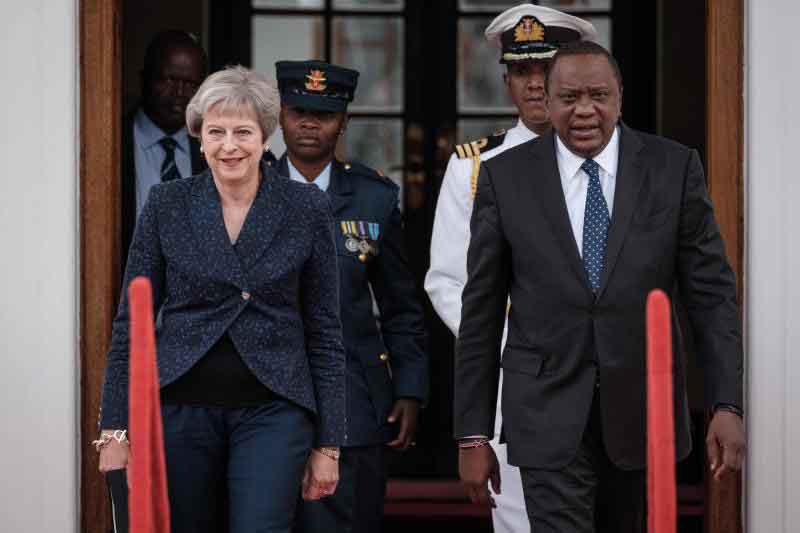 Margaret Thatcher was the last British Prime Minister to visit Kenya in 1988 despite historic links between the two nations. Over the decades, East Africa's largest economy, has increasingly turned to China and the US for support and investment.
President Uhuru Kenyatta did not hide the fact that Kenya was keen to seek investment from anywhere in the world a few days after returning from the US, where he met President Donald Trump and signed a number of cooperation deals aimed at establishing a US–Kenya Trade and Investment Working Group to explore ways to deepen ties between the two countries.
On her part, former PM May said she was delighted to be visiting Kenya and that she would take away memories of the continent's unforgettable "vibrancy and beauty". "The UK is already the largest foreign investor in Kenya," she said, adding that "as Britain prepares to leave the European Union we are committed to ensuring a smooth transition" and promising that Kenya would retain its duty-free quota access to the UK market.
Until 1963, Kenya was part of the British Empire after being a colony for 68 years between 1895 and 1963. The country retained Queen Elizabeth II as the Head of State and Queen until 1964 when Kenya became a republic with the President Jomo Kenyatta as the Head of State.
Relations between both countries have remained cordial. Currently, Kenya hosts British Army Training Unit Kenya (BATUK) that trains in the country in preparation for operations in countries such as Afghanistan. BATUK is a permanent training unit with stations in Kahawa, Nairobi and Nanyuki.
An agreement with the Government of Kenya allows six infantry battalions to train in the country annually, with exercises running for six weeks. Britain also reserves three Royal Engineer Squadron exercises which carry out civil engineering projects and two medical company group deployments which provide primary health care assistance to the civilian community. This brings the number of British soldiers training in Kenya to about 10,000 annually. The troops also help prevent poaching of rhinos and elephants and are said to contribute Sh2.5 billion (£58 million) to the Kenyan economy annually.
Concerned about China's growing influence in Kenya, British MPs debated how to improve relations with Nairobi, particularly after Britain had sought to isolate Kenya diplomatically after President Uhuru Kenyatta's indictment at International Criminal Court in The Hague. The MPs noted with concern that China's efforts in Kenya to develop infrastructure were successful and that Britain had not been supporting Kenya in the same way.
Currently, bilateral trade between both countries exceeds Sh139 billion (£1 billion), and the United Kingdom is one of the largest investors in Kenya.
UK's Vodafone PLC owns a stake in Kenya's largest taxpaying firm, Safaricom, while the UK is also a major buyer of Kenyan horticultural produce, especially the high-value commodities which include horticulture (fresh vegetables, flowers and fruit) and beverages (coffee and tea), that are responsible for 90 per cent of total Kenyan exports to the UK.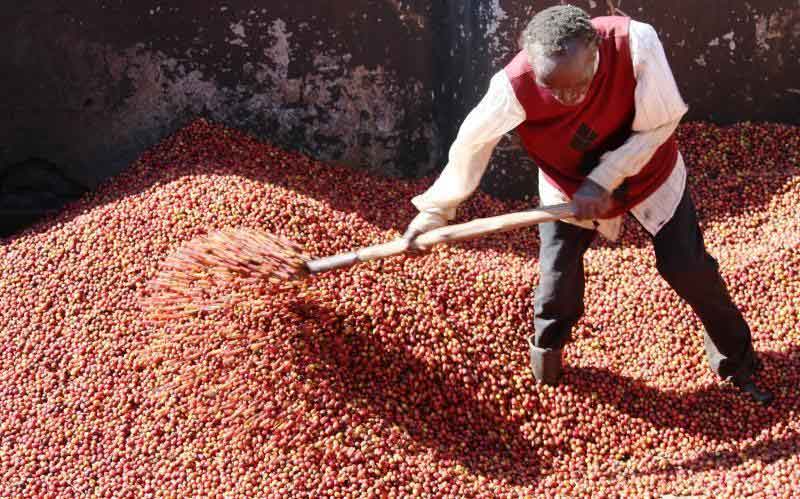 The UK imports 8.5 per cent of Kenyan goods while Kenya imports 3.4 per cent of British goods, but the UK's share in Kenyan exports fell from 16 per cent in 2001 to 7 per cent by 2014, and it's even getting worse as Kenya's vegetables and flowers lost competitiveness to countries such as Rwanda and Ethiopia.
Kenya's share in the stock of UK Foreign Direct Investment (FDI) to Africa is equally shrinking, currently, standing at just 2 per cent of the total UK FDI stock. Conversely, Kenya's inward flows of FDI indicates that the United Kingdom is a major source – contributing around 40 per cent of Kenya's total FDI inward flows (2012-18).
China is currently the largest source of Kenya's Foreign Direct Investment (FDI).
Kenya's Export Growth from 1962
Whereas the UK aims to double trade in the coming years, Kenya's exports are lacking strategic diversification, as such, the trade between both countries will obviously continue to be in favour of the Britons.
The rise to significant competition from other African countries such as Rwanda, Ethiopia, Tanzania and Cote D'Ivoire is gradually eating into Kenya's market share in the UK as lack of diversification reduces Kenya's export competitiveness.
A country like Ethiopia is competing on wages while Cote D'Ivoire is competing on better marketing systems such as Fairtrade coffee when Kenya is struggling to comply with EU maximum residue limit requirements in beans.
Kenya's trade policy is now focusing on expanding international market access through unilateral trade preferences and other trade initiatives.
Kenya's Export to the United Kingdom
The dynamic nature of politics in Europe, UK and USA posts troubling scenarios in Kenya trade policy since the African Growth and Opportunity Act (AGOA) with the US might expire in 2026, should the sitting president decline renewal.
As Prime Minister Boris Johnson leads UK nationals to a new chapter of diplomatic relations, Britons are discussing more extensive rollover of deals with Kenya after Brexit.
At the same time, Kenya is seeking to maintain good standings under Economic Partnership Agreements (EPA) with the EU, that offer greater access to regional markets at many levels including the African Continental Free Trade Area whose ratification by African member states is still dwindling in the wangles of ideologies.
So far, Kenya's access to some global markets, especially in the EU, is constrained by rules of origin as well as standardization policies.
Kenya's Economic Complexity Ranking
The UK has signed 20 "continuity" deals covering 50 countries or territories, and Kenya is the most strategic partner in East and Central Africa.
The United Kingdom traded a total value of £1.3tn of goods and services in 2018. About 11 per cent of this trade came from countries with European Union trade agreements that span across the world – beyond EU member states.
The trade between the Eastern and Southern Africa region was worth £2bn in 2018. The existing trade deals will allow export of agricultural products including meat and fish as the main goods imported from the region by the UK.
All these trade deals are subject to geo-politics as well as priorities of Boris Johnson-led cabinet at 10 Downing Street, Westminster, London.