Lawyer Ahmednasir reaffirms to stand with King Kaka if Waiguru sues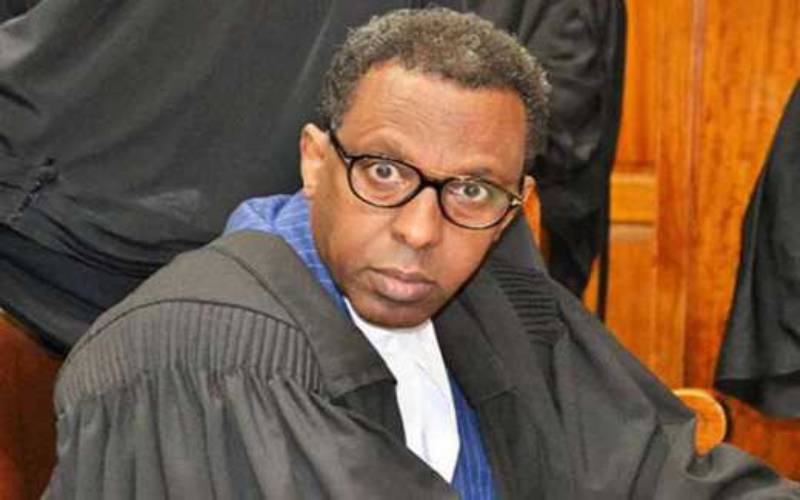 Lawyer Ahmednasir Abdullahi has reaffirmed to defend musician Kennedy Ombima alias King Kaka amid suit threat by Kirinyaga Governor Anne Waiguru.
King Kaka painted Waiguru in his sensational song "Wajinga Nyinyi" (you are fools) as among the corrupt leaders in the country referring to the National Youth Scandal scandal when she was adversely mentioned.
The former Devolution and Planning Cabinet Secretary was however cleared by the Ethics and Anti-corruption Commission (EACC) in the infamous corruption scandal.
The award-winning Kenyan rapper kicked up a storm with his song accusing politicians and Kenyans of being co-authors of the country's misfortunes.
In response to the song, Waiguru slapped King Kaka with a list of demands including issuing an apology and pulling down the video on all his social media platforms
Failure to which, she would file a defamation suit against the "Wajinga Nyinyi" hitmaker.
Lawyer Ahmednasir, however, opines that King Kaka did not defame any politicians in his song because the song was highlighting the truth on Kenya's tattered social fabric.
He added that King kaka's verses are privileged no matter how much in bad light the commentaries were.
I said and I repeat..I will give legal representation to @RabbitTheKing against ANYONE who sues him for the lyric #Wajinganyiyi .I'm of the considered view that no one amongst the ruling elites or the masses was defamed. UGLY, CRASS and LEWD commentaries on soceity are PRIVILEGED — Ahmednasir Abdullahi SC (@ahmednasirlaw) December 17, 2019
This is the second time the Nairobi based lawyer has promised to offer any legal assistance to King Kaka after releasing his controversial song last Saturday.
Hours after his fervid song went viral, King kaka took to twitter seeking protection from unnamed people who felt offended by his poetic release.
"#WajingaNyinyi at this rate I think I need protection. If worse comes to worst mkuje police station (come to the police station)" posted King Kaka.
Ahmednasir responded to the tweet and expressed his availability and willingness to represent the artiste in court.
"You just said the truth...nothing but the truth...if you need a lawyer for telling truth to power...give me a shout...#WajingaNyinyi"