Me escaping arrest? Never, Governor Sonko denies avoiding detectives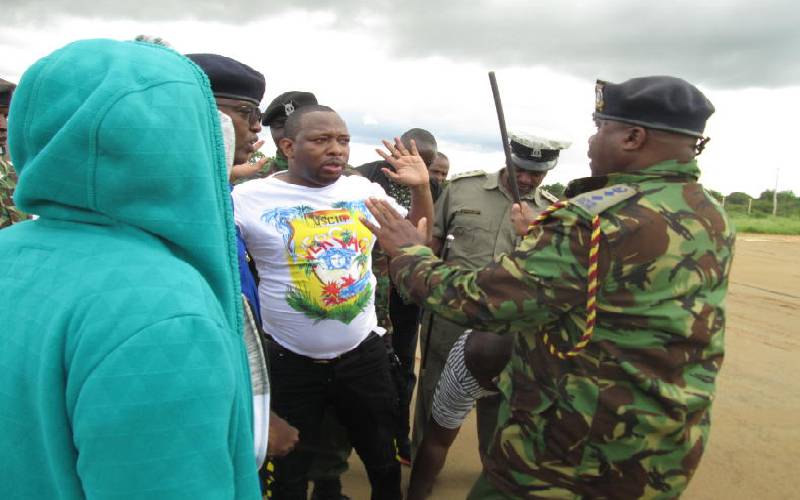 Nairobi governor Mike Sonko has dismissed reports indicating that he was escaping arrest before being apprehended in Voi, Taita Taveta county.
Sonko laughed off the claims saying he was on his way to Mombasa to attend a workshop, but not fleeing arrest as being said.
"Why would l run away? To where and to do what? I am a Kenyan who is always on the move doing what's good for the people," he added.
The embattled governor said he is more than ready to respond all queries raised against him by Ethics and Anti-Corruption Commission (EACC) in a court of law.
He told Nairobi residents to remain calm, expressing hope that soon the truth will come out and he will be freed.
"I want to confidently state from the onset that I am more than ready for the lawful course that will help us know the truth," Sonko said in a statement.
According to EACC, Sonko was waylaid by detectives and nabbed as he attempted to escape at a road block in Voi .
"EACC confirms that Nairobi Governor Mike Sonko has been arrested while escaping arrest at a road block in Voi and is being transferred to Nairobi to face charges of corruption and economic crime," read the tweet from EACC.
The arrest comes after Director of Public Prosecutions (DPP) Noordin Haji issued an arrest order against him and other officers in his administration over corruption.
Sonko, however, termed the arrest a political trap laid against him, but said he was ready to deal with it.
"I call upon my supporters and Nairobi residents in particular to be calm as I deal with this temporary insubordination. I assure everyone that I shall not be intimidated and won't be moved an inch into some political traps," he added.
Governor Sonko further ordered with immediate effect, investigations into a collapsed building in Tasia area.
"My people are on the ground to conduct probe and rescue missions."