Caretaker narrates how Monica's body was discovered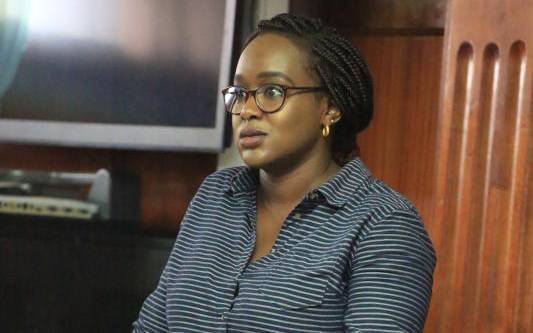 A caretaker at an apartment where businesswoman Monica Kimani used to stay has described how her body was discovered in a bathtub.
Reagan Buluku yesterday testified that he could not withstand the gory scene as Monica lay lifeless in her bathroom, with both legs and hands tied and blood flowing from her slit throat.
"I was so shocked when I saw how she was slaughtered. I could not withstand the sight and rushed back to her sitting room. There was blood on her neck as she lay in the bathtub with running water that washed and drained the blood," said Buluku.
Former TV presenter
Mr Buluku was testifying before Justice James Wakiaga in the case where Joseph Irungu alias Jowie and his girlfriend, former television presenter Jacqueline Maribe, are facing trial over Monica's murder on September 19, 2018, at her Lamuria Gardens Apartment in Nairobi's Kilimani.
He said on September 20, 2018, a day after the murder, Monica's brother George Kimani came to look for his sister after her phone went unanswered.
Buluku testified that he has been the caretaker of the apartment for four years and on the fateful day, George informed him that his sister's door was locked from inside and he could not reach her.
"We went to her house and confirmed it was locked. We could hear the sound of the television and running water, but there were no keys on the door," he said.
He told the court that they organised with the gardener who brought a ladder and climbed through the balcony window to access the house and that the gardener started shouting once he got into the house and saw Monica's body. They later broke into the house.
Another witness, Chelang'at Ruto (pictured), positively identified the clothes Jowie had on the night Monica was killed, and which were produced in court as evidence.
Chelang'at testified that they are good friends with Maribe and had been introduced to Jowie, who she also said was their friend.
She said on the night Monica was killed, they went to Citizen TV with a friend called June Juliet to prepare Nairobi Governor Mike Sonko, who was scheduled for a live show.
Night party
"After the show, we picked Maribe and, together with the governor, went to Club 40-40. It was at that club that Jowie joined us late into the night, as we went on partying until 4am," said Chelang'at.
She said the brown khaki short and red cap presented to court were the same worn by Jowie that night, and they parted ways at 4am when he (Jowie) went home with Maribe and she went with her friend.
The hearing continues.