Student, teacher and suspect: The many faces of man in stowaway row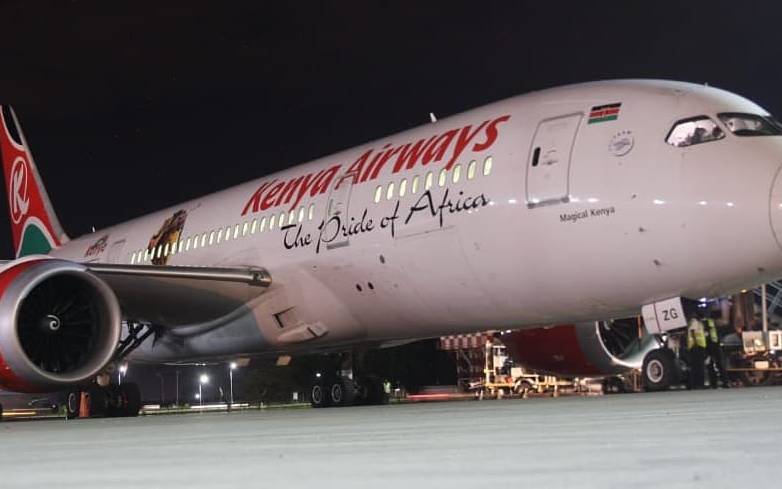 The mystery surrounding a stowaway who fell from a Kenya Airways plane flying over London has taken a new twist.
Yesterday, fresh details emerged of a man whose photographs appeared alongside a report by Sky News as the stowaway who fell off a Kenya Airways plane flying over London.
In the Sky News story, a man identified as Paul Manyasi was said to have been the man aboard the flight. In the article, his father was identified as Isaac Manyasi and the mother as Janet.
The two later accused the British broadcaster of misreporting, insisting their son was called Cedric Shivonje. The older man said his name was Isaac Beti and that he had not seen his son for two years. He also said he had been told by a relative that his son was at the Industrial Area remand prison.
Isaac said he had told the journalists that visited his home in Malava, Kakamega County, that his eldest son was called Cedric Shivonje Isaac.
Reports carried by a local daily yesterday tracked down Isaac Shivonje at the Kamiti Prison where he is being detained awaiting hearing of a case where he is charged with defilement.
Yesterday investigations by The Standard team unraveled fresh details about the man at the centre of the controversy.
Kibra court
According to court records, Isaac Shivonje was charged at Kibra court for allegedly defiling a minor. The file has two charge sheets. One with the name Hillary Misikho, which was subsequently canceled. The other charge sheet bears the name Isaac Shivonje.
Court records say Shivonje is a fourth-year medical student at Jomo Kenyatta University of Agriculture and Technology (JKUAT).
"I am a Fourth-year medical student at JKUAT. I am supposed to be in session. I pray to be granted cash bail," Shivonje pleaded.
His parents, in a probation report filed before the court, explained that they were waiting for him to complete his studies, get a well-paying job in a bid to assist them.
However, probation officer Nungari Ngari told the court that despite claiming he was a student at JKUAT, Shivonje had no proof. The official said his parents reiterated he was a student, but could not find his school documents.
"He is a man aged 24 years. He stated he is a JKUAT student although he could not provide documentary evidence. His family stated he is a student although it could not trace his documents," said Ngari.
The police produced in court a 24-year-old Misikho on August 9, 2019, who was charged with defiling a 16-year-old girl. He denied the charge.
Misikho was arrested on August 7, 2019, two days before being arraigned.
Four days later, August 13, 2019, the police produced Shivonje and canceled the charge sheet that had Misikho.
In court file, there is a canceled charge sheet of Misikho and the one of Shivonje, but the details are similar, including that he was arrested by officers at Muthangari Police Station. Four witnesses are lined up to testify against him.
According to the court record, the 24-year-old Shivonje has been married since 2018 and lived together with his wife at Kawangware.
Shivonje, in the story appearing in the local daily, is said to be 25-years-old, but court records show he is a year younger.
The probation report indicates he is from Malava location, Butali sub-location, and Matioli village. The record reads he is the son of Isaac Beti, a farmer, and his mother Janet Khakali a homemaker. He is a first-born in the family.
In court papers, the family is indicated as being supportive of their son.
"He is a responsible young man who works hard and comes from a humble background. The family is looking forward to him helping them once he completes his education and gets a stable job. He is a trustworthy person who will attend court," added Ngari.
"Martin Kenyatta Inyanya, a paternal uncle, wants to give bond using his 1.5-acre land. He prays for a Sh50,000 cash bail."
The only hindrance to Shivonje's temporary freedom, the court heard, was that his father and uncle were unable to raise fare to Nairobi to start the process of securing his bond.
According to Ngari, Shivonje sat his Kenya Certificate of Primary Education (KCPE) examinations in 2010 at Matioli Primary School and scored 294 marks. He proceeded to Tande High School, Malava, and scored a B-minus in his Kenya Certificate of Secondary Education in 2014.
He is said to have joined JKUAT in 2015.
Questions have, however, arisen on how Shivonje was moved from Nairobi Industrial Area Prison to Kamiti, as the record shows he ought to have been in the former awaiting mention and hearing of the case on February 3, 2020.
"Unless they are holding him for another capital offence, then he cannot be moved to Kamiti," the source said.
We also traced the school in Kawangware where Shivonje taught for two terms. At the school, he was known as teacher "Hillary".
The owner of the school admitted to knowing the man whose picture appeared in the story as "Hillary". He, however, said he had no documentation which qualified him (Hillary) to teach. The owner said Hillary was paid by a third party who seconded him to the private school.
The owner of the school yesterday intimated that "Hillary" joined the school in the first term this year after he was seconded by a "white person" from a children welfare organisation in the area.
He, however, taught all through as teacher Hillary. The owner had saved Hillary's number on his phone, but when we made a mobile money transaction, the recipients name appeared as 'Isaac Shivonje'.
He explained that he and the "white person" had an agreement that Hillary would be teaching at the private school from Monday to Friday, then on the weekend, he would go teach at the welfare centre.
The man explains that Shivonje was working at the welfare organisation courtesy of 'a manager' who brought him.
Suspiciously when he asked for Hillary's details and teaching documents, the white person gave an assurance saying he should not worry since she was the one paying him. She had employed him on a weekly contract basis.
Teacher Hillary
Hillary used to have teaching schedule and documents which he prepared, but he had carted all of them away by the time he was arrested on August 7, 2019.
The owner who doubles up as a pastor further explained that the 'white person' had aided children who were financially disadvantaged and brought them to his school.
On a book shelf at the school, Hillary's name is inked on the front edge in capital letters. Above the name are littered papers with a thriller novel by British crime writer Dick Francis.
"We at the school knew him as teacher Hillary and that was the name used to mark his locker space," said the school's owner.
"If I had his employment details, then I would be able to recognise his real names but unfortunately I had mastered his second name. Even in our files and phone contacts, we had all saved him as Teacher Hillary."
The owner brought to the fore that Hillary was at the school until he was arrested in August.
On the day of arrest, he said, the child who had been defiled reported the case to him. He proceeded to the welfare centre where he met Hillary and his 'white employer'.
After informing Hillaryi's employer of what had happened, she recommended that they should forward him to the police. He was arrested in their presence.
Back to court, the probation report was written without the contribution of the victim or her family.
The probation officer narrated that she had sought the help of the investigating officer to reach out to her but to no avail. Her sister never picked the official's calls.
"The victim was reached at the time the report went to print. Though efforts to contact the investigating officer to help trace the victim, the contact for the victim's sister was not going through," reported Ngari.