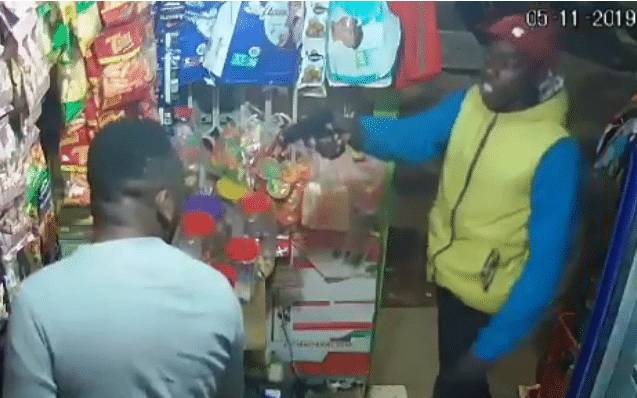 A man's attempt to fight off gun marauding gang at a retail shop ended tragically when he was shot and seriously wounded in Nairobi's Kasarani area. Police have since launched a manhunt on the two gunmen who had raided a shop on a robbery mission leading to the bloody confrontation. The victim identified as Richard Muema is admitted to Kenyatta National Hospital where doctors removed seven bullets from his body following the shooting last week. A CCTV footage that captured the drama showed two men walking into the shop where they found Muema waiting to be served. One of the suspects then drew his gun and ordered Muema to lie down as he demanded cash and valuables from the shopkeeper.
SEE ALSO: Kinoti's powers under siege as DPP ratifies new rules on criminal cases
The suspect shifted his attention to the shopkeeper demanding cash. It was then that Muema, who had been on the ground sprang up and hit the gunman on the head in an offensive move. He wrestled the gunman to the entrance of the shop as the pistol discharged. It was then that Muema was shot and wounded. They escaped on foot soon after the incident. His family is appealing for financial support to cater for the medical bill. Police have urged members of the public to help identify the suspects.
SEE ALSO: How Dr Gatonga rose from humble beginnings to become a top CEO
Director of Criminal Investigations (DCI) George Kinoti said they are on the case but urged for help to trace the gunmen. Detectives have already commenced investigations into this matter with the ultimate aim of bringing all those involved to book. Any person with any information about their identity can contact DCI," he said. Meanwhile, police are looking for a gang that shot and killed two police officers on Friday morning in Njiru area, Nairobi. The officers' guns are missing. The officers attached to Obama police station were ambushed and shot twice each by the attackers as they patrolled the area at about 4 am. Police believe the gang was after the officers' guns amid fears they could be used to commit crime elsewhere.