Why it took long for kin of plane crash victims to finally get closure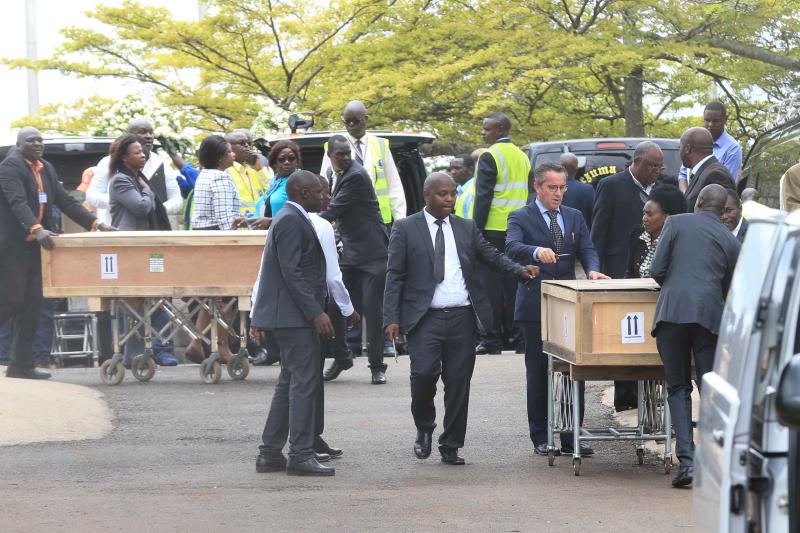 After seven months wait, family and friends finally gathered on the slopes of Mt Kenya in Burguret village in Nanyuki, to pay their last respects to a slain former journalist.
The remains of Anthony Ngare, a former journalist arrived home for interment on October 18. His remains had been flown four days earlier and handed over to the family which had been eagerly waiting for this moment since the horrific crash of Ethiopian Airlines Flight ET302, eight minutes after take off from Addis Ababa on March 10.
Ngare's remains were among those of 28 Kenyans whose bodies were flown to Nairobi on October 14. The remains of four others are yet to be accounted for.
But why did it take this long for the bodies to be retrieved and handed over to the relatives?
A former Kenya Airways Cargo manager, Dan Okwiri took us through intricacies of retrieving and repatriating bodies from an air crash scene and handing them over to relatives.
Never received remains
Borrowing from his experience after the May 5,2007 Flight KQ 507 crash in Cameroon, Mr Okwiri explains why sometimes it may take close to a year to recover bodies of all victims.
In a 10,000 word article which he has published in his blog, the former manager gives a blow-by-blow account of how and why it took the families of the 114 passengers and six crew of the ill-fated Doula flight nine months to get bodies. Others he explained never received remains of their loved ones and have never had closure.
Yesterday, when we talked to Okwiri, he said he has never forgotten what he went through and the emotional turmoil the families had to endure as they waited for the remains of their loved ones for seven months.
He recalls, "One fateful morning while loading we got news that Doula (DLA) Flight KQ 507 which we were expecting, had gone off the radar. This was spanking new 737-800 and she was just 6 months old. I inwardly knew it is was a roundabout way of saying it may have crashed awaiting confirmation of wreckage."
At first, Okwiri just like other experts at Jomo Kenyatta International Airport could not understand why it had to take 42 hours to confirm where the wreckage was, given that it had been overflying land.
"I was later surprised to learn the plane crashed close to Douala Airport, a mere distance of 5.4km away. I asked myself, why did they take so long to reveal where it crashed yet it was so near the airport."
Generator to power it
When the confirmation was late made, it came with horrific findings. The plane had disintegrated into small pieces which were submerged in a mangrove swamp.
Earlier on January 30, 2000, Flight KQ 431, an Airbus A310-300 had crashed into the sea near the coast of Côte d'Ivoire, shortly after taking off from Félix-Houphouët-Boigny International Airport, Abidjan and killed 169 people.
After the Doula crash, Kenya Airways sent a team from Nairobi to Cameroon to set up an emergency command centre to handle victims and families. Psychologists to handle stress, accident investigators and engineers formed part of the team.
A South African company, Okwiri adds was contracted to handle the repatriation of human remains and do the paperwork.
As the repatriation would later discover a fire after the crash burnt the victims reducing some into bits of charcoal. This necessitated the use of DNA to identify the victims.
Back in Nairobi, and around the world the affected families were waiting for the remains but it would be six months before any evacuation from Doula could be effected.
In the meantime, a refrigerated truck, container and a generator to power it, had been hired as Doula had unreliable electricity supply.
"The human remains that were recovered were stored in the refrigerated truck container and the generator would be on throughout the period. Doula doesn't have very good morgues so this was the only solution," recalls OKwiri.
Six months into waiting, Okwiri narrates how one morning he was summoned by the then CEO, Titus Naikuni.
Naikuni said to Okwiri, "Its now November our reparation efforts of the human remains have hit a wall and public pressure is getting volatile. Your mission assignment is get the bodies delivered to the families before the close of the year."
When told to go to Cameroon the following day, he protested: "I don't have a visa to Cameroon and they don't have an Embassy in Nairobi, all visa applications there are done through the French Embassy and getting visa takes a week."
His opposition was waved off by his bosses with an assertion, "we know you can go to Cameroon with or without a visa. By the way, here is the power of attorney."
The document, mandated him to commit Kenya Airways and he was assured that his employer would abide by his decisions.
In Cameroon, the former manager says the repatriation team was not in a hurry to secure death certificates from the local governor and when asked when they expected to complete the mission, they gave a tentative date of the following March, one year after the crash.
He later gathered that Cameroon was unhappy because despite losing 37 passengers, "nobody in the top KQ leadership had bothered for the last 6 months to empathise and help."
After many tense moments, Okwiri finally got authorisation for repatriation of the remains but was supposed to meet certain conditions.
"We have to call a interdenominational church service in 10 days for healing and national mourning where all the victims' families and the diplomats from the affected nationalities were to be present."
Within this period, Okwiri had to come up with logistics of bringing 114 families each with up to three family members to Doula.
"The nationalities were from all over the world. I had to organise their ticketing and routing at the most economical costs as the company was already burning financially."
Further Okwiri was to brief each family the status of the remains of their relatives even where bodies were missing.
It was a nightmare to organise the relatives who were coming from all the 26 countries. There were 37 from Cameroon, India 15, Kenya 9, South Africa 7, Ivory Coast and Nigeria 6 while United Kingdom had 5.
Others were China 5, Comoros 2, DRC Congo, South Korea, Central African Republic and Guinea 2 and a passengers each from Egypt, Ghana, Mali 1, Mauritius, Niger Senegal, Sweden, Switzerland, Tanzania, Togo, USA and Burkina Faso.
It was Okwiri's work to ensure each family was met at the airport, escorted to a hotel and later taken to the site of the crash so that they could understand what had befallen their loved ones.
"I had hired a hall to meet the bereaved families and to discuss various issues with all the 114 crash victim families members one by one. It was a long queue and emotions ran high. Some were screaming that allowances were low"
There were instances where one family had more than one spouse and it was quite complicated resolving who was to get the $100,000 (about Sh10 million) each victim was entitled to as compensation.
Cremated the bodies
"If there more than on two spouses I made a note put the consignee the person the body was addressed to) as the parents or surviving parent and skip the spouses. This way I managed to absolve KQ from legal claims from victims who had many spouses." Okwiri recounted: "The Indians and Chinese were a bit tricky to handle as by their faith and tradition had to be cremated. There was no crematorium in Doula and we had to get an Indian resident and cremated the bodies in an open field," Okwiri recalls.
But handling remains of the crew was the most traumatic: "The last human remains I freighted were the cabin crew remains. Unfortunately the captain's remains was never found. These were people I knew and worked with for decades. I draped the coffins in cloth and put roses on top that had flown in from Kenya. This was my moment of glory but also in many ways sadness."