City population increases 40pc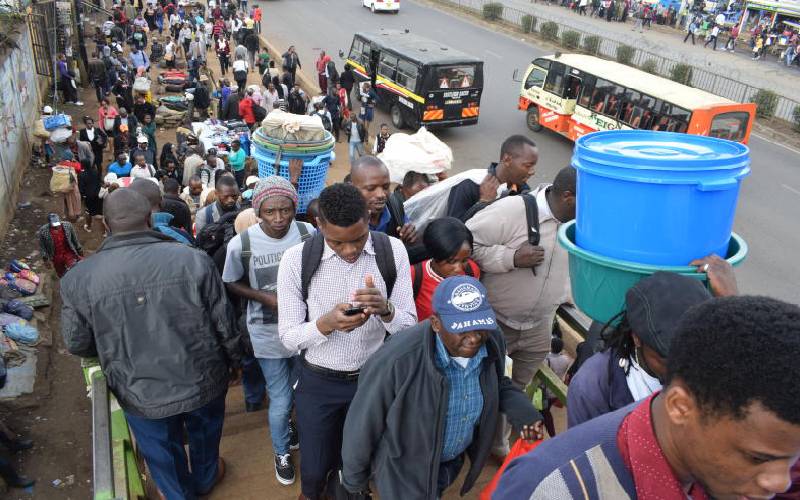 Nairobi is the most populous county with a population of 4,397,073 people.
The capital city's population has grown 40 per cent in the last 10 years from 3,138,369 in 2009, the 2019 census data reveals.
This now means Nairobi accounts for 9.2 per cent of the country's total population.
Kiambu is the second most populous county with 2.4 million people, Nakuru third with 2.16 million followed by Kakamega (1.87 million) and Bungoma (1.67 million).
In 2009, there were 1,605,230 females in Nairobi compared to 1,533,139 males. In this year's census, the number has risen to 2,192,452 females and 2,204,376 males.
Embakasi Sub-county recorded the highest population in Nairobi with 988,808 people. It is followed closely by Kasarani at 780,656.
Njiru is third with 626,482, Dagoretti fourth with 434,208, Westlands (308,854), Kamukunji (268,276), Starehe (210,423), Mathare (206,564), Langata (197,489), Makadara (189,536) and Kibra being last with 185,777.
The city is growing at a rate of over four per cent annually, primarily because of the high birth rate and as people migrate from rural areas in search of employment.
KNBS projects Nairobi will have a population of five million in 2025.
Nairobi's land mass is 703.9 square kilometres. This shows about 6,247 people occupy a square kilometre.
Kibra myth
There are about 1.5 million households in Nairobi, according to the 2019 census. This again shows there are 2.9 people per household.
An average household size in Kamukunji stands at 3.1, Njiru (3), Westlands (2.9), while Dagoretti, Embakasi, Kasarani and Starehe tie at 2.8.
The data has once again demystified the long held assertion that Kibra slum is one of the largest in Africa with one million inhabitants.
The slum has only 185,777 residents.
The 2009 census showed Kibra had a population of 170,070 people. This means the slum's population has gone up by 15,700 people in the last ten years.