Kidero wants three-bench judge in case seeking to stop graft case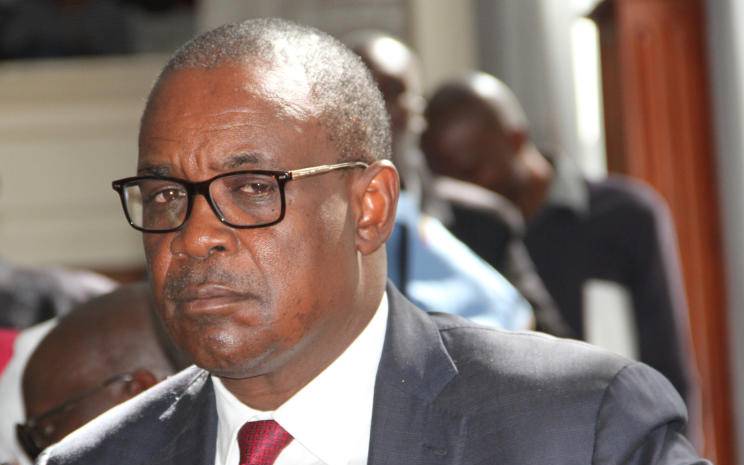 Former Nairobi Governor Evans Kidero (above) says he is not among the big shots who have approached the Director of Public Prosecutions (DPP) seeking a plea bargain.
Dr. Kidero said he will continue fighting in corridors of justice and will not make any proposal to Noordin Haji's office for an out of court deal.
"Contrary to reports appearing in sections of the press, I have not instructed my lawyers to seek a plea bargain. Believe in my innocence and will fight to the end," he told the Standard.
Speaking in Kisumu on Tuesday, the DPP said high-profile individuals and institutions such as banks have approached his office seeking to take advantage of the recently launched plea bargaining and diversion policy.
Although he did not disclose the suspects' identiy, Dr. Kidero who is among those high profile individuals charged says he won't go that route as he claims innocence.
Two weeks ago, the embattled ex-governor made a fresh attempt to stop his ongoing prosecution over the Sh68 million City Hall scandal.
Through his lawyers, Dr. Kidero who served as the capital's pioneer boss, is seeking to have three-bench judge to determine his application.
Justice Mumbi Ngugi is expected to give directions today (Thursday) on whether the file will be placed before the Chief Justice for appointment of the three-bench judges.
Filed under a certificate of urgency on October 9, Dr. Kidero through lawyer Nelson Havi, wants the high court to quash the prosecution on grounds that the charges have been instituted in contravention of the anti-corruption and economy crimes act.
The application came just a month after the Ethics and Anti-Corruption Commission (EACC) sought to recover Sh68 million from Dr. Kidero and his co-accused.
Although the commission had already charged Dr. Kidero and 15 others, it wants to recover the money from them on grounds that they fraudulently made the payments. Kidero has pleaded not guilty to corruption charges.
In a letter dated 12th September 2019, EACC has written to Dr. Kidero, his former chief of staff George Wainaina, Nyakach MP Aduma Owuor among others were given two weeks to refund the amount.
"As a consequence of your negligent acts of commission and omission the government of Kenya incurred a loss of Sh68 million. In light of the foregoing you are jointly and severally liable to compensate government Sh68 million together with interest."
Other accused were former Nairobi Mayor and ex-Embakasi Central MP John Ndirangu, Paul Mutunga, Manasseh Karanja, Philomena Nzuki, Nganga Mungai, Charity Muringo, Peterson Njiru, Ekaya Alumasi, James Mbugua, Elizabeth Wanjiru, Alice Njeri, Hannah Muthoni and John Ngari.
"Take notice that if the said sums is not remitted to the Commission within 14 days from the date of this letter, we shall institute recovery proceedings against you at your own risk as to costs and other consequences without further reference to you," the letter signed by CEO Twalib Mbarak reads in part.
The demand came just a day after Kidero sought Sh200 million compensation for his trial over allegations of conspiring to steal Sh68 million from the County Government.
Dr Kidero through a petition filed at the High Court claims that he is being illegally prosecuted for events that took place in 2011 before he assumed office in 2013 and wants to stop the case and an order that he be compensated for malicious prosecution.
His lawyer Nelson Havi argued that there was no factual basis for the criminal charge since the money in question was legally paid to Wachira Mburu and Company Advocates for legal services rendered to the defunct Nairobi City Council in 2011.
"The prosecution is manipulating the criminal justice system to achieve extraneous purposes. You cannot prosecute the former governor for doing what the law mandated him to do by settling debts accrued by the former city council," said Havi.
In the demand, EACC wants to recover Sh14.4 million from Dr. Kidero, Sh10 million from Aduma, ex-councillor Paul Mutunga, Manasseh Karanja, Charity Muringo and Peterson Andrew and Sh18.9 million John Ndirangu.
The agency further wants Sh11 million from Hannah Muthoni, Sh7 million from Mutunga and Sh600, 000 from Wainaina's firm of the Cups Ltd.
In April, Dr Kidero and 16 co-accused denied all charges of corruption including money laundering, abuse of office and unlawful acquisition of public property when they appeared in Milimani Law Courts, Nairobi.
He and 16 co-accused are facing charges of corruption which say they irregularly paid Sh68m to Wachira Mburu and Advocates law firm.
Dr. Kidero is accused of receiving Sh14.4 million, which was wired to his account, from a firm associated with Wainaina, who had in turn received the money from lawyer Steve Kariuki.
"Investigations established that one Steven Kariuki from the firm M/s Wachira Mburu, Mwangi and Company Advocates was given instructions by Aduma to act on behalf of the then Nairobi City Council in HCC No. 875 of 2010 Kyavee Holdings Limited versus City Council of Nairobi, without following the laid-down procedure," said EACC CEO Twalib Mbarak.
The anti-graft agency further said investigations had established that no services were rendered to the Nairobi City County and the entire amount of Sh68 million was embezzled by several people, including Kidero and four others.
However in his application on Tuesday, Kidero stated that events leading to the payment started in 2011 when Kyavee Holdings Ltd sued the defunct City Council over a decision to cancel a lease and the council instructed Mburu's law firm to represent it.
At the conclusion of the case, the law firm filed its bill of costs which was not settled in full with a balance of Sh58 million being carried forward.
Kidero stated that after his election in 2013, the law mandated all county governments to settle all pending bills carried from the defunct councils and that in April 2014, his administration paid the legal fees to the law firm.
"He cannot be accused of conspiring with the law firm to defraud the county government when the contract was signed before he assumed office. He did not play any role whatsoever to suggest he is the one who issued instructions to the law firm to take up the case," said Havi.
Havi argued that the criminal case against the former governor is an abuse of the court process and only meant to embarrass and cause his public shame.
According to the lawyer, the prosecution has shown clear bias against Kidero by dragging him to cases he was not part of and not giving him a chance to explain himself as demanded by fair administrative process.