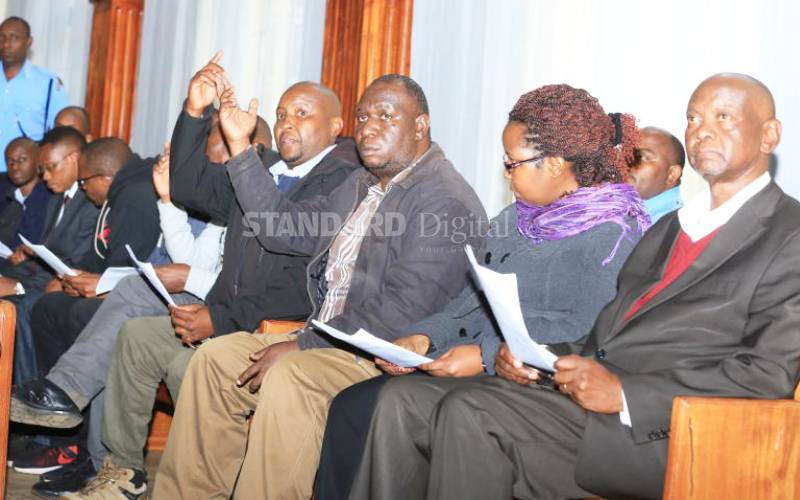 Former Deputy Auditor General Stephen Kinuthia was yesterday charged with conspiracy to steal Sh100 million. Mr Kinuthia was charged alongside 13 others who included officials from the Auditor General's office, and directors of eight companies said to have been involved in the corruption syndicate at the office. The charges were a culmination of five years of investigations, in which the Ethics and Anti-Corruption Commission (EACC) filed a suit to recover the Sh100,675,680 suspected to have been stolen through a contract to supply Audit Vault software at the Auditor General's office. EACC stated in documents filed in court that the contract was inflated from the original Sh53 million.
SEE ALSO: Recovery of grabbed Met land commendable
It also asserted that the procurement was done irregularly, since the company awarded the tender had no capacity to deliver the audit vaults software. "Our investigations revealed that the Auditor General's office paid Sh100,675,680 to Open Systems Integration (OSI) Kenya Ltd even before the audit vault software materials were inspected or supplied," EACC says. The anti-graft agency alleged that as soon as the company received the payments, it started dishing out kickbacks through a chain of different bank accounts and law firms used as conduits of the proceeds. The documents showed that the company first transferred Sh48 million from its Kenya Commercial Bank Account to its Barclays Bank account, Sh36 million to a law firm and Sh10 million to Value Teq Trading Ltd. EACC alleged that Kinuthia received Sh27 million as kickbacks in which he used Sh13 million to purchase three prime plots in Makuyu town.
SEE ALSO: Boost for EACC after court rules it does not require DPP consent to charge suspects
According to EACC, the fraud started when Kinuthia gave OSI Kenya Ltd secret information about the intention to purchase audit vault software and went ahead to sign the contract at an inflated price before it was discussed and approved by the executive committee. To hasten the fraud, the executive committee allegedly approved the single sourcing without involving the tender committee. As a result, Kinuthia, Annette Mwangi, Patrick Kamau, Ephantus Kairu, Sylvester Kiplagat, Charles Githinji, Charles Karisa, Edward Mwachinga, OSI Kenya Ltd and Mars Technologies Ltd faced the first count of conspiring to defraud Sh100 million. "Between July 2012 and August 2014, you jointly conspired to defraud Sh100,675,680 for the tender of supply and implementation of an Audit Vault software in the Office of the Auditor General," read the charge sheet. Kinuthia and Ms Mwangi who was the ICT manager faced other charges giving misleading document to the auditor general indicating that all procurement procedures had been adhered to, an act that led to irregular contract awarded to OSI Kenya Ltd.
SEE ALSO: Why EACC is after university over multi-billion-shilling building
The former deputy auditor general faced further charges of receiving Sh25 kickback from OSI Kenya Ltd for the Audit Vault Software contract. Kinuthia, alongside Patrick Kamau, Ephantus Kairu, Sylvester Kiplagat, Charles Githinji, Charles Njuguna, OSI Kenya Ltd and Value Teq Trading Ltd were also charged with money laundering. "Between December 2013 and August 2014 with intend to dispose of money stolen engaged in an arrangement to conceal Sh46.7 million received from the office of Auditor General through a process of corruption," read the charges. Kinuthia faced a further charge alongside Charles Njuguna, Desmond Kinuthia, Nelson Kinuthia, Florence Kinuthia, Jane Kinuthia, for transferring Sh10 million to Nanazi Investments Ltd, Kamira International Ltd and Kenya Milk Farmers Investment Company Ltd to conceal the theft. Charles Karisa and Edward Mwachinga who are the directors of Mars Technology Ltd were also charged for unlawfully acquiring Sh7.9 million from OSI Kenya Ltd while knowing it was public property acquired through corrupt practices. All the accused denied the charges before anti-corruption court chief magistrate Douglas Ogoti who locked them up for another night to await the ruling on their bail application tomorrow.