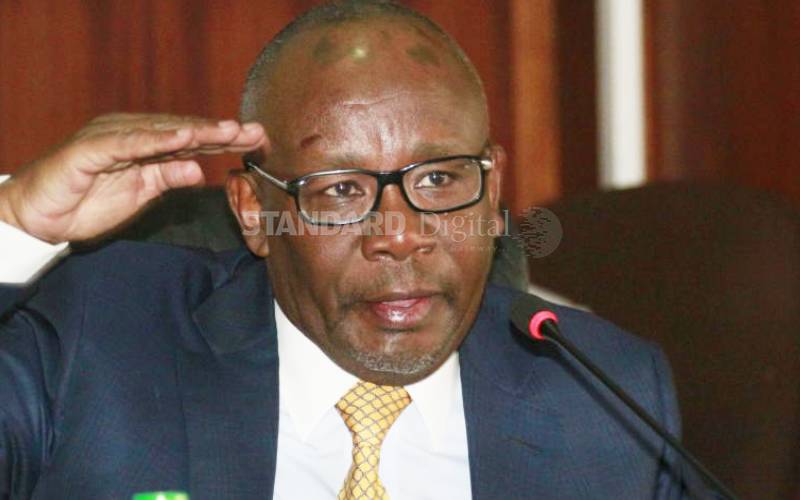 Former Attorney General Githu Muigai (pictured) has supported calls for creation of the office of a prime minister.
Prof Muigai, appearing yesterday before Parliament's Constitutional Implementation Oversight Committee (CIOC), said such a position would make the Government more inclusive.
"The only way to bring inclusion in the Executive is to broaden it. We can take the example of the French model and have a prime mister or even a chief minister," Muigai said.
"But this is a debate for politicians. It has to be accepted by politicians," he added.
Muigai is also championing a system where Cabinet secretaries are picked from Parliament, as opposed to the current model where they are picked form outside the House.
He argued that the current system has led to a disconnect between Parliament and the Executive, and slowed down legislation.
"The most glaring gap we currently have is the disconnect between the Executive and Parliament. In America, the leader of the House is in close consultation with government," Muigai said.
"My own thinking is that when the Cabinet is populated by people who also come to the House, the synergy helps the relationship between the two arms of Government work."
He added: "When we adopted the American system and decided to pick the Cabinet from outside Parliament, this came with its drawbacks. We now have a situation where the Executive and Parliament are disjointed."
Referendum possibility
His comments come in the wake of debate on the possibility of a referendum that could result in a change in the structure of Government.
The former AG served when the country was taking baby steps in the implementation of the current constitution.
He was the chief Government advisor at a time the President Uhuru administration was variously criticised for frustrating the full implementation of the Constitution.
According to Muigai, Kenyan's problems do not lie in its electoral system, but in the structure of the Executive.
"We reformed the electoral system and there is nothing more to reform. The real juggernaut is not in electoral reform but in Executive structure," Muigai told the committee led by Jeremiah Kioni.
He said the office of the leader of opposition needed to be strengthened in line with its role of "the government in waiting."
"In our current system, we are not strengthening the opposition. The leader of opposition is a very important figure. As we expand the Executive, we should also expand the capacity of the opposition as the government in waiting," he said.
Muigai poked holes into Kenyan's love for constitutional commissions, saying they had created "small governments within the government".