Waita under siege as power struggles rock State House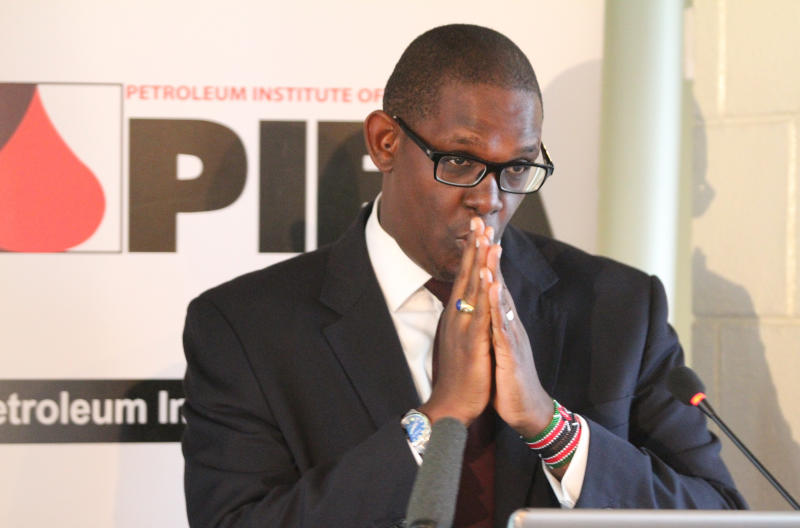 President Uhuru Kenyatta's Chief of Staff Nzioka Waita is fighting to save his job, following a vicious power struggle involving State House insiders.
Reports suggest the simmering succession wars in the President's inner circle are linked to the expected departure of Head of Civil Service Joseph Kinyua in January.
Those aware of the development told The Standard that Mr Kinyua's planned exit has sparked a feud that pits Waita against power brokers who want to keep the influential position in Central.
The in-fighting is also partly blamed for the transfer of the Presidential Delivery Unit (PDU) from Waita's docket to the Interior ministry, apparently an effort to clip his influence.
Every feud
The situation has forced Waita to take "a sabbatical" leave from office.
Waita is said to have fallen out with his deputy Njee Muturi, State House Comptroller Kinuthia Mbugua and Interior Principal Secretary Karanja Kibicho.
Waita could not be reached for comment as he neither responded to calls nor text messages.
Yesterday, Dr Kibicho said he was increasingly getting irritated with being dragged into every feud in Government. He directed The Standard to Kinyua on matters concerning State House.
"Why can't you just call Kinyua and ask him whether he is retiring? After that, then call Waita to ask him what you are alleging. Kibicho this, Kibicho that is becoming like an old broken record," he said.
Kinyua did not respond to our calls and texts.
Mr Mbugua refused to comment.
"No, no, no. No comment, please," he said.
Efforts to get a comment from Mr Muturi were also unsuccessful, as he neither answered our calls nor responded to text messages.
There were also reports that Waita could have handed in his resignation, citing frustrations from within, although there is still no official communication from State House on this.
When contacted, State House Spokesperson Kanze Dena-Mararo said she was not aware of the developments.
"I am not the appointing authority, and such a brief is not in my docket," Ms Dena-Mararo said.
Low profile
Waita has not reported to his office for the past two weeks nor accompanied the President on a number of occasions as has been the case in the past.
"It is a concern. Waita has been missing lately. He has taken a low profile and has been missing from a number of presidential functions. Something is definitely cooking at State House," said a top Jubilee MP close to the President.
Waita's troubles became public when the Presidential Delivery Unit was moved from his docket to Interior Ministry under Cabinet Secretary Fred Matiang'i in an Executive Order in August.
The big-budget docket gave Waita powers to supervise the implementation of mega Government projects, including the President's legacy priority programmes under the Big Four Agenda.
Given the importance of the projects to the President, running PDU is a mark of Executive confidence and trust. The loss of the docket was perceived in many quarters as a demotion
Waita joined the Government in 2016 and has been at the centre of key decisions.
Another accusation against the Chief of Staff is that he is influencing top appointments, with critics pointing at Inspector General of Police Hilary Mutyambai and others from his Ukambani backyard.
But a top official defended the appointment of the new police chief, and said Waita did not play any role.
"We know how and why Mutyambai was arrived at. They should not link him to Waita simply because they are both Kamba," said the source.
Mutyambai beat out at least four other candidates whose names had been forwarded to the President for appointment.
They included National Intelligence Service (NIS) Senior Officer in Charge of Border Control, Frontier, Nicodemus Musyoka Ndalana, former NIS official and current Kenya Ambassador to Brazil Isaac Ochieng, and police spokesman Charles Owino.
Strained relationship
Insiders add that Waita has had a strained relationship with his deputy Muturi and other senior officials at State House.
While serving as the Solicitor General, Muturi was also accused of fighting with his boss, then Attorney General Githu Muigai. He also served as Uhuru's personal assistant.
Waita's drama is said to have worsened last August, when Kenya Railways Business Research General Manager Philip Mainga was appointed acting managing director of Kenya Railways Corporation (KR) following Atanas Maina's suspension.
Mr Maina is among those who were suspended over alleged irregular payments of SGR compensation.
When Mr Mainga was named acting KR boss, some officials accused Waita of being behind the move.
"He has been facing a barrage of accusations, with some insiders claiming he only pushes for appointments for people known to him," said one official aware of the intrigues.