Detective denies claim in DP 'elimination' saga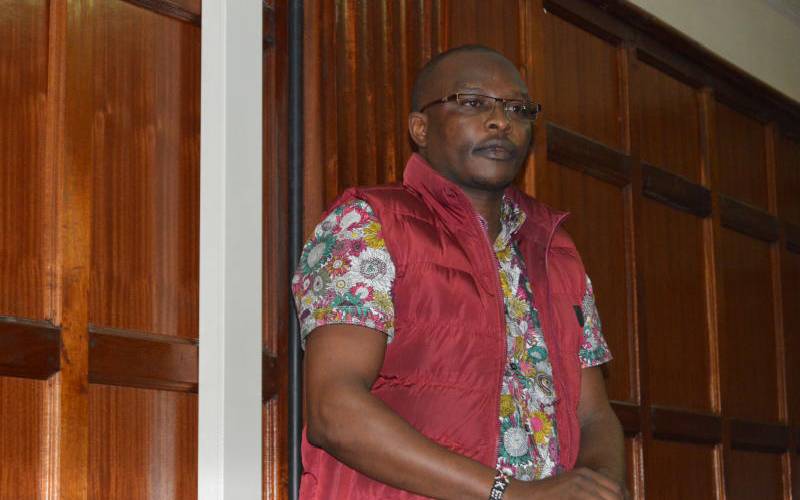 An officer investigating a letter alleging a plot to assassinate Deputy President William Ruto yesterday denied threatening a witness.
The witness was to testify against State House Digital Director Denis Itumbi, who has been charged over the saga.
While replying to claims by Samuel Gateri (pictured) that he had been coerced to implicate Mr Itumbi, Chief Inspector Maina yesterday told the court he did not take a statement.
Instead, he was investigating Gateri in a bid to press charges.
"The applicant refused to give his statement and it was not taken from him at the time of his release from Muthaiga Police Station. Sergeant Ruto and I, as the arresting and investigating officers, released the applicant subject to further investigations, but we could not release the phones to him, as they were on the basis of the contents stored there in that were treated and kept as exhibits," claimed Maina.
The officer claimed that the Directorate of Criminal Investigations (DCI) had intelligence on a trail of communication in a WhatsApp group of a political lobby drumming up support for Ruto's 2022 presidential bid.
WhatsApp group
He said the intelligence showed that Gateri was a member of Tangatanga WhatsApp group.
According to court papers, Gateri had claimed that detectives coerced him to confess to having a telephone conversation with Dr Ruto.
This, he said, happened during his grilling over a letter purported to have been authored by a Cabinet Secretary alleging a plot to assassinate Ruto.
Gateri was arrested in Embu on July 2, days after an investigation was opened into the letter that had surfaced online alleging a May 14 meeting by three CSs to plot the alleged assassination.
The saga prompted the questioning of the three CSs by the DCI.
CSs Joe Mucheru (ICT), Peter Munya (Trade and East African Community) and Sicily Kariuki (Health) denied knowledge of a plot against Ruto and demanded that the DP records a statement if indeed he was the complainant.
Authorities later branded the letter fake, prompting the arrest and subsequent prosecution of Itumbi.
It is during the ongoing criminal case against Itumbi that Gateri has filed the application to withdraw as a prosecution witness, citing threats of torture to force him to sign a statement.
Yesterday, Maina said Gateri was arrested and released on July 3 without any threats or coercion.
The officer told court Gateri could be enjoined in Itumbi's case because he was now an accused person. He said Itumbi and Gateri's cases would be consolidated.
"We escorted the applicant to Muthaiga Police Station in a very humane manner. The complainant did not have any complaint against the arresting and investigating officers at the time he was released from Muthaiga Police Station," he claimed.
The officer also told the court he never asked Gateri about politics and his interests in Jubilee Party.