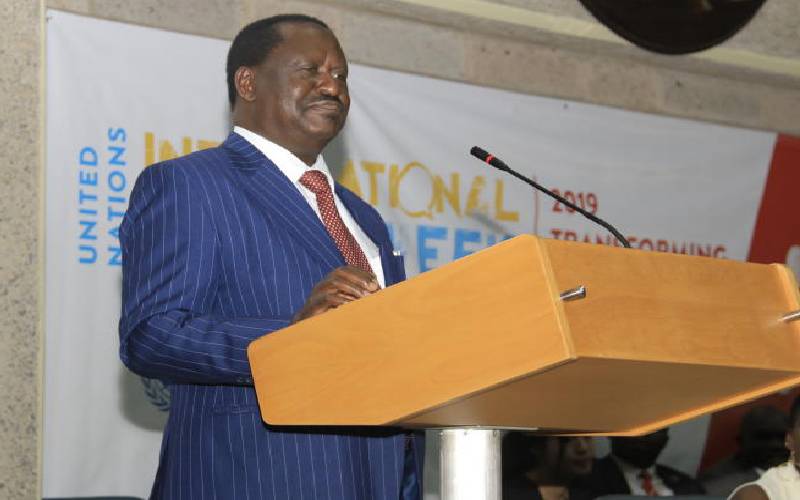 African Union (AU) envoy Raila Odinga has condemned the xenophobic attacks in South Africa, terming them very shameful.
Speaking at the 42nd General Council of the Organisation of African Trade Union Unity (Oatuu) today, Mr Odinga (pictured), the AU High Representative for Infrastructure Development, urged South Africa government to not only condemn the attacks but stop them altogether.
"Let the leaders walk the talk by taking stern action against those perpetrating these shameful acts," he said.
He said the attacks are eroding the gains being made to unite African countries hence the need to deal with them.
Mr Odinga also said that a plan has been mooted by AU to use the recently established African Continental Free Trade Area (AfCFTA) to develop the continent through intra-Africa trade.
Read More
He said plans are underway to open up the continent's infrastructure to make AfCFTA a reality.
Raila who described himself as an Afro-optimist (those who believed Africa can be developed by Africans themselves) urged countries to fund the continent's infrastructure projects to improve trade and growth.
We want to change Africa to be a continent of opportunity, but we cannot realise this unless we open up the continent's infrastructure," he said.
Speaking at the same conference, Central Organisation of Trade Unions (Cotu) boss Francis Atwoli praised Raila describing him as one of the best organisers he has met in his life.
"That is why to me, you are a wonderful organiser and no politician fits the bill of such a title," he said.
"I look at Raila's life and for us who labour for workers and come from pressure groups, we have always admired you."