Armoured personnel carriers acquired from China cannot withstand RPGs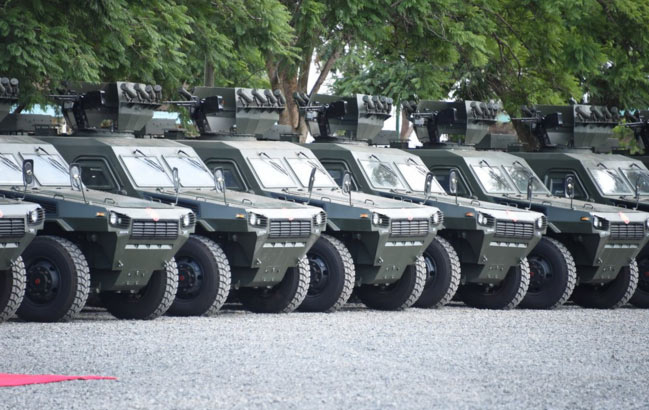 Nairobi, Kenya: The National Police Service says the type of armoured personnel carriers acquired from China cannot withstand a rocket-propelled grenade (RPG) attack.
Spokesman Charles Owino said they are however equipped with Mine Resistant Ambush (MRAP) armour which can resist bomb attack.
He was reacting to an incident in which at least five security personnel were on September 10 killed when their APC was hit by an RPG in Elwak area, Mandera County.
"We wish to clarify that the attack was not in any way due to the unsuitability of our equipment," said Owino.
He said both APCs and MRAPs are used for specific assignments as they have different firepower to resist an attack.
"Armoured Personnel Carriers can resist specific calibres of ammunition while MRAPs resist mines and RPGs," said Owino.
About 20 other personnel were injured in the attack.
The personnel were travelling between Farhama and Elram when their two armoured vehicles and a lorry were hit by an RPGs fired by suspected Al-Shabaab militants.
The team was patrolling near the porous Kenya-Somalia border when the attack happened, police said.
The area has been experiencing a lull of attacks from the militants who cross from neighbouring unstable Somalia.
The attack brought to question the suitability of the equipment, which police insist is suitable.
This is the latest such incident that left the personnel dead and others seriously wounded in vehicles that are supposed to protect them.
The vehicles in question — the Norinco VN4 armoured personnel carriers — were acquired from China in 2016 to specifically protect personnel from landmine and IED attacks.
The personnel is commanded to travel in the vehicles at all times to protect them from attacks by the insurgents. However, the personnel is now raising questions on how safe these vehicles are given the latest incident and past ones.
Kenya bought the 30 VN-4s which were deployed to the General Service Unit and Anti Stock Theft Unit (ASTU).
An additional fleet of CS/VP3 type Mine Resistant Ambush Protected (MRAP) vehicles was purchased and, among other units, was deployed to the Border Patrol Unit of the Administration Police.
The VN-4 APC model is manufactured by Chongqing Tiema Industries Corporation, a China North Industries Corporation (NORINCO) company.
The CS/VP3 MRAPs model is manufactured by the Chinese company Poly Technologies.
Officials say there is no guarantee that one can survive a blast while in an MRAP, because that would depend on the mass of the explosive device.
The carriers were deployed to Mandera, Elwak, Liboi, Amuma, Mangai, Basuba, Milimani, Mkowe, Mugumumbi and Mangai and Barago, Tot and Arabai in West Pokot.