Untold story of private detective caught up in a fierce battle for Sh5 billion empire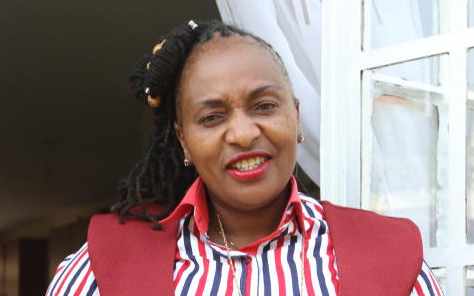 A vintage Bentley, a Jaguar and Roll Royce plus Sh5 billion estate are at the heart of a deadly battle pitting a city private detective against top police officers.
The assets, among them prime properties in London's Kenton Way and Wilmer Way spiced with millions of dollars, sterling pounds, rupees, and shillings stashed in London, India and Nairobi have birthed a do-or-die duel.
There are also four lucrative businesses in Nairobi, prime houses in Thigiri and a block of apartments in Parklands whose ownership is at stake.
And in the midst of the fight for the assets scattered in Nairobi and London, there have been accusations of murder, robbery with violence, abduction, and deportation of two British citizens and Nairobi based spy, Jane Wawira Mugo.
In the complex matrix where some of Kenya's top cops are involved in what would have ordinarily been a family dispute, a detective now believes her life is on the line.
Dangerous criminal
The detective who has been described by the police as a dangerous criminal, with a string of a crime, including armed robbery and abduction, now says she has secured a court order barring the police from arresting her.
Last Thursday, the Directorate of Criminal Investigations (DCI) circulated Mugo's details in its official Twitter handle, saying she was a dangerous criminal with a warrant of arrest against her for refusing to attend court to answer charges of assault and impersonation.
But she insists she is innocent and has been an undercover government crime buster as well as a private investigator who has the high and mighty in the police and politics on speed dial.
Why would the entire police force, train its mighty guns on a solitary woman, licensed by the police to carry a gun and pry her trade as a private investigator for more than a decade?
Mugo believes her problems have been compounded by a case she is involved in which a group of well-connected individuals, working with the police and some immigration officers, are trying to disinherit a British national, Vallah Haribhai Bakrania.
She says she was retained by the 70-year-old Bakrania after police officers raided his place in New Muthaiga and impounded his gun, a vintage Bentley and his British passport.
During the same raid, the police also allegedly carried away another British passport owned by Hansa Haribhai Bakrania, who is the tycoon's sister.
Consequently, on August 29 this year, Kipkenda and Company Advocates wrote to the Inspector General of Police complaining about the confiscation of the documents.
"Upon our client's inquiry, with the help of a private investigator no explanation was given and therefore our client made a complaint to Gigiri Police Station vide OB 23/10.08/2019 at 12.5," reads part of the letter.
Mugo who is now on the run, explained that after Bakrania's passport was seized, she visited a number of top offices and was at one point told that the British passport had been grabbed by the Department of Immigration.
"On further investigation, our client learnt that at one time a chief inspector based at Nairobi area was in possession of his travel documents. Efforts to retrieve the said documents have proved futile. The whereabouts of our clients gun and his motor vehicle remains unknown," the advocate wrote.
The lawyer could not understand why the police had seized the passport which is the property of the Crown, issued in the name of the Queen of Britain.
After the letter, which was copied to among others the director of DCI, the Director of Public Prosecutions, The British High Commission, Kenya Human Rights Commission and the Cabinet Secretary in the Ministry of Interior, the passports were returned.
Investigations by Sunday Standard show there was a plot to deport Bakrania, who had been running three companies dealing with materials and road construction as well as other commodities.
He was at the helm of Timwood Products Limited, Metex Industries Limited, Metrex International Limited, Timco Chemicals Limited and Metrex Plaza whose leadership is now the subject of a convoluted tussle. The business empire was originally owned by Bakrania and his brother Javanal, who died in 2010. At the time, Javanal's wife, Harsha was living in London. He was survived by daughters Nisha and Chadni and a son Dipesh.
Besides the companies, the brothers also jointly owned a fleet of 20 top of the range vehicles, a house in Thigiri, apartments in Parklands and houses in Kenton Way and Wilmer Way in London.
In the course of investigations, it has emerged that before his death, Javanal had fathered triplets with a former employee, a development which further complicated the fight for the control of the vast estate.
It has also emerged that there was an elaborate scheme to cripple the operations by freezing the assets and bank accounts to stop either side from using the money. We have documents showing how a close relative had engineered problems for the old man. Some of the messages we have seen read:
"His work permit has issues so he isn't coming to work. His lawyers are pushing for it and the CID are looking for him…"
In another exchange, a relative informs a confidant: "Please note the steps I have taken of being in business, including getting protection and getting the immigration and CID on his case. All have been at a cost…"
Yet another exchange where the deceased's daughter and the mother of the triplets are roped in: "Greetings. Kindly note that the legal siblings DNA result is ready. We have received a copy. Kindly pay the balance to enable the results to be released to your lawyers."
Another letter discloses the testy situation in the empire: " Dear… was requesting if we could meet tomorrow to discuss the case. I am really concerned about how friends of my uncle are approaching me of late inquiring about the case. They also keep asking if there is a caveat on the properties. Basically trying to fish for information and documents".
Mugo says when she persisted in the case against the advice of some senior police officers, she received threats on her life from a CID officer who claimed there was a plan to either abduct or eliminate her. At one point, when she was with her friends in an entertainment joint, she says there was an attempt to poison her when an undercover agent bought her a bottle of cognac and gave it to a waitress but she refused to drink it.
"I have recorded the threat to my life at Central Police Station vide OB no 94/4/9/19. A friend has informed me that some senior officers want me to stop pursuing this case or they will have fictitious charges levelled against me," she said.
According to her, there was an attempt to grab her son from a school in Nairobi but the teachers refused to release him and instead called her.
The British millionaire, according to Mugo, was a friend of the late Cabinet Secretary Joseph Nakaisery and was instrumental in rehabilitating Gigiri and Industrial Area police stations which, ironically, had been sending officers to harass him.
Upper Hill land
In a detailed statement, Mugo has recorded with the KNCHR, she says her problems with a top detective date back to 2014, when a senior politician bought a piece of land for Sh293 million.
However, after the politician paid for the piece of land in Upper Hill, the family of the former prison officer was only given Sh100 million while the balance was retained by a group of lawyers and brokers.
It was against this background that she was approached by the family to recover the balance. Mugo, who claims she has connections with senior DCI officers, sought services of the detectives to investigate the brokers and recover the money.
"When my team and that of DCI traced the money, they recovered Sh50 million from a bank in Westlands. Some was given to the family but I was given Sh5 million which was equally split between me and the police," she claimed.