Murder most foul: MP's ex-husband among suspects of Dutchman's killing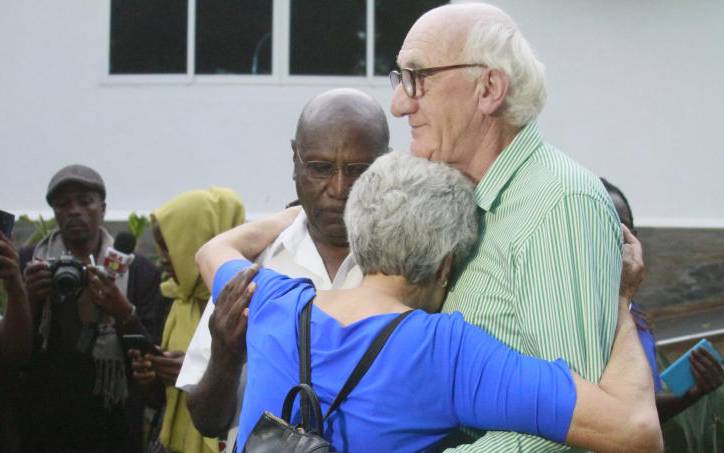 At a corner of a well-manicured address in Nairobi's Spring Valley estate, a dark secret lay for close to three weeks.
Underneath the impeccable blades of grass, away from the imposing beautiful home, a painful weeks-long search for Dutch billionaire Tob Cohen ended in tears.
The Saturday Standard can now reveal how the gruesome murder of the 71-year-old was plotted and executed by a team of not less than five individuals, one of them a former husband to a sitting Member of Parliament from the Rift Valley over three months.
Yesterday, a white body bag, with spots of brown from the unearthing of the body lay desolate. Alone on impeccably laid cabro blocks in the high-end estate. Behind the iron gate and the high walls around the property, a murder most foul was committed and the 43-day search for the Dutch billionaire ended in pain for his visiting family.
For a sister and brother-in-law distraught and broken over the death of their brother that was the end result of several night meetings at his own house.
Hurriedly assembled
Some 18km away, his wife, now a main suspect in the killing could face murder charges. It was almost a perfect crime. No bodies. No witnesses. A hurriedly assembled CCTV camera that was put up, according to authorities, after the gruesome killing.
But somewhere in the neatly weaved series of events, one thread failed to hold and yesterday what is turning out to be an incredible story of a murder most foul unraveled.
"There is no perfect crime," a shocked DCI George Kinoti told the media. "These people were heartless. Absolutely heartless."
Bit by bit, details of how Cohen met his death started unraveling. Implicated by authorities is Cohen's wife, and five other suspects one of them the former husband to the MP.
Investigations show that the plot to kill Cohen was hatched three months ago in the same house that sat on the water tank where his body was found. Unknown to him, in his absence, a close relation of his had approached the legislator's husband.
The relation had a pressing matter that needed to be dealt with some finality. Cohen had hinted, more than once that he wanted to sever ties with this relation. This proved problematic as an end to relations would mean a drastic change in lifestyle for the relation.
The legislator's former husband had a solution. Investigators who talked to us on condition of anonymity said he proposed to the Cohen relation that they hire a team of assassins who would 'help in dealing with the problem.'
The arrested suspect is said to have sourced the assassins from as far as Nakuru and others from Nairobi. Last evening, a special team of officers from the Special Crimes Prevention and the Flying squad was deployed to hunt for the hired assassins.
The two original plotters settled on a team of four individuals. It is not clear whether they were known to them.
A down payment of Sh40,000 was then made via Mpesa to the four killers still being sought. For this amount, they struck, luring Cohen to a most painful death.
On the night of the murder, the plotters bound his hands and feet. There was another rope around Cohen's neck. Detectives say this was put on him like a necklace before he was killed.
"When I say it is gruesome, it is gruesome," Kinoti, a seasoned cop, who has been to countless crime scenes, had to swallow hard when asked about how Cohen was killed.
"They took their time with him," he said.
Cohen's sister Gabrie Van Struaten and her husband battled to fight tears. Unable to believe that her brother was killed in such a manner so far from home.
"It is unbelievable that this can be done. I did see his body. I don't know what to say. Disgusting what happened," she said.
Cohen didn't go quietly though. On the night he died, he called a close friend to tell him of the stubborn cloud of death that had refused to leave him.
"On the night he was murdered I talked to him for 15 minutes. He was very concerned about his life. If anything happened to him… If he was found dead anywhere, a close relation would be responsible," Former Gatundu MP Patrick Muiruri told the media. "He had complained to the authorities."
Muiruri then briefly went down memory lane, recalling the years he had spent with Cohen. Those nights the two shared a drink. A daughter's wedding. And another phone call by yet another close friend soon after Cohen disappeared.
"He told me he couldn't reach our friend," Muiruri said. "My mind went back to the last conversation we had."
Lowered his body
The victim's brother-in-law Roy Stratten said Cohen loved the country and had no intentions of leaving.
"He considered himself more Kenyan," Stratten said.
Although authorities have called time on one phase of the investigations, they believe the time is all the killers had as they lowered his body into a partially submerged underground, concrete water tank that at the end of the day could not keep a lid on their dirty secret.
"They took their time to kill innocent Cohen," Kinoti said before adding that as far as he was concerned, the motive for the killing was clear.
Cohen's wife, Sarah Wairimu Kamotho is facing murder charges.
Cohen, 71, was last seen on July 19 and has been missing for 43 days.
Wairimu is currently remanded at Lang'ata Women's Prison.
She was presented before court on September 12 and ordered to undergo a mental evaluation to determine her fitness to stand trial for the murder of her husband.
The discovery of Cohen's body strengthens the State's case against Wairimu as she protests the court's decision to continue holding her without bond.
Cohen, a former CEO of Philips Electronics East Africa and served as the Managing Director of Tobs Limited, a golf tour operator which specialised in organising golf events.
Incidentally, on the day of his disappearance, Cohen had allegedly written to the law firm of Judy Thongori and Company Advocates instructing them to withdraw a divorce case and to the OCPD Gigiri and the OCS Parklands and Spring Valley dropping assault charges against Wairimu. He had filed a complaint against her at Parklands Police Station in February.
After a long discussion with his wife and family, Cohen allegedly says in the two separate letters, he would like to withdraw the charges against Wairimu and the criminal case.
"My medical state and wrong advice from friends made me vindictive towards her. Sarah would never hurt anyone and she stood for the truth which I did not want to see," Cohen says.
The letter goes further to blame the divorce and assault case to bitterness and poor judgement.
"I have hurt and created a lot of damage to her and the entire family. I will seek medical attention immediately so as to make amends with my family," the letters state. The letters are now part of the investigations as authorities determine whether they are forgeries.
Police now say the letters are part of the lengths that Wairimu went to hide the murder which include coaching witnesses, destroying surveillance footage and lying that he had traveled abroad for treatment.
Workers at another home in Kitisuru initially told police that Cohen was picked up by a white car on the afternoon of July 20 and had left carrying a briefcase and was wearing blue jeans. The statements were later found to be false.
Initially, Wairimu said Cohen was in Asia. She had written to the Dutch Embassy in Nairobi saying her husband required medical attention.
"He has become impossible to live with, even though we try. The family has stepped aside due to the abusive and vindictive nature of his condition," she said in the letter.
Wairimu was named to the board of Tobs Limited on April 20, 1999 after the death of a board member. As at 2009, with one share she was the only other shareholder in the company aside from Cohen who held 999 shares.