City land owners hit by road project yet to be paid Sh7b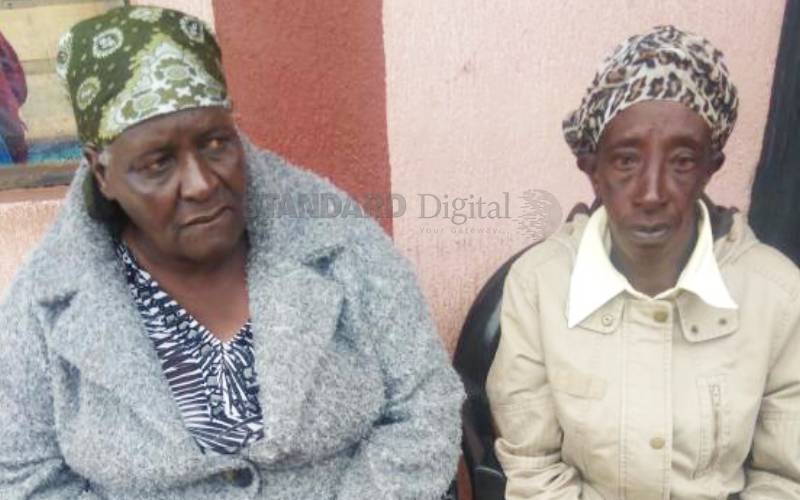 More than 4,000 property owners affected by the ongoing expansion of 10-kilometre road from Waiyaki/James Gichuru road junction to Rironi are yet to be compensated.
Mary Gathoni, 80, who is one of the Project Affected Persons (PAPs), is worried that she might die before getting her compensation from the National Land Commission (NLC).
Gathoni, a widow, is entitled to Sh1.8 million after the Government earmarked her house for demolition to pave the way for the expansion of the road.
Olive Wamboi Gituere, another property owner, was expecting Sh11.8 million but died last year before she was paid.
Francis Kahura, Olive's son, said his mother died frustrated.
Jane Kihara, 95, lost her husband Kamau Thiong'o last year. He, too, died waiting for the payments. Their house that was valued at Sh6 million was brought down. The couple was to be paid Sh7.8 million. The widow is currently living with a neighbour at Dagorreti/Uthiru 76 area.
The PAPs were to receive Sh7 billion compensation to give way for the road expansion following Government's compulsory acquisition of their property, according to documents seen by The Standard.
Gathoni, Wamboi and Kihara's cases represent the suffering of the majority of the property owners, whose sources of income have been ruined since the Government is yet to pay them.
Some of the land owners who had invested in commercial and residential houses as well as other businesses have had access to their property and ventures blocked, hence cutting their lifeline.
Majority of them have fallen into hard times, and have to rely on friends for survival. They also have to play hide and seek with auctioneers who represent financial institutions who come for their property for defaulting on payment of bank loans they had acquired to develop the property.
Such is the plight of Kinyanjui Ndung'u, George Maina and Elkanah Mbugua who jointly own Nuclear Group of Businesses.
Located off the Waiyaki/James Gichuru road at Uthiru, the group owns 400 Nuclear shuttles that ply Nairobi, Nyahururu, Mara and Nakuru routes. The trio also runs Nuclear Petrol Station, which had operated for 18 years, until 2017 when the project disrupted their business.
"We have been paying averagely Sh10 million in taxes yearly to the Government for the last 18 years. Since August 2017, when we were told to move to pave way for the road, we have not received a cent in compensation," says Mr Ndung'u.
He is calling on the Government to give them even just a fraction of their compensation so they can relocate and start businesses elsewhere.
"Two years ago, we used to sell 10,000 litres of fuel per day. Today, we rarely sell 3,000 litres. Our lives have changed and we can't even afford to pay the 1,000 staff we have. As things stand, we will be forced to retrench all of them and this will be a blow not only to them but their families," Ndung'u said.
Mr Maina says the trio is unable to service the Sh35 million loan taken from a bank and now fears the financial institution will soon come for its vehicles to recover the money.
Five kilometres from their service station, John Wainaina, owner of the once famous Swatch Place, is also crying. His establishment used to be a restaurant and entertainment spot.
"I have sacked all my 150 employees who used to work in this now deserted place. The contractor has blocked the entrance to my premises and this forced me to close down the business which earned me Sh1 million per month," Wainaina said.
Patrick Muriuki Maina, 32, who is living with disability, operates a shop in the area, but it has been blocked. Now he is unable to pay his child's school fees.
His neighbor Theresiah Nyambura Kimani is owed Sh1.4 million after she was forced to shut down her premises, which had a butchery, grocery and hotel.
"This used to earn me Sh52,000 per month. I have lost millions for the last 24 months. I closed shop and went home," Nyambura says.
Sisters Theresiah Wanjiku, 68, and Sophia Muchendu, 48, cannot even access their own homes after their gates were blocked by murram and mortar, forcing all their 13 tenants to vacate.
Priscillah Wanjiku and Rosemary Wambui, both who were landladies but witnessed their tenants vacate, are also tired of waiting for their dues. Collectively, they were awarded Sh10.8 million.
"Our water pipes were destroyed and now we spend Sh2,000 to buy water from vendors. Our tenants vacated our rooms because the road construction causes window panes to shutter while the dust is also unbearable," Wambui says.
Kimani Njuki, the PAPs chairman, is also protesting the earmarked blanket compensation of uniform award of Sh40,500 to owners of shops, butchery, day care, hardware, medical centre, hotel and chemist.
"Earlier we were to be compensated based on monthly profit for 24 months plus 15 per cent disturbance allowance. We will not accept this revised payments," Njuki says.
KeNHA Managing Director Peter Mundinia says his agency is collaborating with NLC to make sure all PAPs are paid.
Mr Mundinia explained that the national Treasury was yet to release the funds.