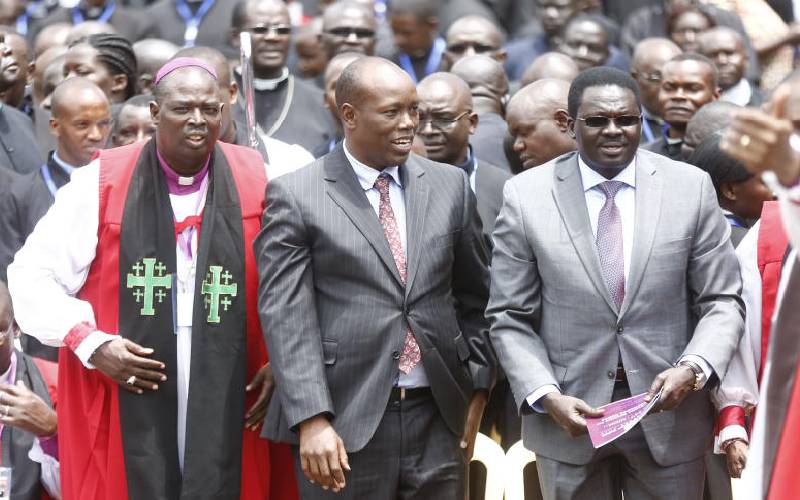 The Anglican Church of Kenya (ACK) has warned that the referendum debate is becoming divisive and could easily derail the Government's development agenda. Speaking yesterday during a pastors' conference in Nakuru, ACK Archbishop Jackson ole Sapit asked the political class to put aside their political ambitions while pushing for the plebiscite. The conference brings together bishops and priests from all the 41 ACK dioceses in the country and is being hosted by Kabarak University Vice Chancellor Henry Kiplagat. "The referendum talk is dividing the country. Let us do a proper audit of the current Constitution to ensure we deal with topical issues. This should not be about sharing political power," said Sapit.
SEE ALSO: Barrack Muluka resigns as ANC Secretary-General
He urged leaders to reduce political temperatures surrounding the plebiscite talk which he said could cause unnecessary tension. "We are all under one God and one Government and we need to preach unity. It is unfortunate that when it comes to politics, we put everything else aside and engage in power games. The cost will be an aborted development agenda," Sapit said. The archbishop made it clear that the Anglican Church is yet to make a stand on which initiative to support between the Building Bridges Initiative (BBI) and Punguza Mizigo. "It is not clear what the BBI wants to be changed, unlike the Punguza Mizigo drive. Our stand will be known when the BBI's recommendations are placed on the table and compared with those from Punguza Mizigo," said Sapit. His sentiments were echoed by Governor Lee Kinyanjui who said that leaders whether in politics or church need to embrace humility and foster development.
SEE ALSO: Godfrey Wepukhulu bags Sh108,000 Daily Jackpot from Flooks betting company
"It is too early and the elections are three years away. The issue of peace is very critical and those making inflammatory statements should cease. Stop the drum beats of succession politics," said Kinyanjui. At the same time, Sapit blamed the increasing wrangles in Kenyan churches on lack of integrity and improper leadership structures.
Peace agents
He said that most church leaders have embraced worldliness which guides them in making decisions. "It is shocking when we see people fighting in churches. Yet, these are the people expected to be agents of peace. I feel that the leaders are not true to their calling in Church," said Sapit.
SEE ALSO: In Sonko's clueless moment, choking city got a kiss of life
"Most churches have huge amounts of money and control numerous assets. This is the root cause of the divisions that we are seeing."