Kitany plays wedding video as Linturi insists they were never married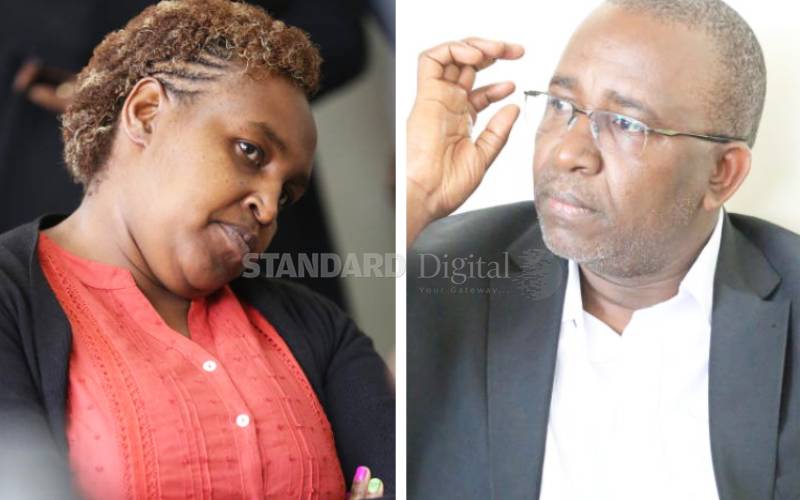 Divorces can be messy.
Nobody knows this better than Meru Senator Mithika Linturi and his estranged wife Mary Kitany.
Kitany earlier on Tuesday played a video of her wedding with Linturi to prove it happened.
Throughout the case, Linturi has insisted they were never married, but Kitany presented the video evidence.
While testifying in a Milimani Court, she said the relationship started in 2014.
Kitany added that he is still her husband because they wedded in accordance to Meru and Nandi traditions.
The two fell in love when Kitany worked in the office of Deputy President William Ruto.
She testified that at one she was having a ball with Linturi in Naivasha when he was supposed to be in parliament to move a motion of impeachment against then Devolution CS Anne Waiguru.
But in April, Linturi said he has been married to only one wife for 18 years. And she is not Kitany.
The court was told Linturi paid dowry and gave money to Kitany's family.
Linturi has claimed that Kitany forged papers showing he divorced his other wife.
In a letter dated January 10, filed at the High Court Family Division in Nairobi, Mr Linturi says he never divorced his wife Mercy Kaimenyi, whom he married in April 2005 at Tigania Catholic Parish in Meru. Linturi has also denied having any matrimonial ties with Kitany.
The lawmaker says he only allowed Kitany to stay as a visitor and "that's why she was evicted when she claimed that she is married."
Kitany has countered this by saying that it was the senator who co-habiting with her before they moved to Runda.
The case will continue on Wednesday.