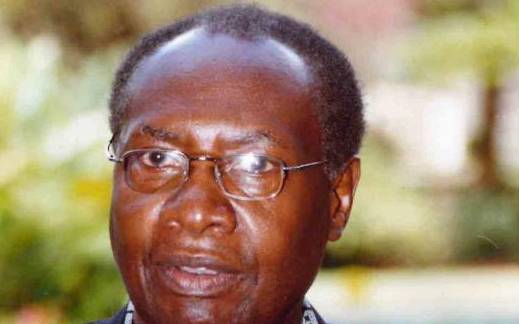 Former Foreign Affairs Minister and one of the country's pioneer medical entrepreneurs, Dr Hezron Manduku has died at a Nairobi Hospital after a long illness.

Dr Manduku's elder brother, Zedekiah Machoka said the politician died Saturday night.
Speaking at the late Manduku's Nyaturago rural home, Machoka said the community had lost a visionary leader who inspired both the young and elderly in society.
"We have lost a dear brother and father who supported the family without any prejudice."

Dr Manduku served as Nyaribari Masaba MP for two terms and was first elected into parliament in 1992 after edging out Prof Sam Ongeri.

He was then appointed assistant minister Foreign Affairs. In 1997, he lost to Ongeri before recapturing the seat in 2002.

In 1975 he established his own private hospital in Kisii; Hema Hospital - which became a key medical services provider in the larger Gusii region and the neighbouring towns such as Migori and Homa Bay.
It is perhaps this facility that would strongly define his legacy, having offered hope to thousands of patients at a time when most government hospitals were grappling with mismanagement.
At the heart of Kisii town stands six-storey state-of-the-art facility, which locals simply refer to as Mwa'Manduku, that is, Manduku's place.
A doctor by profession, Manduku first tried his hand in politics in 1988 during the single party era but lost to Prof Sam Ongeri.
He returned in the 1992 multi-party elections and floored Ongeri during the Kanu nominations before winning the election against the late former Cabinet minister and DP ticket holder James Nyamweya.

In 1997, Manduku lost to Ongeri in the Kanu nominations. He then decamped to Ford People.
Born in 1941, Manduku attended Nyanturago Primary School and Kasubi College of Uganda before joining Patrice Lumumba University in Moscow, where he graduated with a degree in medicine in 1969.

He returned to Kenya and worked as a medical doctor at the Kenyatta National Hospital and later as Nyanza, Kakamega and Meru Medical Officer of Health (MOH).
He then left the Government job and ventured into private medical practice.
He has been running the giant Hema Hospital and Keroka Nursing and Maternity Home.
Manduku served as Shabana FC chairman, Lions Club Kisii/Homa Bay branch chairman, ASK Southern Kenya and was the KUC Football Club founder/chairman.

Kisii Governor James Ongwae said the later had served the community with dedication. "We will all remember him as an honest and humble leader."
Kisii Deputy Governor Dr Joash Maangi described the late as a successful businessman who will always be remembered for his visionary leadership that transformed the lives of many particularly in his constituency of Nyaribari Masaba.

"He will be remembered for coming up with Hema Hospital, one of the biggest private hospitals in the region at a time members of the community could travel long distance to seek health services."
Area MP Ezekiel Machogu said the late Manduku was truly a blessing to so many lives in the Constituency and beyond through his selfless service to mankind.
Other leaders who condoled with the family include Senator Prof Sam Ongeri, Woman Representative Janet Ongera, Bobasi and Nyaribari Chache Mps; Innocent Obiri and Richard Tongi respectively.