Sh1 billion drugs deal that sank the Akashas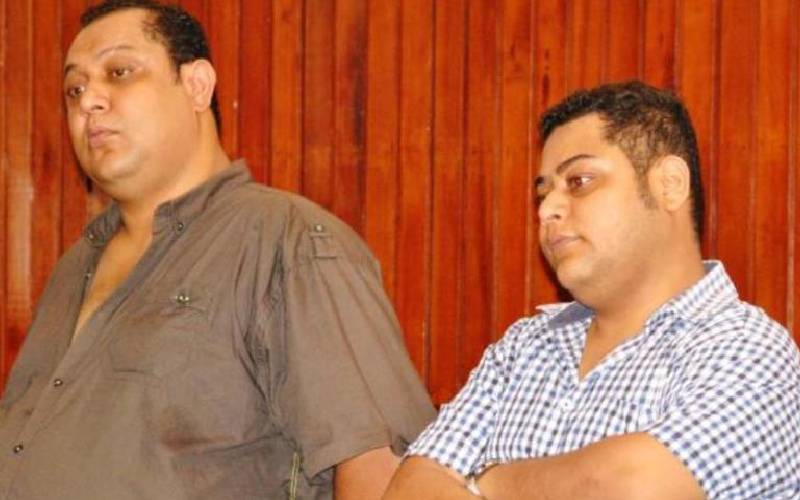 A Sh1 billion heroin drug deal is the ruse a secret US agent used to lure the Akasha brothers into a trap that led to their downfall.
In March 2014, Baktash Akasha was approached by the agent code-named Rashid, who posed as a point-man to Colombian drug dealers, with a mouth watering $10 million (Sh1 billion) deal to supply heroine to the US market.
This is according to court documents filed by US attorney Geoffrey Berman before US District Judge Victor Morrero in the case against Baktash and his younger brother Ibrahim Akasha.
Baktash oozed confidence throughout his conversation with Rashid that their trade in heroin in the US would be "huge" and bigger than what his late father Ibrahim Abdalla Akasha traded in his lifetime.
When Rashid floated the idea with an assurance of prompt payment for each consignment, they jumped at the chance, with Baktash exalting about his good fortune to distribute heroin to "the great country of America with great returns" and "huge profits."
Baktash in the recordings told the US agent who he believed to be a fellow drug lord that he would give the "Obama country" the best grade of heroin so that its residents would move from smoking heroin to injecting themselves.
True to his word, a sample of heroin which was seized in the course of investigations was 75 per cent pure as compared to street-level heroin in the New York streets which Drug Enforcement Administration (DEA) indicated to be closer to 30 percent pure.
Baktash met with Rashid in March 2014. This was through yet another DEA secret agent who had been on his tails for a while.
Rashid introduced himself as a Columbian drug dealers' point man, who wanted high quality heroin for the US market.
The agent disclosed to the Akasha brothers that the deal was worth $10 million, money which was waiting in Dubai.
A meeting that had Akashas biting the bait was set in an undisclosed restaurant in the country on March 28, 2014.
At this meeting, the court heard, Baktash undertook his family's empire would provide Rashid with 100 per cent pure heroin.
He promised to deliver what Rashid and the people of America dreamed of in drugs.
In the conversations filed before court, he believed that DEA agent was heaven- sent connection that he had been looking for 20 years.
Notably, Baktash wanted to ensure that Rashid knew that he was a serious drug trafficker who had distributed more than 300 tonnes of drugs with his father, and that he was long wanted by the American authorities.
"He was secretly recorded during meetings with DEA insisting that the heroin he was sending to the United States had to be "the number one quality," not only because the job was "huge" but also because he knew that users in the United States were more likely to inject his poison instead of smoking it as is more common in Europe and elsewhere," Berman submitted in his plead to have Baktash and Ibrahim handed life sentence.
To win Rashid's confidence that US authorities would not get wind of the consignment, Baktash told him that they had searched, and searched for him until they got tired.
The plan by Baktash was to have 'a special plane' flown from US ,land at his palatial home in Mombasa, load 500kgs of heroin and then fly back through West Africa to the 'land of Obama', USA.
"This house is big, man. They will send their own aircraft. Special aircraft. Hallo! An aircraft will come. It is a special plane that will go all the way to West Africa.From there, they have a gateway to take it to the land of Obama, okay, "Baktash is quoted telling US secret agent.
Prior to Akasha brothers meeting the DEA agent, early 2014, they had been presented with an opportunity to grow the Akasha family drug empire in North America. It is, however, not clear whether it materialised.
A trail of heroin route shows that Akasha family got the 500kgs which had been asked for from the Afghanistan-Pakistan region.
Avoid interdiction
However, the drugs were instead diverted from their course in order to avoid interdiction after Baktash was provisionally arrested in November 2014.
Away from the heroin deal, the Akashas were also distributing methaqualone, a controlled substance that acts as a highly-addictive sedative.
They had approximately 10 tonnes of a methaqualone precursor known as "abba."
The stash had been impounded by Kenyan authorities after it was shipped to Kenya by one of the Akashas' rival drug dealers, David Armstrong ("Armstrong").
The Akashas said that they could access the drug stash by paying bribes.