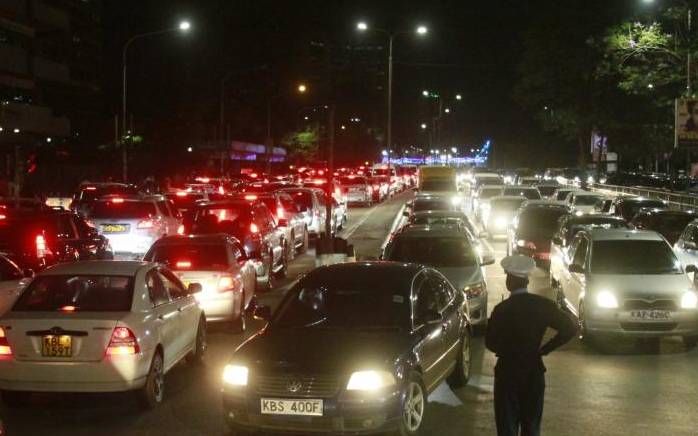 It is 10 pm and business at Nairobi's OTC bus stop is hype.
People are heading home after work while others coming in for late-night jobs. The place is a beehive of activities.
In the dimly lit street corners are plain-clothes police officers who otherwise should be in uniform.
While there could be genuine police officers doing their work of keeping law and order undercover, some have resorted to unlawful ventures.
Among them are money minters whose work is to prey on innocent Kenyans, mostly young people, who end up finding themselves in handcuffs.
Those familiar with the fishy deals by the police in the area say every day, some 30-50 young people are arrested with the intention to extort money.
"They are many here and they operate in groups. After you are arrested they will demand a ransom to release you," says Erick Mburu, 58, a shop owner in the area.
Mburu says for young people especially men will not walk freely past 11 pm for fear of being labelled a criminal.
"Most of the time they will get arrested and later forced to pay Sh500 in exchange for their freedom," Mburu says.
Morris Momanyi, 31, says he was forced to strip naked in the middle of the night as he proved to the officers he had no money on him to give.
Momanyi alleges three officers who did not identify themselves arrested him as he crossed from Muthurwa market to town centre, roughed him up before placing cuffs on him.
"I was terrified. I did not know what to do. They demanded Sh500 to secure my release, which I did not have. I had to borrow from a friend to bribe my way out," he confessed.
Mburu noted that after 10:30 pm the officers are in plenty mostly targeting casual labourers working late night.
"Almost on a daily basis young people are forced to part with Sh500 to Sh1000 in order to secure their freedom from the officers who threaten to lock them in if they don't," he notes.
Dominic Mwangemi was unlucky to have had an encounter with the ruthless authority of the rogue officers.
Mwangemi said he had just left his tailoring shop on River Road around 10:45 pm walking towards OTC to board a PSV home when they struck.
"I was stopped by two men who only asked about my origin. Even before I could respond they had already put handcuffs on me. I wonder what our law enforcers have turned into," he wondered.
Area business people who did not want to be named say the police operate in a web of cartels to swindle unsuspecting Kenyans in the area.
"This is how the police conduct their operations here. We are even used to them. It is a culture that needs to change," Anne Mundia said.