More confusion over exams in new curriculum roll-out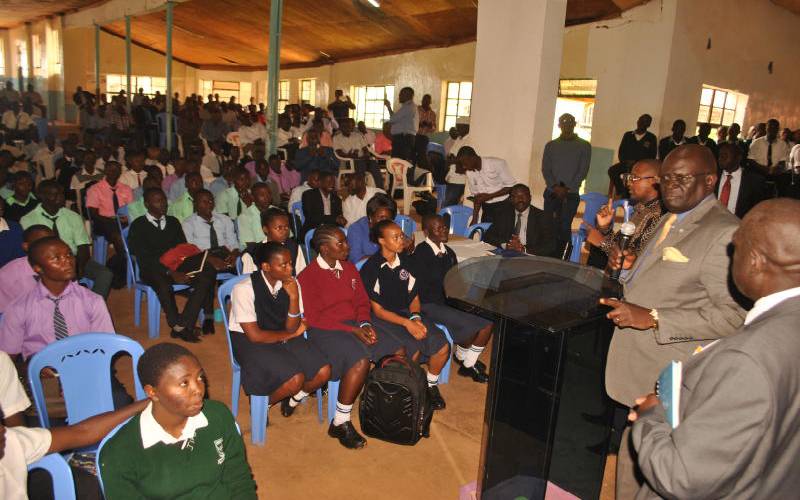 Education bosses were yesterday hard-pressed to state whether a national examination will be administered to all Grade Six pupils before they transit to junior secondary schools under the new curriculum.
Lawmakers told a team led by Education Cabinet Secretary George Magoha that people were anxious over the issue of examinations and how children will be assessed to decide progression to the next class when the Kenya Certificate of Primary Education (KCPE) exam is scrapped.
Prof Magoha suggested a national examination would be necessary but he explained to members of the National Assembly Education Committee that a team will eventually recommend the system of determining progression.
"There must be an examination in Year Six or it will be difficult to decipher who goes where," Magoha said in response to questions by MPs on transition plans for pupils under the 2-6-3-3-3 Competency Based Curriculum (CBC).
Magoha, however, explained that the details will be clear by April next year when a task force he set up handed over its report.
"This is the reason why I put up a task force. We expect them to synthesise all this information and advise me accordingly," he said at a workshop in Naivasha.
Basic Education Principal Secretary Belio Kipsang said the ministry would not preempt the work of the task force and noted that the finer details will be clear by August next year.
Exit points
"By April we expect the team to have told us the findings and by August (2020) we shall be all clearer on what shall happen at the various exit points," said Dr Kipsang.
The two officials were responding to questions by committee chairperson Julius Melly, Kabondo Kaispul MP Eve Obara and Amos Kimunya of Kipipiri.
"Let us be very clear on what shall happen after Grade Six. Will there be an examination for all the pupils? And at Grade Nine, what shall happen? Will there also be an examination? And Grade 12?" asked Ms Obara.
Kenya National Examination Council (Knec) acting CEO Mercy Karogo told MPs that the pupils will be assessed with a view of knowing the status of national roll-out of the CBC.
"We shall have assessments in Grade Three, Six, Nine and 12," she said, adding that the nature of the assessments will be clear after the curriculum designs are ready.
Kenya Institute of Curriculum Development CEO Julius Jwan said the designs will inform the nature of assessments to be conducted.
"Designs are the activities a teacher will cover in class, the topics, examples given, and how learners will be involved in the class," said Dr Jwan.
The MPs heard that it was not possible to contemplate the nature of assessments until the designs are ready.
"There may be changes in the learning taxonomy and not that the best they can do is to evaluate children," said David Nyengere, a curriculum adviser in the ministry of Education.
Magoha formed a 26-member committee to advise on the sticky issues around curriculum implementation.
The team is chaired by Kenyatta University Deputy Vice Chancellor in charge of Administration Fatuma Chege.
Under the new education system, pupils are expected to complete two years of pre-school, six years in primary school and three years in junior secondary school.
Learners are also expected to complete another three years in senior secondary schools and another three years in university.
It also emerged that the stage of specialisation by pupils to the various learning pathways was still contentious with MPs seeking to know whether universities are already working to review their programmes to conform to the three-year requirement.
In his brief, Magoha tasked the task force with the responsibility of developing strategies and work plans to prepare the country for the implementation of senior secondary school pathways and tracks, which will be done by 2026.
This will include strategies on infrastructural requirements and to also conceptualise and design competency based pre-service teacher education.
During the heated debate, four key questions emerged on the national roll-out of the CBC: the matter of Grade Six, location of junior schools, whether Grade Six pupils will be allowed to specialise and the cost of implementing the CBC.
Mr Kimunya, who is also the committee deputy chairperson, said the implication of Grade Six transition was not clear.
He questioned whether the two classrooms in primary schools that will be left vacant will be occupied by secondary school students.
Channel resources
Kimunya also sought to know where junior secondary schools will be domiciled to inform whether MPs should continue constructing classrooms in primary schools or they should channel resources to secondary schools.
"There is a journey that needs to be explained on infrastructure developments," said Kimunya.
He also sought to know the finer details about primary school teachers who currently teach Standard Seven and Eight classes.
"Will these teachers be moved to secondary schools or they will be redeployed in various primary schools?" said Kimunya.
Magoha, however, said that the task force he set up would advise the ministry whether specialisation to the four pathways - pure science, applied sciences, technical and engineering, and career and technology studies ­­- would be allowed after Grade Six.
"These issues are important. If a pupil does not have the mental capacity to progress to the secondary school level they should be allowed to specialise after Grade Six," said Magoha.
Kimunya questioned whether learners would be mature enough to specialise after Grade Six.
Under the new education regime, learners are expected to be 12 years old when in Grade Six. This means that the pupils will join pre-school at four years, spend two years in pre-primary and six years in primary school.
MPs questioned whether at 12 years, the children will be mature enough to transit to the various pathways.
Knec, however, explained that it has prepared a proper road map for assessment of learners under the CBC. It listed at least 10 ways teachers will employ to assess learners daily.
The Knec boss said teachers will use classroom observation to record the characteristics and behaviours that learners manifest during the performance of specific tasks individually or in groups.
Karogo said teachers will also have checklists of attributes of each learner's behaviour. The teachers will be required to observe and tick whatever behaviour the learners portray.