In Bob Collymore, Kenya's arts and entertainment had a friend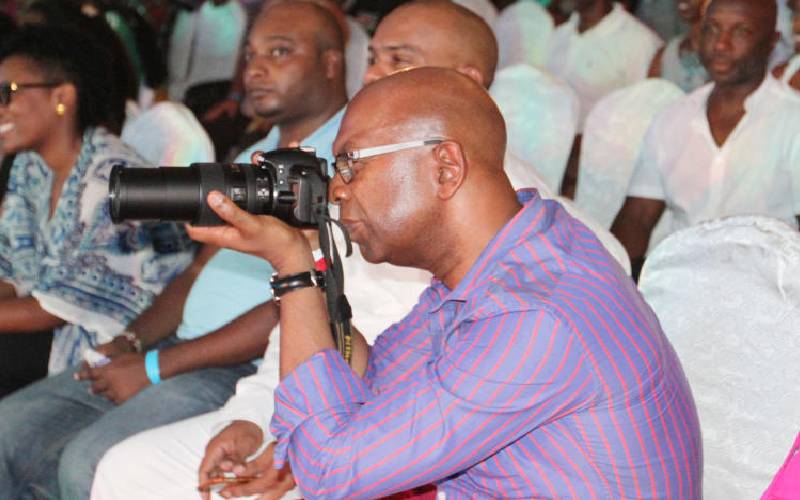 With the hands-on CEO Bob Collymore (pictured) at the helm, for close to a decade the local creative scene reaped immense benefits from the mobile giant's largesse.
In Collymore's own words, this was "... because we believe in the ability of the arts to bring about positive social and economic change..."
The provision of a befitting platform for artistes of all genres to communicate through various forms of artistic expressions grew over time to become one of the telco's core Corporate Responsibility values and initiatives.
Numerous events were specially tailored to offer opportunities for young, artistic Kenyans, ranging from Safaricom International Jazz Festival, the Groove Awards, to Safaricom Youth Orchestra and Safaricom Choir – further providing multiple opportunities for Kenyans from all walks of life to connect through art.
The Safaricom International Jazz Festival event has made great strides and impacted significantly – more so in raising profiles of indigenous music makers who otherwise would have never have had an opportunity to explore the genre.
Since its inaugural concert held in February 2014, headlined by New-York based Cameroonian artiste Richard Bona, the annual concerts series have gradually morphed into much-anticipated outings for cross-generational music enthusiasts and fans.
Proceeds from all events ticket sales are donated to the Ghetto Classics music programme in Korogocho – with an estimated over Sh37 million invested towards the purchase of musical instruments for the 650 children recruited into the community empowerment project.
The success of the jazz festival further enabled Nairobi to chart its destined path aimed at reclaiming its status as East Africa's showbiz capital. The festival brings together local and international artistes on the same podium and has so far carved a niche as Kenya's and the region's largest jazz music platform.
Saxophonist and Swahili Jazz band's frontman Juma Tutu yesterday paid glowing tribute to Collymore. "The first time we played during auditions he fell in love immediately with our brand of coastal flavoured music, which we blend with elements of Afro-jazz," he recalls.
"We learnt of Bob's passing with heavy hearts – but what we can never forget or erase from our memories is his passionate commitment and involvement with music makers and composers. He treated us all equally and with humility," adds Juma.
Similar sentiments of profound gratitude were also expressed by Baraka Mwaura, the Team Leader of the Groove Awards Networks, who did not hesitate to heap undisguised praise for the departed CEO.
"I remember the first time we had a meeting in his office, I was struck by a life-size painting of "Forward" matatus plying the Kayole route – when he noticed my gaze, Bob pointed out that he loved collecting everyday moments that captured the lives of people he sought to transform," recalls Baraka.
He said the CEO was always determined and intent to validate creative sensibilities of local creatives whether painters or musicians.
"He engaged with them on a one-on-one basis, keen to understand numerous odds faced in their respective sectors," adds the Groove Awards team leader.
Seasoned visual artist Patrick Mukabi, who has been involved in the Safaricom's annual "This Is My Kenya" calendar initiative, conceded that Collymore's passion for the arts was anchored on his own individual experiences.
"He once attended an art exhibition opening and in a brief speech recalled his early childhood challenges trying to master the art of sketching during class lessons," recounted Mukabi.
The most significant reminder he holds dear is the CEO's gesture to single-handedly ensure at least 36 visual artists were commissioned to create paintings at a time when the art scene was facing a slump.
"This Is My Kenya" calendar campaign, held every year since 2014, brings together the country's best talents in photography, painting and storytelling to showcase Kenya's beauty and diversity through art.
Each year, these works are featured in Safaricom's calendar – a handy, collectable platform through which some of the country's finest creative talents can showcase their work to wider audiences. Many photographers cut their teeth on this platform that allowed them to enjoy a tour of the country while looking for that iconic picture that would catapult their name into many living rooms' walls.
Significant gains were achieved in the local art circles, not forgetting the Michael Joseph Centres auditorium providing regular spaces and platform for events, often free or at a subsidised cost. There was also the Songa platform, a music App that allowed one to download music with royalties being paid to the composers.
"For Collymore, his passion and involvement in Kenya's creative spaces went beyond being mere corporate CSR – he stands out as a long term visionary who sought to have the budding musicians build a life-long career from music," remarks Baraka.
"I'm so saddened by Bob's death because he was such a dear friend to me," said Furi Furi singer Jimmy Gait. Gait was one of the featured artistes in the Niko na Safaricom concerts. "Our friendship started when I featured him in the music video for Furi Furi, and I've also recorded music with him. He was such an easy guy to deal with, and he asked me to walk to his office any time I needed to see him," the artiste recalls.
According to Gait, Collymore's willingness to elevate the arts was a game-changer for many, as more CEOs opened their doors.
"He made sure Skiza, Safaricom Live and the rest were conceptualised and survived. He was willing to see the arts grow, and as artistes, we are indebted to him".