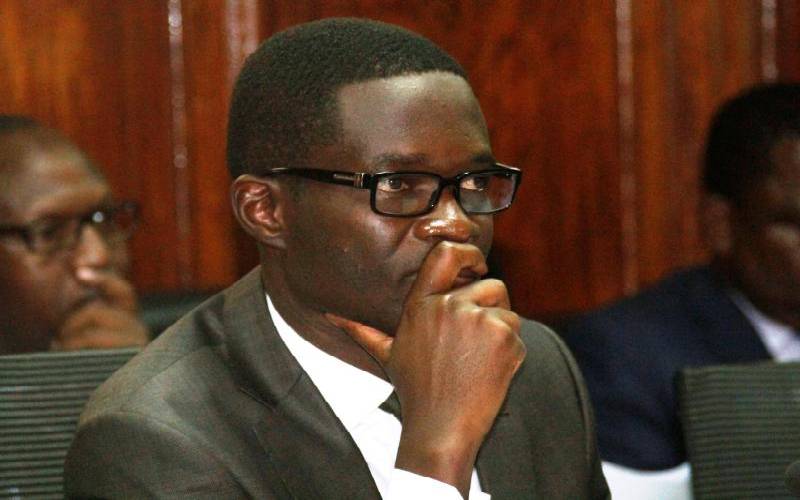 The Independent Electoral and Boundaries Commission (IEBC) has re-advertised the position of Commission's Chief Executive Officer five months since the initial deadline set for application lapsed.
Through an advertisement on Tuesday in the dailies, IEBC advised those who had applied earlier for the position to reapply afresh.
The position was left vacant after the commission sacked former CEO Ezra Chiloba who had been serving suspension.
Chiloba was sacked in September over queries relating to the procurement of poll materials and kits for the 2017 General Election.
In March, Labour Court stopped the recruitment of the CEO, following an application by Henry Mutundu, a voter from Masinga, who successfully challenged the process after the commission refused to make public the names of those who had applied for the position.
Read More
Mutundu accused IEBC of conducting the exercise in secrecy and exaggerating the qualification which was put at 15 years of managerial experience.
In the current advertisement, the commission has removed the requirement that all the applicants must undergo security clearance from the National Intelligence Service (NIS) which was in the initial advert.
"Some of the qualifications that were in the first advert were as a result of ignoring advice from our legal team, but we have corrected the anomalies," a source within the commission said.
The new advertisement, unlike the earlier one, has put the managerial experience requirement at five years and removed completely the NIS clearance requirement
Applicants for the post have been directed to apply before Monday 3, 2019.
Stakeholders have however warned that if not handled carefully, the commission will still experience the same challenges even with a new CEO.
Makueni Senator Mutula Kilonzo Jnr has advised the commission to disband the entire secretariat and reconstitute it afresh in line with the law to cure the wrangles.
"It was James Oswago, then Chiloba and soon another person will come, but the challenges have been and could remain the same," Mutula said.
"They must overhaul the entire system and create a secretariat that will complement the commission if they want to cure the problem," Mutula added.
Apart from the CEO's vacancy headache, IEBC is currently operating with only three commissioners- chairman Wafula Chebukati, commissioners Boya Molu and Abdi Guliye after four others resigned.
After the CEO was sent on compulsory leave early last year, three commissioners - Connie Maina, Paul Kurgat and Margaret Mwachanya - announced their resignation on April 16, 2018.
Another commissioner Roselyne Akombe had resigned earlier.