'We know they're illegal, risky power lines, but we need light'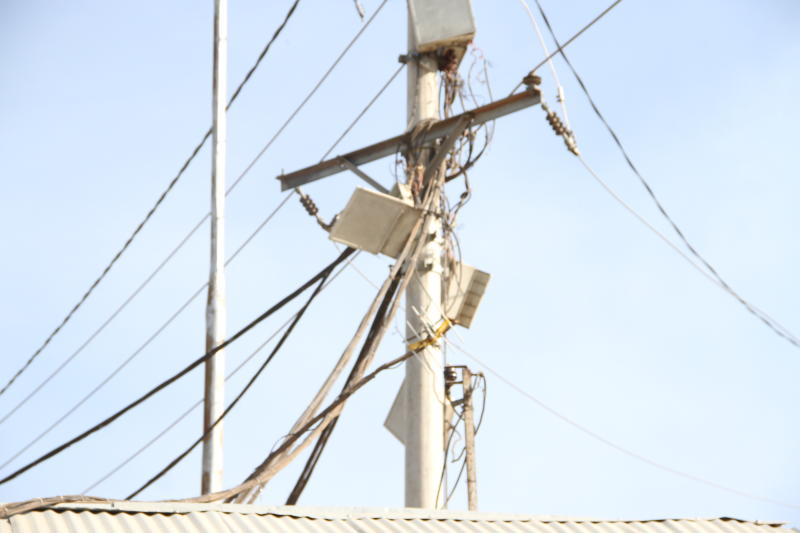 Agnes Mukabana, 25, sits on a stool and watches as children play with raw sewage in Nairobi's Korogocho slum. It reminds her of how she would run after her 16-month-old daughter to keep her away from the dirt.
But her little girl is no more, she died in a fire. The tragedy happened on February 5, 2019. Agnes had just come home from her casual job with her sleeping baby on her back. She put her to bed and set to do chores just outside the house; minutes later, her tin house was engulfed in flames.
She braced the flames and entered the house to pick her baby who had by now sustained injuries, her tiny body covered in blisters.
The infant died at the Kenyatta National Hospital.
"Since she died I feel so lonely and hopeless, my dreams of seeing her grow into a beautiful God fearing person were dashed away," says Agnes.
Electric fault
For months, the mother wondered what could have caused the fire, since her stove had not been lit. But what caused her daughter's death could soon be found.
John* says the fire could have been caused by an electric fault.
He takes the Sunday Standard team around to have a feel of what it is to live in this area.
Uninsulated electricity cables hang dangerously in people's houses. The wires hang dangerously low that children grow up being taught not to touch any wire they see – not even clothes lines.
John says most power connections are illegal but not much is said about them since they are controlled by 'powerful' people in the slums. They charge a weekly or monthly fee for the electricity.
"Here we rarely see Kenya Power staff. We are not sure if these people some of whom are landlords collect the moneys on their behalf since we do not see metres either," says John.
Sh200 to Sh500
He adds that charges range from Sh200 to Sh500, depending on the type of house and the electric appliances they own.
Most residents say they have had to live with regular fire incidents which they believe are occasioned by electric faults due to irregular connections.
Not far from where Agnes' baby died, residents pick debris after yet another recent incident that saw a market in the area flattened.
According to Joseph Maina, the market fire is said to have begun as a result of an uninsulated electric cable that started emitting sparks before bursting into flames.
"This wire produced sparks for a long time but no one bothered to repair it," says Maina.
And on February 27, yet another fire broke out in the neighborhood, engulfing several houses.
Five families were rendered homeless as goods of unknown value went up in flames.
Since the incident took place at around 2pm when most occupants were away at work, not much was salvaged.
Here too, residents say the fire could have been caused by an electric fault. To worsen the situation, the following day, another fire incident was reported only 100 metres.
This time ten houses were brought down and goods of unknown value destroyed as the owners of the homes watched helplessly.
According to Nairobi County Deputy Director Fire Rescue and Disaster Management, Brian Esali, most of these fire incidents are caused by electric faults.
"After thorough investigations we were able to establish that most of these cases are caused by electric faults due to illegal electricity connections in the area. We have also cases of arson and use of adulterated cooking fuel," says Esali.
He says his team is documenting data and will soon present a report on the same.
Sentiments that were shared by the area Chief, Nyabuto Omache, state that cases of fire gutting down livelihoods of residents in the area have become the norm.
"We receive a lot of fire cases, most of which are undocumented. This is because most of the people affected move to other places after losing their property to fire," says Omache.
But the power distribution company while accepting that illegal connection is a major problem in slum areas, denies that they could be the main cause of the fires.
KPLC Communication Director, Kevin Sang refutes claims that most of the fire incidents are due to electric faults.
"We have cartels who connect electricity and sell to consumers but rarely do electric shocks cause fires. When you look at the cables carefully, you realise they cannot cause such faults," says Sang.
He adds that Kenya Power is working with the slum community and police to rid the areas of such cartels.