'Identical' girls undergo counseling as they await DNA test results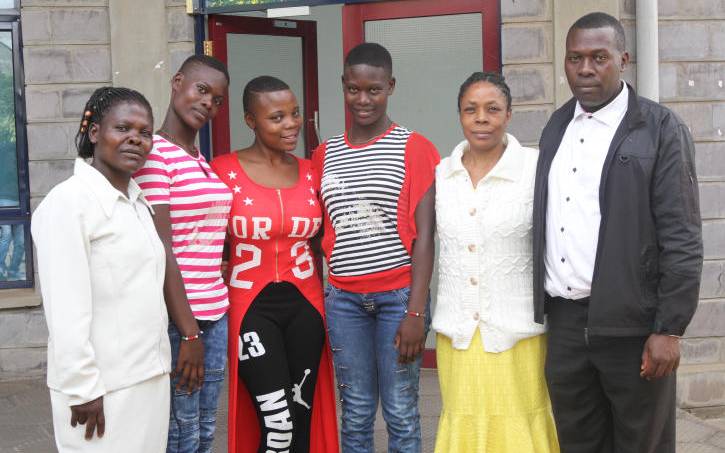 Two girls believed to be identical twins separated at birth will today start a three-day counselling session in Eldoret, as they anxiously wait for results of a DNA test conducted last Friday.
Sharon Mathias and Melon Lutenyo, both 19, met after the puzzling discovery that they were identical and that they were both born at the Kakamega Provincial General Hospital (now Kakamega County Referral Hospital).
Melon was born as a twin with Mevies Imbaya, and were raised by their parents Richard Olukhakha and Rosemary Onyango in Furfural village in Kakamega County.
Living in Nairobi
Sharon, who has a striking resemblance to Melon, was raised by her mother Angeline Omina and father Cosmas Mathias, though her biological father was believed to be Wilson Omina. She has been living in Nairobi with her mother.
The families are now waiting for the results of the DNA test conducted last week to determine whether the lookalike girls are related.
On Friday, Lancet Group of Laboratories, after intervention from Multiples to Multiples Society, offered to conduct the test whose results will be out before the end of this week.
In an emotional moment on Friday, Angeline and Rosemary met for the first time in Nairobi.
Geoffrey Kibii, a professional psychologist, who is also a lecturer at Moi University School of Medicine, confirmed that the three girls and their parents would undergo the three-day residential counselling at a hotel in Eldoret.
"At some point in the counselling, it will be an individual affair where we shall talk to individual members of the families," the mental health expert told The Standard.
Rosemary yesterday said despite fears of their children having been separated at birth, she bonded well with Angeline, Sharon's mother, who lives in Kangemi, Nairobi.
The Kenya Medical Research Institute (Kemri) had on Thursday offered to conduct the DNA tests but reportedly withdrew after the family delayed in reporting the matter to the Directorate of Criminal Investigations (DCI).
"For the period we were in Nairobi with the children, we interacted well and resolved to support our children as they seek to know the truth about their identity," Rosemary said.
She added: "The girls and I spent the night on Saturday at Angeline's and it was like two families uniting for a common purpose."
The two mothers agreed to accept the outcome of the DNA test. Angeline said she expected her daughter Sharon back in Nairobi as soon as the counselling was concluded on Wednesday.
And as the mothers seamlessly bonded, it also emerged that they were from neighbouring villages in Kakamega County.
Rosemary comes from Ikwetere village, which is not far from Masera Village where Angeline, now living in Kangemi, was born. The two women, however, said they had never met before the children brought them together.