Uhuru: Your data is safe, just register for Huduma Namba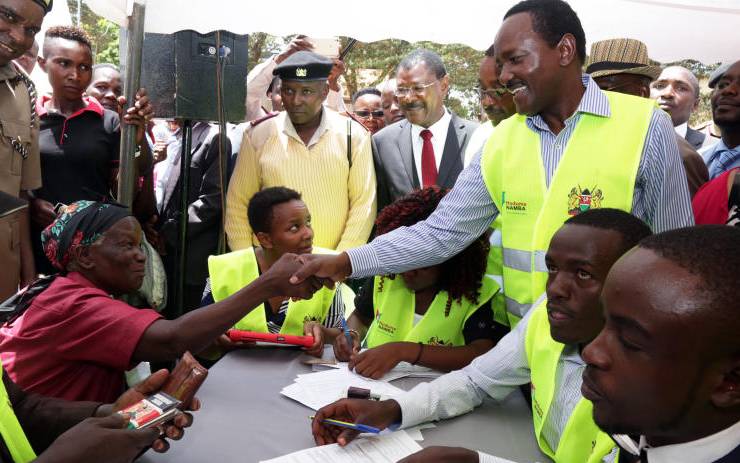 The Huduma Namba registration centres will remain open over the Easter Holiday period to give Kenyans a chance to register, President Uhuru Kenyatta has said.
In his Easter holiday speech to the nation released on Friday, President Uhuru lauded the progress of registration saying that centres have so far posted remarkable result over the past 16 days.
It partially reads: "Over this Easter period, our Huduma Namba registration centers will remain open, giving those who may have been too held up a chance register…In just 16 days of active registration, I am proud to announce that an impressive 11 million people have registered for their Huduma Namba."
Data security
The President has further urged Kenyans to stop worrying about the safety of their data. In his speech, he has made reference to Thursday's move where the Cabinet approved the Data Protection Policy and Bill, which he points as a pivotal milestone in securing private data.
While emphasizing the security of the database, Uhuru said that National Integrated Identity Management System (NIIMS) or Huduma Namba is a significant cut above the current data system, which he described as 'manual, scattered and cumbersome data management regime.'
He has equally extended similar invitation to Kenyans living abroad, urging them to be ready to embrace the exercise set to kick up soon.
He said: "Fellow Kenyans living in the Diaspora, I am pleased to inform you that the Huduma Namba registration begins on May 6th for a period of 45 days at our Embassies and Consulates."
This comes after the Director General of Communications Authority of Kenya Francis Wangusi warned Kenyans that the government may tell mobile service providers to deactivate sim cards of those who shall not have registered for Huduma Namba come May 18, 2019, which is the deadline for registration.
''We are taking stock of registration and by the time the exercise ends, we shall ask the service providers to deactivate all numbers and register them afresh,'' Wangusi said, while addressing people in Kisumu on Thursday evening.
His statement was however contradicted when State House Chief of Staff Nzioka Waita released a counter statement saying that Mr Wangusi's utterances were misunderstood.
Mr Waita tweeted: "For the avoidance of doubt Huduma Number Registration is a voluntary exercise in compliance with the ruling of the Courts. There is no directive from the Government to institute any punitive measures against those who don't register. More emphasis will be laid on civic education!"
Waita said that Wangusi implied that Huduma Namba would be a requirement for registration of sim cards as government steps up to weed out mobile telephone-related crimes.