Revealed: Counties with worst sanitation conditions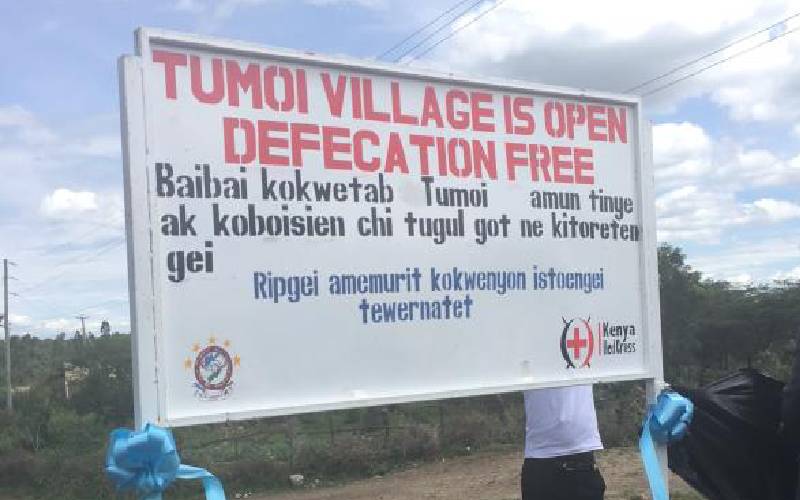 A new report has exposed 13 counties with worst sanitation conditions.
Seventy-nine per cent of open defecation cases are located in the 13 counties, according to the report by United Nations International Children's Emergency Fund and the Ministry of Health.
Turkana, Mandera and Kwale had the poorest records, as they were ranked as places where majority of residents relieved themselves in bushes.
The other counties in the list were West Pokot, Narok, Migori, Wajir, Kilifi, Baringo, Homa Bay, Garissa, Samburu and Marsabit.
"Efforts should be concentrated in those high burden counties to make a significant impact against open defecation in Kenya," said the report.
Seventeen counties were ranked as having been triggered to stop open defecation and are still in the process of registering a significant improvement.
The report also showed that 17 other counties had less than 1 per cent people doing open defecation, representing 64,000 people, with the report calling for more efforts to improve sanitation.
"As open defecation has already been abandoned in those counties, a strategy needs to be defined to address the quality of latrines and ensure hand-washing facilities and practices are in place," said the report.
According to the report, despite achievements in 2018, "rapid acceleration of efforts" was needed to achieve 100 per cent Open Defection-Free Kenya by 2020.
It is projected that only 21 per cent of villages would be certified as open defecation-free by 2020.
"At the same pace, only 21 per cent of villages will be certified by 2020. Rapid acceleration is needed to achieve this ambitious goal," read the report in part.
While noting that 56 per cent of villages in Kenya still do not have implementing partners to support them in reaching ODF, calls have been intensified for mobilisation from technical and financial partners to reach ODF Kenya by 2020.
Kitui topped the list of counties with the highest allocation for sanitation in 2017/2018 with Sh75.6 million, followed by Nakuru at Sh16.6 million and Nyandarua at Sh15.5 million.
Last year nine counties allocated money for sanitation but only five of them had released and utilised it. Machakos, Makueni and West Pokot have developed road-maps totaling to eight counties countrywide having timely bound and cost plans to achieve ODF.