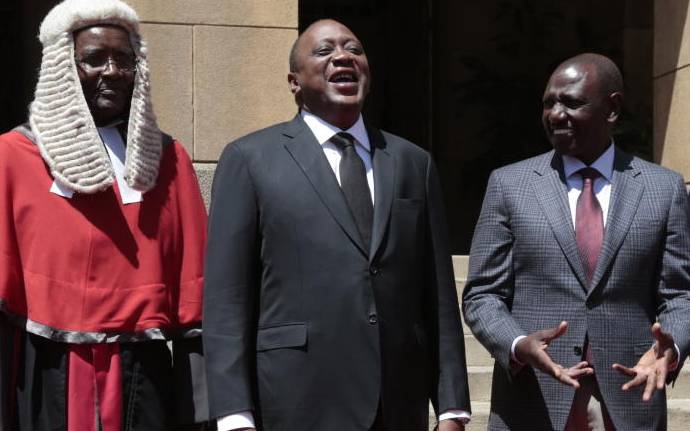 President Uhuru Kenyatta has warned that Kenyans will punish corrupt individuals if institutions tasked to fight the vice fail to do so.
In the wake of public outcry over reports that billions of shillings meant for dam projects in Rift Valley have been squandered, the President said the public was increasingly getting frustrated by the swirl of corruption.
"A crook is a crook whether a judge or someone in robes and should not be treated differently from other crooks. Kenyans are reading and seeing what is happening and if we don't act to stop corruption, the people themselves will act," said Uhuru.
But even as the President talked tough on corruption, his deputy William Ruto defended the Government against allegations of losing Sh21 billion through contracts for construction of Kimwarer and Arror multi-purpose dams.
Read More
The two were speaking during the launch of the annual State of the Judiciary and the Administration of Justice Report at the Supreme Court building.
Mr Kenyatta said it was the ordinary people who suffered when public funds were lost. The same wananchi, he added, get agitated when suspects use the courts to shield themselves through injunctions.
Dr Ruto said no money had been lost in the contract for the two dams, adding that the Government can account for every coin allocated to the projects.
"You are hearing that the Government has lost Sh21 billion in Kimwarer and Arror dams which is a flat lie (sic). The money in question is about Sh7 billion and for every coin that has been paid, we have a bank guarantee. No money will be lost, we are a responsible government," said Ruto.
Kenyatta also took a swipe at the Judiciary, stating that several Government projects have stalled because of court injunctions which expose taxpayers to unnecessary interests on loans.
"There are known culprits who act as gatekeepers and brokers of justice. We know what is happening and the thread of individuals who have pursued the matters with unknown interests," he said.
Chief Justice David Maraga said it was time different State organs stopped the blame games and united in the fight against corruption.
"Months of acrimonious exchanges and blame games between different State agencies only serve to deepen the challenges and hurt the efforts to fight corruption. When we are engaged in blame games, even great achievements are sometimes overlooked," said Maraga.