Governor Obado's personal assistant released on bail over university student's murder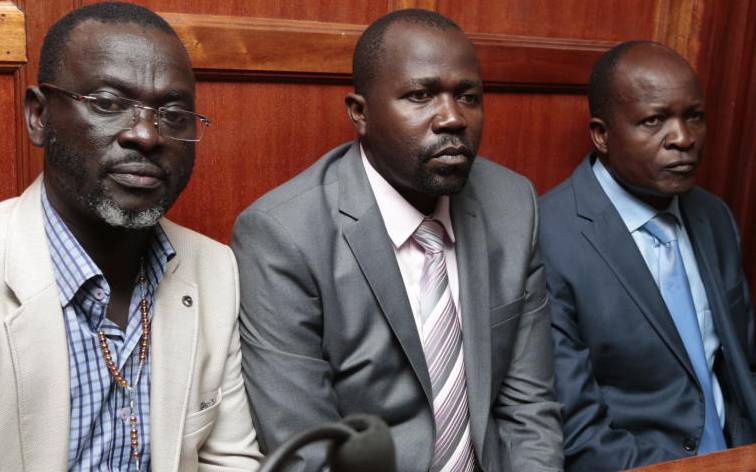 Migori Governor Okoth Obado's personal assistant and a county official have been released after five months in custody for the murder of Rongo University student Sharon Otieno.
Michael Oyamo and Migori county clerk Caspal Obiero walked to freedom after being released by Court of Appeal Judges William Ouko, Mohamed Warsame and Otieno Odek on a cash bail of Sh1 million each.
The Appellate Judges ruled that High Court Judge Jessie Lessit made a mistake to deny the two bails when the law presumes any accused as innocent until proven guilty.
According to the judges, there were no compelling reasons to continue keeping the two in custody pending their trial over the murder of Sharon and her unborn baby.
Oyamo and Obiero were charged alongside Governor Obado in September last year with the murder of Sharon and her seven-month foetus named Baby Sharon on September 3 2018 at Owade Area in Rachuonyo within Homa Bay County.
Justice Lessit released the governor on a cash bail of Sh5 million with two sureties of same amount but denied Oyamo and Obiero on grounds that the prosecution had a strong case against them and that they will likely interfere with witnesses if released.
According to the judge, the evidence directly linked Oyamo and Obiero to Sharon's murder and that releasing them would give them a free way to escape to avoid the punishment of being sentenced to death if found guilty.
She added that the two are likely to cause public disorder if released on bail, based on the fact that they will face public hostility like what happened after Oyamo was arrested in Homa Bay a few days after Sharon's mutilated body was discovered at Kodera Forest in Oyugis town.
"There is strong evidence against the second and third accused, releasing them now will send anxiety to witnesses. There is also a likelihood of them absconding based on the seriousness of the charge," ruled Lessit.
The two appealed the decision arguing that the High Court Judge erred in holding that the prosecution had a strong case against them yet no evidence had been adduced or witness called to prove the same.
They submitted that the judge failed to appreciate that the prosecution's case was based on circumstantial evidence which did not link them directly to the scene of crime.
The Appellate Judges agreed with their submissions that the alleged evidence had not been subjected to test and cross-examination, and could not be used as a basis to deny bail.