Differences emerge between KQ and KAA officials over take-over bid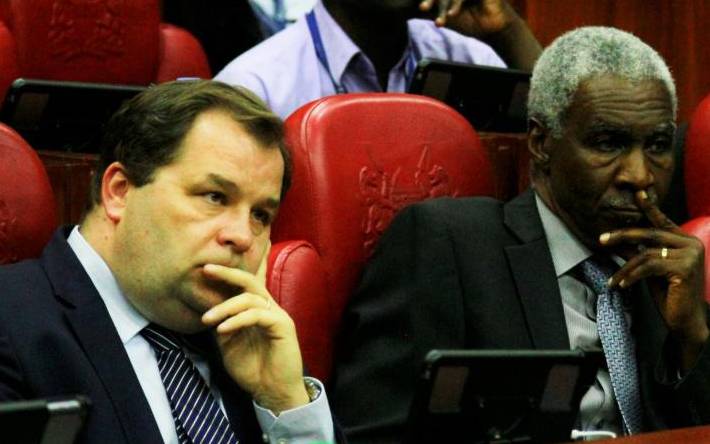 Top officials of the Kenya Airports Authority (KAA) and Kenya Airways (KQ)on Tuesday clashed over the proposed takeover of the country's airports by the national carrier.
Appearing before the National Assembly's Committee on Transport and Public Works, KQ Chief Executive Sebastian Mikosz and KAA Managing Director Jonny Andersen seemed to read from different scripts in regards to the controversial deal.
Mr Mikosz, while making his submissions before the Pokot South MP David Pkosing-led committee, denied reports the national airline was planning to completely take over KAA.
"Our intention is not to buy or merge JKIA but to have a co-association operator deal meaning, the land and buildings will remain owned by KAA" he said.
"The word merger or acquisition is not applicable in this matter," the KQ boss said.
Mr Andersen, however, expressed reservations on going forward with the plan.
He told MPs the restructuring proposal was the brainchild of KQ and that KAA board of directors was apprehensive about the Privately Initiated Investment Proposal (PIIP) tabled by KQ with the backing of the Cabinet.
He pleaded with the MPs to ensure due diligence before reaching a conclusion.
"KAA has not accepted KQ PIIP proposal. We are not in a position to deny or accept it. However, the analysis we have done so far has yielded significant gaps that need to be addressed first," he said.
KAA is a public entity whose assets must be handled in the most practical way, Andersen said today.
Relevant ministry
"We are reserved regarding the proposal but we ask for help from this committee and the relevant ministry to look into ways of strengthening the aviation sector to regain profitability," said the KAA MD.
Earlier, the session nearly ended prematurely after Mr Pkosing ejected Mikosz and Andersen for showing up without requisite documents.
The committee chair turned the officials away and insisted the session would only continue after they provided the proposal on the restructuring plan of the national carrier and the airport authority.